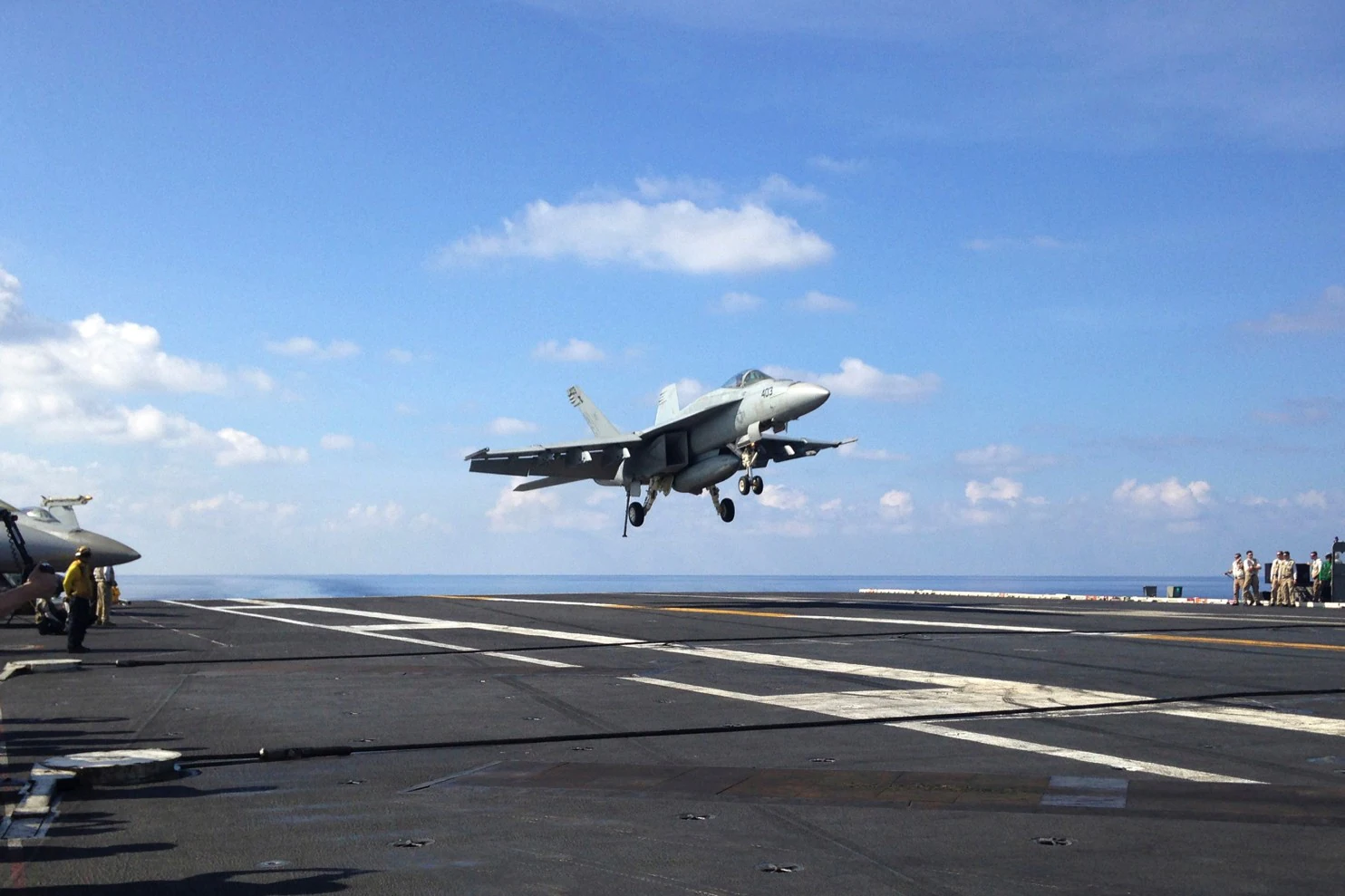 This video is currently not available
China has laid claim to a number of islands in the South China Sea, building airbases on tiny spits of land while installing radar and missile launchers. (Jason Aldag, Julie Vitkovskaya/The Washington Post / Satellite photos courtesy of CSIS)
BEIJING — Signs that China may be contemplating another bout of island-building in the South China Sea ahead of an important U.N. ruling on the issue have provoked the United States to step up its vigilance in the region in recent days.
Twice last week, and again Tuesday, the U.S. Pacific Command said it sent warplanes close to Scarborough Shoal, a triangular chain of coral reefs, sand and rocks close to the Philippines coast. In Beijing, the response was sharp.
The shoal is the latest point of friction between China and the United States and nations that ring the South China Sea over Beijing's moves to build maritime outposts and other installations that could have a potential military use.
"Thunderclouds are gathering over the South China Sea, and China is the lightning rod," said Carlyle Thayer, emeritus professor of politics at the University of New South Wales in Australia.
China seized Scarborough Shoal from the Philippines in 2012 and appears to be considering whether to build an artificial island there, experts say. It has already constructed or reclaimed seven islands in the nearby Spratly chain.
Work on the shoal would be another major step in China's apparent drive to cement long-term control of the South China Sea and would significantly heighten regional tensions. It would also bring China's military close to U.S. military bases in the Philippines.
A key ruling on the Chinese action by a panel of jurists at a U.N.-appointed tribunal in The Hague, expected in coming weeks, is driving the unease in Beijing, experts suggest.
"It's believed that the rulings will be unfavorable to China, and there are concerns that other countries like the United States and Japan will take this opportunity to further challenge China's territorial claims in the area," said Shi Yinhong, professor of international relations at Renmin University of China in Beijing.
Shi predicts that China could respond by starting dredging work this year on the shoal, which it calls Huangyan Island; circumstantial evidence backs up that argument.
In February, a plan to expand the shoal into an island with a runway, harbor, town and resort surfaced on a Chinese website dedicated to military issues. Although a similar, albeit less-detailed, image circulated in 2012, some observers took its reappearance as a sign the issue was under consideration.
In March, the U.S. Navy chief, Adm. John M. Richardson, told Reuters that the military had observed Chinese shipping activity around the shoal, including possible survey work, suggesting that it could be "the next possible area of reclamation."
On Monday, the South China Morning Post quoted an unnamed source "close to" the Chinese navy as saying Beijing would carry out "land reclamation" on the shoal this year.
None of this is conclusive, experts warn.
Mira Rapp-Hooper, of the Center for a New American Security, said intense efforts were underway to dissuade Beijing from taking a step that Washington could see as "very escalatory."
It would also constitute a significant violation of a 2002 Declaration on the Conduct of Parties in the South China Sea, experts said, although that agreement between China and rival Asian claimants has often been ignored.
"It would be the final nail in that agreement's coffin," said Ian Storey, a senior fellow at the Institute of Southeast Asian Studies in Singapore.
China claims nearly all of the South China Sea and insists that all disputes with rival claimants must be settled bilaterally.
But the Philippines took Beijing to the Permanent Court of Arbitration in The Hague after the seizure of Scarborough Shoal, insisting that China had breached international law. It also argues that China has unlawfully blocked Philippine fishermen from the shoal's vicinity and has failed to preserve the marine environment there.
In anticipation of the ruling, China has been active diplomatically, enlisting Russia's support for its position and reaching an accord Tuesday with Indonesia on enhanced security and marine cooperation.
On Sunday, China also reached what it called an "important consensus" with Cambodia, Laos and Brunei that the dispute should not affect its relations with the Association of Southeast Asian Nations.
"China is trying to preemptively divide ASEAN, so when the ruling comes down, there won't be a united or firm ASEAN statement supporting the ruling against China," said Yanmei Xie, senior China analyst with the International Crisis Group.
Washington has not stood still either, recently announcing a permanent military presence on five bases in the Philippines and starting joint naval patrols in the South China Sea.
The latest U.S. airborne missions involved four A-10C Thunderbolt II aircraft, flying from Clark Air Base in the Philippines, and came just after 11 days of military exercises between the two countries.
"Our job is to ensure air and sea domains remain open in accordance with international law," Air Force Col. Larry Card, commander of the Pacific Command's Air Contingent, said in a statement. "Free trade depends on our ability to move goods."
China says its actions pose no threat to commercial shipping, and it accuses Washington of undermining regional peace and stability.
"Huangyan Island is China's inherent territory, and the Chinese military will take all necessary measures to safeguard national sovereignty and security," China's Defense Ministry said Monday.
"The United States is promoting militarization of the South China Sea in the name of 'Freedom of Navigation,' " the statement added.
If China moves to build a military base on Scarborough Shoal, the site would form a strategic triangle with Chinese-controlled islands in the Spratly and Paracel chains. It would also help China monitor U.S. military activity in the Philippines' Subic Bay, just 150 nautical miles to the east.
"It would bring U.S. and Chinese forces into close proximity, with all the attendant risks that that entails," Storey said.
What is less clear is how the United States could prevent such a move without escalating confrontation with China.
Actions such as deploying destroyers to block Chinese dredgers, taking Manila's side on the sovereignty issue or extending the reach of Washington's military treaty with the Philippines to include the shoal would not be taken lightly by Beijing.
"A political decision would have to be made that Chinese reclamation on Scarborough is unacceptable," said Bonnie Glaser of the Center for Strategic and International Studies. "But do we really want to draw a red line here? And what would the U.S. do if the Chinese simply went ahead anyway?"
Dan Lamothe in Washington and Emily Rauhala and Xu Yangjingjing in Beijing contributed to this report.
Read more: