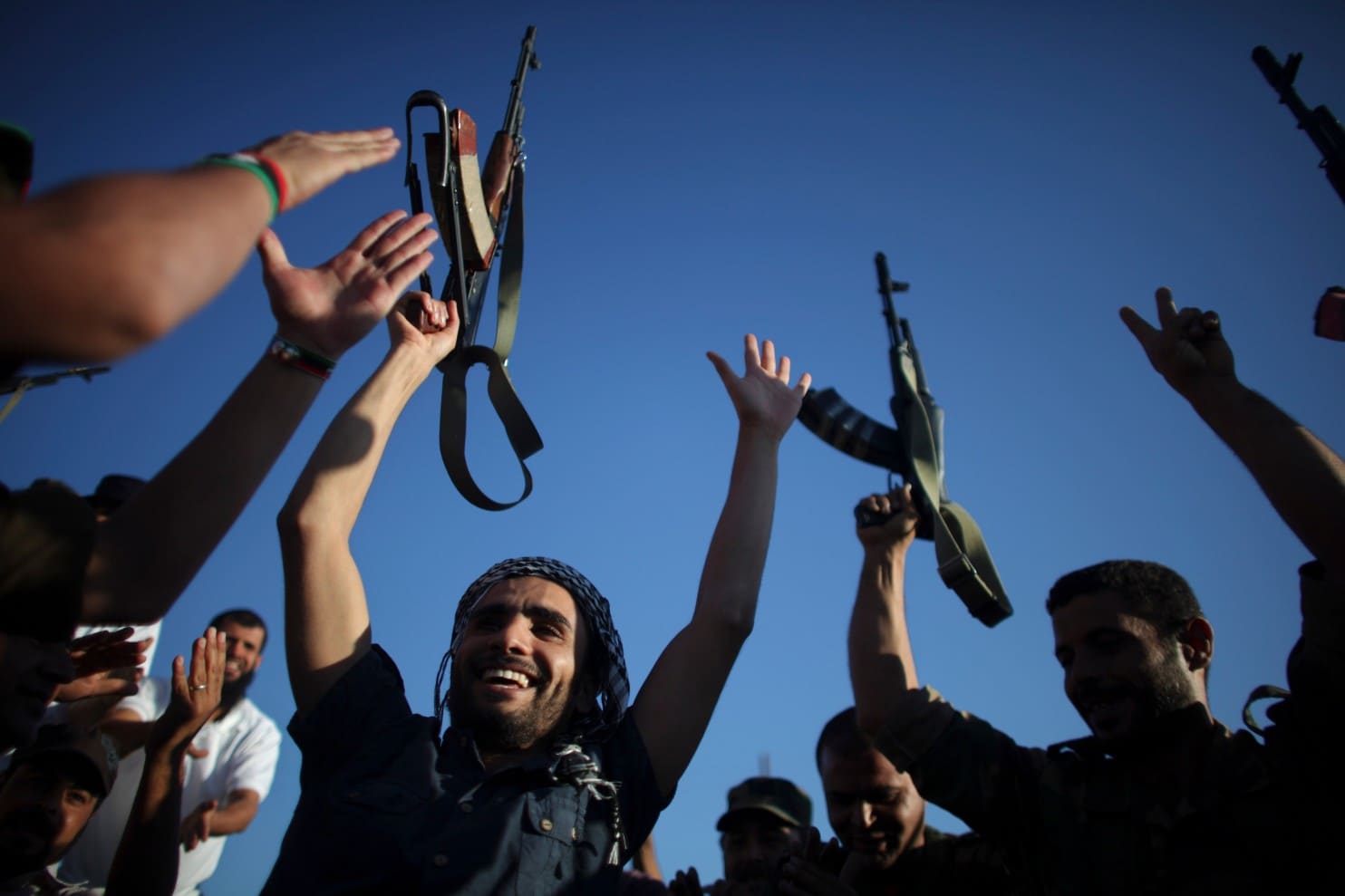 TRIPOLI, Libya — Libya's interim leader preached forgiveness, reconciliation and unity to his nation on Monday, in his first address in Martyrs' Square, the symbolic heart of Tripoli, since the fall of Moammar Gaddafi.
"Libya is big enough for everyone. We are Muslim, forgiving people," Mustafa Abdel Jalil told a cheering and chanting crowd of several thousand in what was known as Green Square under Gaddafi's rule.
It was here that rebel fighters headed first when they converged on the capital last month. It was here that Gaddafi's supporters gathered to express their love for the autocrat. And it was here that Abdel Jalil urged people to shun anger and revenge and to ensure the country was "one heart so Libya's future could be bright."
On the same day that Amnesty International accused rebel fighters of unlawful killings and torture during nearly seven months of war, albeit on a much smaller scale than Gaddafi's forces, Abdel Jalil warned Libyans not to behave "like the old regime" by taking the law into their hands.
Abdel Jalil's speech was not announced in advance for security reasons, but a crowd soon gathered as a stage was erected in the square. Many more Libyans watched on national television. Red and green fireworks exploded against a black night sky to make up the colors of the new Libyan flag, and a police band played the national anthem as women and children in the front row sang full-throatedly and several cried openly.
"This is the happiest day in our lives," said Latifa el-Hamdi, 37. "Now when we travel abroad, we no longer need to feel ashamed to be Libyans."
Abdel Jalil's speech came as China announced its recognition of Libya's new leaders as the nation's legitimate governing body, a move that further isolated Gaddafi, even as the fugitive former leader vowed to continue his fight.
The announcement by China, the last permanent member of the U.N. Security Council to recognize the Transitional National Council, follows criticism by Libya's new leaders that China was trying to block plans to unfreeze more Libyan assets.
The Chinese, who have billions of dollars worth of investments in Libya, have been critical of the NATO air campaign that began here in March and have not condemned Gaddafi.
"China respects the choice of the Libyan people and attaches great importance to the status and the role of the [council], and has kept close contact with it," Ma Zhaoxu, a spokesman, said in a statement posted on the Chinese Foreign Ministry's Web site late Monday. Russia, another permanent Security Council member that criticized the NATO campaign, recognized the new government Sept. 1.
The Transitional National Council, which was based in the rebel stronghold of Benghazi in the east, was slow to establish itself in the capital, and infighting within its ranks has emerged into the open in recent days.
While Abdel Jalil is a consensus figure, Islamists and other political leaders have accused interim Prime Minister Mahmoud Jibril of spending too much time outside the country, doing little to support fighters and having served under Gaddafi for several years. They also criticized him for reappointing former Gaddafi loyalists to important diplomatic posts.
But Abdel Jalil appeared to spring to the defense of his popular but embattled prime minister Monday by urging an end to the infighting and by arguing that former members of Gaddafi's regime should not be excluded from the new Libya.
Many senior members of the old regime, including himself, had defected to join the rebels, Abdel Jalil reminded people, while some Gaddafi forces had even aimed their rockets away from rebel positions deliberately.
"If we have put people from the old regime in some ministries, it is because we trust them," he said. "Don't fight them."
Outside Tripoli, battles continued on three fronts against Gaddafi's loyalist bastions: this home town of Sirte, the oasis town of Bani Walid southeast of the capital, and the desert city of Sabha to the south.
Gaddafi loyalists also staged a surprise attack Monday in the key oil refinery town of Ras Lanuf in the east, killing at least 15 rebel fighters and wounding 20. A convoy of vehicles drove up from the desert in the south and used medium and heavy weapons to attack rebel forces now in control of the town and refinery, Libyan leaders said.
Video images showed green body bags of dead fighters lined up inside a building in Ras Lanuf. The attack occurred a day after the council announced that oil production had restarted in Libya.
"They didn't get to the refinery," said Jalal al-Gallal, a spokesman for the council, who had talked with fighters in Ras Lanuf. "They're surrounded now."
Gaddafi said in a statement Monday that he will not allow Libya to be taken by "colonizers," a reference to NATO countries that have supported the rebels. The statement on Syrian-based al-Rai television said that Gaddafi was "leading resistance from inside Libya" and that there was "no choice but to fight until the end of this coup."
The statement was just more rhetoric from a "delusional" man who has lost his power and has nowhere to go, said Gallal, the council spokesman.