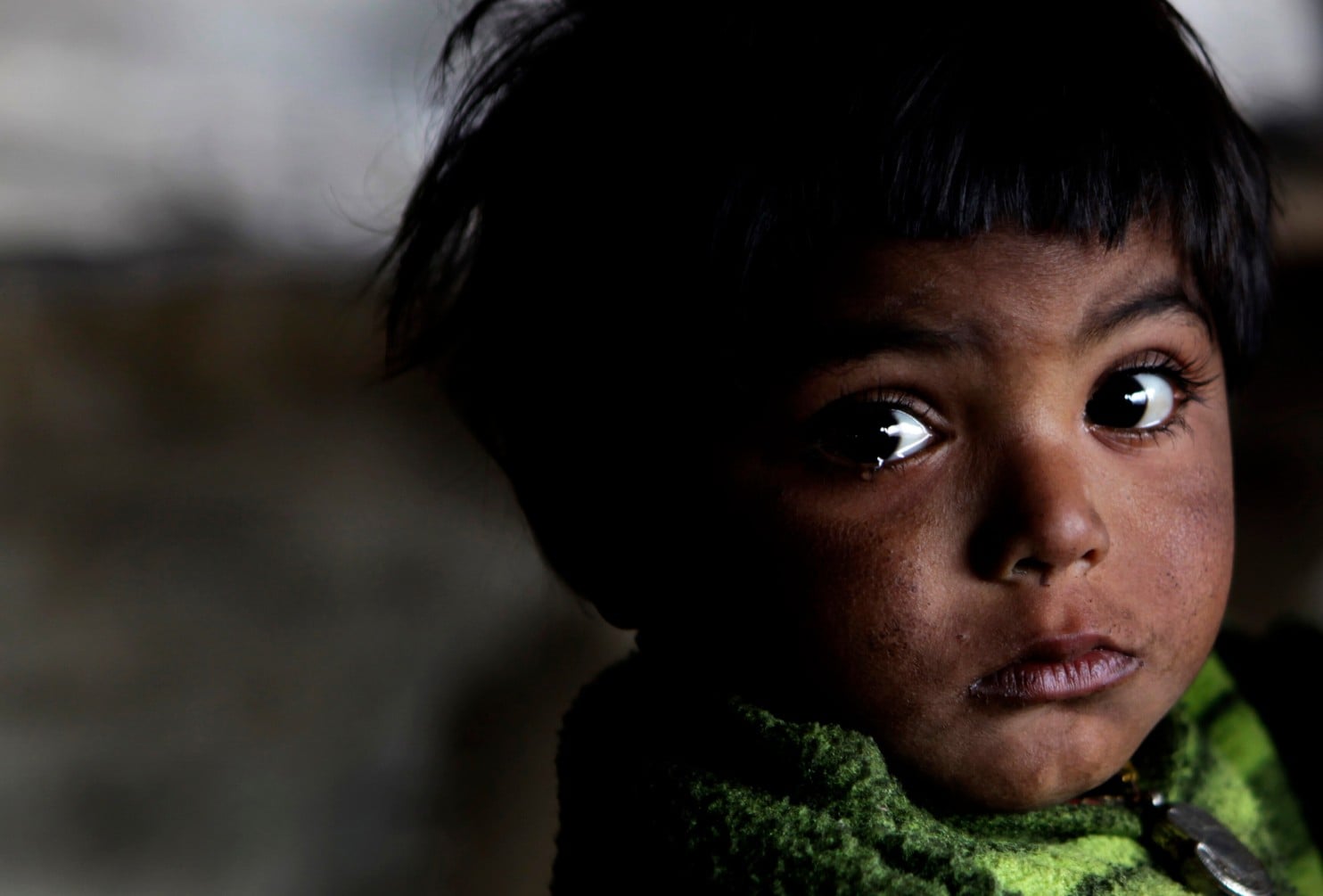 On Friday, India is set to reach a major milestone in the global battle against polio, recording a full year without a single new case of the disease in the country that was long its epicenter and its biggest exporter.
It is a massive global public health achievement that has defied the odds and confounded the skeptics, a victory — attained with U.S. financial support and expertise — that will see India removed from a list of four countries where the crippling disease remains endemic. The three other countries are Afghanistan, Pakistan and Nigeria.
The feat raises the very real possibility that polio, like smallpox, could one day be consigned to history, along with the heartbreaking image of the Indian beggar, crawling on twisted, thin legs, pleading for alms.
Until 1995, India recorded 50,000 to 150,000 cases of polio each year. In 2009, 14 years into India's campaign to eradicate polio, 741 Indian children still contracted the incurable disease, more than anywhere else in the world, and morale was sagging.
In 2010, the number fell to 42. In 2011, only a single new case was recorded, that of a 2-year-old girl who fell ill Jan. 13.
Anuradha Gupta, a joint secretary in India's Ministry of Health and Family Welfare, said the prevailing mood was one of hope, optimism and enthusiasm, but not smugness, given the risk that the disease could still find a way back from abroad.
"We needed this kind of success to keep morale up and to enhance public confidence in the program," she said. "We do now feel it is possible, it is doable."
In 1988, when the World Health Organization launched a global campaign to eradicate the disease, the poliovirus was paralyzing 1,000 children around the world every day, nearly half of them in India. Inspired by the success of the smallpox eradication campaign a decade before, the organization aimed to eliminate polio by 2000.
It took seven years before India's government mustered the political will, resources and manpower to act. And even when India finally began its mass vaccination campaign in 1995, the hurdles seemed almost insurmountable, especially in the desperately poor, astonishingly overcrowded plains of the north, where illiteracy was rife, malnutrition and disease rampant, and hygiene and public sanitation terribly inadequate.
To make matters worse, rumors spread among the region's numerous Muslims that the polio vaccination campaign was an American conspiracy to wipe them out, by making their sons impotent and their daughters infertile.
"There are 500,000 Muslims in this area, but there is no proper drainage, no post office, no bank, no government school, no hospital where a mother can take her child," said Qari Anwar Ahmad, the head of a madrassa in a Muslim neighborhood in the city of Meerut, 45 miles northeast of the nation's capital, New Delhi. "So people were skeptical. 'Why does the government only care about polio and not about these things?' they asked."
Vaccinators were stoned as they approached Muslim neighborhoods. "The general mind-set was that the immunization campaign was aimed at ending our lineage," Ahmad said.
That was the start of a massive public education and advocacy campaign, led by UNICEF and Rotary International, that began by convincing religious and community leaders that the vaccine was safe and the goal of a polio-free world achievable.
After word came down from some of India's leading Muslim scholars, Ahmad was finally won over to the cause, first taking the oral vaccine himself and then administering it, in front of onlookers, to his 1-year-old son a decade ago.
Today, the mosques of Meerut broadcast to the faithful from their loudspeakers when a vaccination campaign is underway, and imams open vaccination booths.
Thousands of Muslim women, such as Shabnam Parveen, 38, were recruited to spread the message door-to-door, gaining access to homes and to mothers — whom men, especially Hindu men, could never approach.
At first it was difficult, Parveen recalled. "Many people in society turned their backs on me because of the work I was doing," she said. "They told me, 'You are Muslim, and you are still propagating this — you must be earning a lot of money.' "
Families locked their doors from the outside, she said, to make her think no one was home. Others who were approached simply walked away.
Today, none of the 500 families she looks after refuses the vaccine, and coverage rates in the high-risk areas of northern India are as high among Muslims as among Hindus.
Winning over Muslims, though, was only part of the battle.
In the vast northern states of Uttar Pradesh and Bihar, the final strongholds of polio in India, half a million children are born every month. Many of their parents fan out throughout India and the world looking for casual labor on farms and construction sites, potentially spreading the virus far and wide.
"We needed a vaccine program that keeps up with this," said Hamid Jafari, who runs the polio surveillance project for the WHO. "We needed to get the vaccine to the child before the virus got to the child."
The scale of the effort is mind-boggling. Last year, 2.3 million vaccinators administered 900 million oral polio vaccine doses in India to 172 million children younger than 5. Taking into account the constant migration of millions of Indians, vaccination booths were set up at train and bus stations, railway crossings and border posts, and 150,000 migrant settlements and slums where workers from Uttar Pradesh and Bihar could have ended up were covered.
The monitoring is constant. Health centers, doctors and even faith healers are conditioned to report the first sign of symptoms that might indicate polio. Doctors and volunteers fan out every day to examine babies and collect stool samples for testing.
The government provided more than $2 billion to help finance the campaign and demonstrated the sort of political leadership and commitment all too rarely seen on a public health issue here. Globally, the U.S. government has provided $2 billion for the polio eradication campaign, Rotary International has raised about $1 billion from its members, and the Bill and Melinda Gates Foundation has donated more than $1 billion. The Centers for Disease Control and Prevention weighed in with crucial expertise.
But the campaign has also been enormously controversial. Throughout its history, experts have said that the goal of eradication was simply not feasible or that far too much money and effort was being spent on the single-minded pursuit of polio eradication to the detriment of other, more pressing public health goals.
There were setbacks, too. Just as the disease seemed to be coming under control, a fresh epidemic would send program leaders back to the drawing board and scientists back to the lab to design new, more effective forms of the vaccine.
Despite India's success, the battle is far from won. The virus is still endemic in Afghanistan, Pakistan and Nigeria. In Africa, Angola, Chad and Congo seemed to have won the battle against polio, but the virus was re-imported from abroad and person-to-person transmission restarted.
India's success is serving as a template for others.
Uttar Pradesh and Bihar are states that have become bywords in India for misrule, corruption and a dysfunctional public health system. Yet, in the midst of this chaos, the polio campaign set up an all-seeing network of health workers and volunteers who provided reams of data, constant surveillance, instant feedback and accountability.
For Jafari, the successful campaign belies the notion that the health system and bureaucracy in India are rotten.
With the right management system in place, he said, officials and volunteers proved to be motivated and innovative. The polio campaign has helped boost routine immunization coverage, and Jafari said the next step could be to tackle other killer viruses such as those causing measles or rubella.
In about a month, barring any last-
minute shocks from tests that are underway, the Independent Monitoring Board, a panel of global polio experts, is expected to remove India from the list of polio-
endemic countries.
It will take two more years to declare India completely free of the virus, but even a setback would not derail the program.