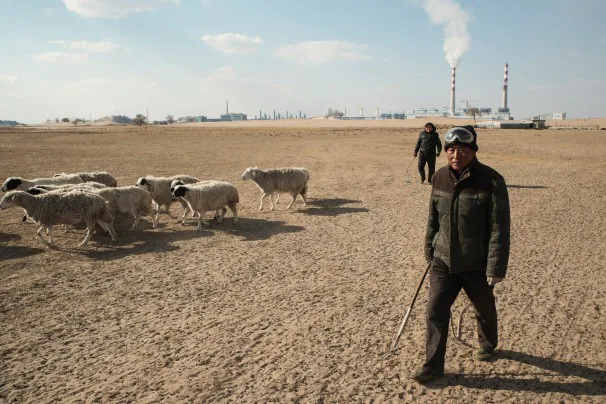 When the wind blew in their direction, smoke and dust from a huge aluminum smelter would drift across the grasslands where herders had grazed their flocks for generations in China's Inner Mongolia.
A few years after the smelter opened, herders in the area said that their sheep began falling sick, with jaws so painful that they could not eat. Soon, thousands of their animals had died. When they complained, the government simply arrested five of their leaders and forced the others to resettle in the nearby city of Holingol, demolishing their original homes.
The vast, wind-swept grasslands of Inner Mongolia have been home to nomadic pastoralists for thousands of years, but the rich resources that lie under these rolling prairies have proved a curse to the people who have long called this land their home. A boom in mining and mineral industries has polluted the grasslands, marginalized herders and pushed them from their homes. Now, a fall in coal and gas prices could spell more pressure on government spending and more misery for herders.
Seventy-five-year-old Du Shaocai was moved from her grasslands home to a small apartment in Jarud last year, and she now lives apart from her sons and grandchildren. She watched her family's livestock die after the smelter was built in the midst of massive coal mines.
"It was horrible. The sheep's teeth became abnormal and broke through their lips, so they couldn't chew the grass," she said. "The powder poisoned the grass, and then it poisoned our livestock. We didn't want to leave the grassland, but the government forced us to resettle here."
A spate of protests over land rights and mining projects reached a climax this past weekend as police crushed a three-week-long demonstration against toxic waste from a chemical refinery in the eastern part of the region. One protester reportedly died, and 100 were injured.
The government announced Monday that it would close the refinery, but tensions in Inner Mongolia are rising, posing fresh problems for Beijing as it attempts to maintain stability while global commodity prices slide.
"Local herders in Inner Mongolia have never benefited from mining, but have only lost their land and been victims of environmental pollution," said a local academic who spoke on the condition of anonymity because of the sensitivity of the topic. "Now that the price of coal and other resources has peaked, revenues will shrink, which will cause the local government to invest less in education, the environment and people's livelihoods. Local herders' lives will get even harder."
Inner Mongolia is China's second-largest coal-producing region, the main global supplier of rare earths and the site of large natural gas supplies. The resources have helped to drive China's prosperity and have brought undreamed-of wealth to a few. But they have bred a culture of corruption and dependency.
"Their pastoralist communities are being torn apart, and their pastoralist economy is being devastated, while the natural environment where Mongolians have maintained their traditional way of life for thousands of years is being destroyed by Chinese miners and settlers," said Enghebatu Togochog, director of the Southern Mongolian Human Rights Information Center in New York. "Mongolian herders are trying their best to defend their land, culture and way of life, but very little resources are available to them, and government policies are very hostile to the Mongolian way of life."
Nearly twice the size of Texas, the sparsely populated Inner Mongolia Autonomous Region straddles northern China, lying south and east of Mongolia itself. It is home to nearly 25 million people, of whom just 17 percent are ethnic Mongols.
Gently rolling prairies, carpeted in yellow-brown grass, stretch in every direction, with sheep, cattle, horses and, occasionally, a small camel train scattered across the endless landscape. Yet the idyllic vistas are also punctuated by mountains of waste from huge, open-cast coal mines, by wind farms and by the smokestacks of power stations that send dense clouds billowing into the blue skies.
In May 2011, a Han Chinese coal-truck driver killed a Mongol herder who was protesting mining, sparking days of protests. The government responded by cutting off the Internet and temporarily imposing martial law, but it also promised an overhaul of the coal industry, stricter environmental protection and hundreds of millions of dollars of new spending to promote Mongol culture.
But interviews with herders across the region showed that the fundamental causes of discontent have not disappeared.
"Smaller, sporadic protests are still taking place in almost all parts of rural Mongolia, on an almost daily basis," Togochog said. Often, they are ignored by the authorities, "but if the protest escalates, then the response is crackdown," he said.
One herder was reported to have hanged himself outside a government building in January to protest a land grab. Five villagers who demonstrated against the aluminum plant here were arrested, herders said. Three of them remain behind bars, while two — party members and retired village leaders — died of ill health after being released.
On a recent trip to Inner Mongolia, a Washington Post team was followed for several days, sometimes by three or four cars packed with security officials and police. At least 15 different cars were involved in the tailing operation. The reporting team was repeatedly questioned, told it could not report there without prior permission and often blocked from talking to locals.
Nevertheless, a clear picture emerged of herders who think that the mining industry has polluted their land without bringing them any rewards.
"Everyone is unhappy about the mining," said Eerdun, 39, who says he lost much of his grassland to a huge coal mine in West Ujimqin. The cash compensation he received was worth a small fraction of the land's value — plus a single forklift load of coal — and he had to move his home away from the mine.
As the sun set over the grasslands, he perched on a small stool inside his yurt, the traditional domed tent that has come to symbolize Mongol nomadic culture. "No one wanted to move, but we were forced to," said Eerdun, who, like many Mongols, uses one name.
A study by a team of Chinese academics published last year titled "The false promises of coal exploitation" found that the mining industry had not raised herders' incomes and that damage to the fragile grassland environment from mining activities had "increased the risks that herdsman will have to endure in the future."
Inner Mongolia suffers from the "resource curse," experts say. The easy money generated by mineral wealth produces a narrow elite that has little interest in the welfare of common citizens, said Zhan Jing, an associate professor at the Chinese University of Hong Kong.
"The resource economy tends to crowd out other economic sectors, and in the long run, that is going to be dangerous," she said.
Government policies to resettle some herders onto farms have caused more pressures on scarce water resources, because agriculture is water-intensive. Effectively, she said, the grazing ban was "solving one problem by creating a bigger one."
Mining also has sucked up vast quantities of water, depleting underground reserves and causing hundreds of lakes to shrink or disappear, said Fang Jingyun, also a Peking University professor and director of the Institute of Botany at the Chinese Academy of Sciences.
In Inner Mongolia's Holingol, the Huomei Hongjun factory is one of the largest aluminum smelters in the world. Its coal-fired power plant was fined by the Environmental Protection Ministry in 2011 for excessive sulfur dioxide emissions and for falsifying emissions data. But it is the smelter itself that has attracted the herders' ire.
A government document obtained by Ceng Jing Cao Yuan, a local advocacy group, showed that more than 12,000 sheep died and 23,000 fell sick in seven villages and two farms near the factory between 2008 and 2009, with the probable cause being high levels of fluoride in their bones and in the grasslands, though tests on herders showed no ill effects in humans.
The authenticity of the document, which carried no official stamp, could not be independently verified, but the symptoms described by the herders were consistent with fluoride poisoning, a classic side effect of untreated emissions from aluminum refining.
China Power Investment Corp., which owns the smelter, did not respond to a faxed list of questions. A local environment official, who declined to give her name, confirmed that an investigation had been conducted into the death of livestock but said that she was not aware of its findings.
Outside Holingol, Du's son Bao Chaganbala said that the family had lost 1,000 sheep, roughly half their flock, and had been forced to sell the remainder at half-price. Compensation in the form of cash, an apartment and a teaching job for his daughter, he said, had failed to approach the losses that the family suffered from being deprived of livestock and land.
For his mother, the psychological costs were more significant. She used to live with her extended family. Now she lives alone and worries that her sons will not be able to cope in their new lives. She used to have a view across the grasslands; now she looks out on a characterless back street.
"I am old, and I don't ask for anything," she said. "But how will my sons survive without the grasslands?"
Xu Jing contributed to this report.
Read more: