BEIJING — Chinese leaders unnerved by protests elsewhere this year have been steadily tightening controls over civic organizations on the mainland suspected of carrying out the work of foreign powers.
The campaign aims to insulate China from subversive Western ideas such as democracy and freedom of expression, and from the influence, specifically, of U.S. groups that may be trying to promote those values here, experts say. That campaign is long-standing, but it has been prosecuted with renewed vigor under President Xi Jinping, especially after the overthrow of Ukrainian President Viktor Yanukovych following months of street demonstrations in Kiev that were viewed here as explicitly backed by the West.
The tensions have been heightened by pro-democracy demonstrations in Hong Kong, and on Monday, Beijing warned other nations not to intervene in protests there. Chinese news media suggested that Western civil society organizations have had a hand in promoting unrest there.
In its tightening of control, China appears to be taking a page from the playbook of Russian President Vladimir Putin, who oversaw a crackdown on Russian non-governmental organizations (NGOs) two years ago that has sapped their ability to effect change.
The question now is whether the demonstrations in Hong Kong will accelerate Beijing's campaign, at least on the mainland.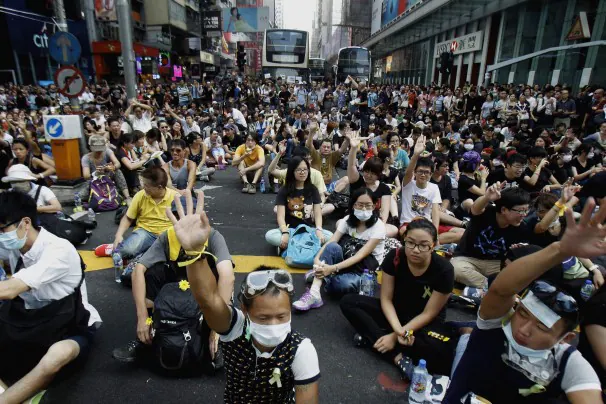 "Xi Jinping has clearly shown he is fond of Putin," said Xiao Shu, a visiting fellow at Columbia University and a former newspaper columnist. "Xi doesn't want to go back to Mao's path, but he doesn't agree to Western democracy, either. So Xi will follow the third path — Putin-style democracy, a controllable democracy — by shutting down the NGOs that are not submissive and supporting NGOs that are useful to government."
As a result, it was a long, hot summer for members of China's beleaguered NGO community, marked by many invitations for a "cup of tea," as the gentle or not-so-gentle interrogations by security services are euphemistically known. Surveillance and suspicion are regular facts of life for anyone trying to strengthen civil society in China, but this year the questioning has taken on a different tone — more frequent, often more aggressive and particularly focused on foreign sources of income, activists say.
"There has been an increase in the number of meetings, and an increase in the number of departments who want to speak to you," said a manager at an international NGO, who spoke on the condition of anonymity for fear of inviting trouble. "The questions have become more pointed. 'So what are you really doing?' That's the question you get all the time."
NGOs have been asked to declare foreign sources of income, while academics have faced similar scrutiny over research projects financed with Western money. Groups working in health, on LGBT rights or even on women's rights say their problems have mounted this year, especially if they get money from the United States.
"The target is not the money, it is the NGOs themselves," said Cheng Yuan, the Beijing and Guangzhou bureau chief for the Equal Rights Trust, or Yirenping, an anti-discrimination group. "The government wants to control NGOs by controlling their money."
China, like many less-than-democratic governments, watched in dismay as popular uprisings known as the Color Revolutions spread across Ukraine, Georgia and Kyrgyzstan in the 2000s and the Arab Spring unfolded in the Middle East in 2011. Ever since the 1989 Tiananmen Square protests, the government has been determined to prevent people from organizing themselves into any kind of group — political, religious or rights-based — that might threaten the Communist Party's hegemony.
One foreign policy expert, who spoke on the condition of anonymity to discuss a sensitive subject, said Putin had called Xi to share his concern about the West's role in Ukraine. Those concerns appear to have filtered down into conversations held over cups of tea in China, according to civil society group members.
"They are very concerned about Color Revolutions, they are very concerned about what is going on in Ukraine," said the international NGO manager, whose organization is partly financed by the National Endowment for Democracy (NED), blamed here for supporting the protests in Kiev's central Maidan square. "They say, 'Your money is coming from the same people. Clearly you want to overthrow China.' "
Congressionally funded with the explicit goal of promoting democracy abroad, NED has long been viewed with suspicion or hostility by the authorities here. But the net of suspicion has widened to encompass such U.S. groups as the Ford Foundation, the International Republican Institute, the Carter Center and the Asia Foundation.
A documentary produced in association with China's National Defense University accused those U.S. groups of incitement, sabotage and covert subversion here. In June, the Maoist Web site Utopia recommended the swift arrest of Western-influenced officials and intellectuals, while the party's premier think-tank, the Chinese Academy of Social Sciences, has even come under extraordinary criticism from within the party for supposed "infiltration by foreign forces."
Some activists say the latest investigations could simply be an effort to map and understand the growing NGO sector, ahead of legislation that would regulate the sector and is said to be in the works. But others say they are part of a broad crackdown on freedom of expression under Xi. An official notice briefly posted on a local government Web site in Shanxi province said that the investigation of foreign NGOs had come at the behest of Xi's newly established National Security Commission.
Just as Putin's Russia is reported to be considering measures to isolate its citizens from the global Internet, in an apparent imitation of China's "Great Firewall," so Xi appears to be learning from Russia's experience in "sovereign democracy."
In July, Wang Haiyun, vice chairman of the China Research Institute of China-Russia Relations, argued that his country should follow Russia's example in forcing foreign-financed NGOs to register as "foreign agents."
"We can learn from Russia and introduce a 'foreign agent law,' so as to block the way for the infiltration of external forces and eliminate the possibilities of a Color Revolution," he wrote in the Global Times newspaper.
China boasts more than half a million registered NGOs, and many more unregistered bodies. Small, local groups working on environmental, education or health issues have been able to make progress here, by complementing what the government can provide rather than challenging the Communist Party's ultimate control. But any group that grows too large, or talks the language of citizens' rights, risks uncomfortable scrutiny.
The demonstrations in Hong Kong, which has maintained a measure of self-rule, are likely to reaffirm for Chinese leaders the dangers of relaxing any control.
For NGOs on the mainland, there are some clear red lines, with issues around democracy, ethnic minority rights or religion particularly sensitive, and any attempts to organize public protests especially dangerous. But in other areas, the red line is deliberately fuzzy, and often shifting.
In May, Yirenping's attorney Chang Boyang was arrested and subsequently denied access to legal representation. The group, whose offices have since been raided twice by police, said his detention "appeared to have been motivated solely by his work on behalf of individuals exposed to discrimination in China, including women, migrant workers, people living with HIV/AIDS or hepatitis B or C, and other vulnerable individuals."
Yirenping's Cheng said some NGOs are now refusing to accept foreign money, especially from sensitive groups. "But if NGOs turn to domestic money, they have to sacrifice some independence, since most domestic money comes from the government," he said.
Yu Fangqiang, executive director of Nanjing-based Justice for All, said attempts to cut off foreign funding would damage civil society, limit its diversity and ultimately rebound on the party. "Social conflicts will become worse, and more protests will show up," he said.
But China's leaders may see a different lesson arising from Hong Kong — that tolerance of political diversity opens the door to foreign antagonists, and that just leads to trouble.
Xu Jing contributed to this report.