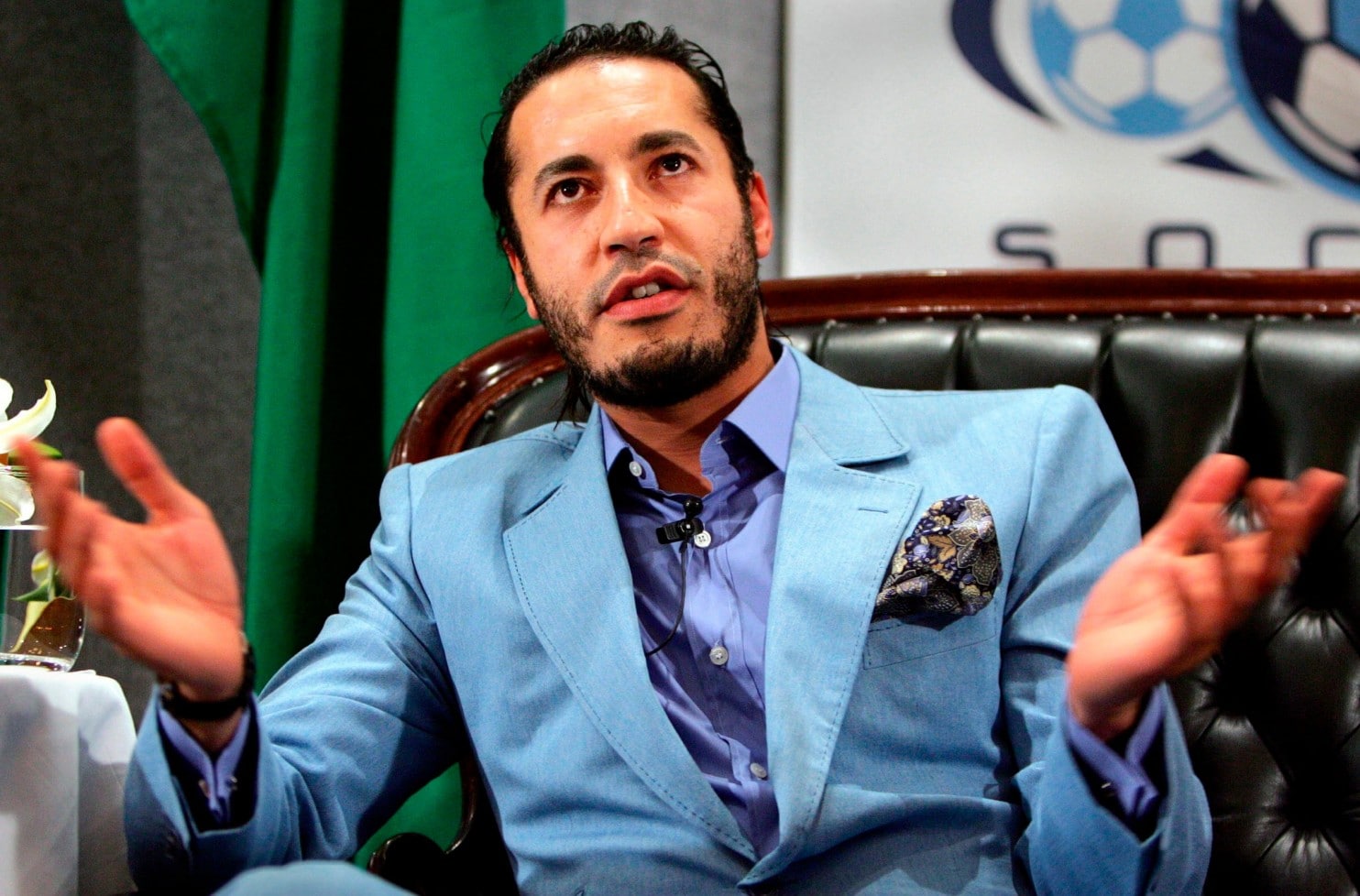 TRIPOLI, Libya — One of fugitive leader Moammar Gaddafi's sons escaped from Libya into Niger on Sunday, Libyan rebel leaders said, sparking anger among fighters stalled at three of Gaddafi's last bastions of support.
Saadi Gaddafi, a commander of Moammar Gaddafi's special forces who was instrumental in trying to suppress opposition forces in the east of the country, crossed into a northern Niger border town, prompting Libya's new rulers to call for his immediate extradition to Libya to stand trial.
"These people should not be allowed to get away with the crimes they have committed," said Jalal al-Gallal, a spokesman for the rebels' Transitional National Council. "Neighboring countries should not be allowed to provide safe haven to these criminals."
Saadi's escape came as fighters remain stalled outside Gaddafi's home town of Sirte, as well as Bani Walid, a bastion of the Wafala tribe, which is largely loyal to the Gaddafi regime, and the southern desert town of Sabha.
With Gaddafi still at large, Libyan rebel leaders are concerned that he also could try to escape across the same border. Libya's porous southern border is vast, and the rebels have little control over the territory. A delegation was sent to Niger last week to urge officials there not to let wanted members of Gaddafi's family and his regime find haven in their country, Gallal said.
"Those who cross into other territories must be immediately detained in preparation for their return to Libya," Gallal said.
Niger's justice minister told reporters at a news conference that Saadi was found by soldiers patrolling in the Sahara on Sunday, according to the Reuters news agency. An arrest warrant has been issued for Gaddafi and another son Saif al-Islam, but not for Saadi.
Saadi's arrival in Niger marked the third convoy of regime loyalists who have passed into the country in the past week.
"He was in a convoy of nine people. They were intercepted heading in the direction of Agadez," said Marou Amadou, the justice minister, referring to the northern Niger town where the two previous convoys had stopped. Amadou said Saadi was expected to be sent to the capital, Niamey, on Monday or Tuesday, but it was unclear whether Niger planned to extradite him to Libya.
Last month Gaddafi's wife Safia, daughter Aisha and son Mohammed escaped to Algeria.
Saadi, a former professional soccer player, had been trying to negotiate an end to the war between Gaddafi loyalists and opposition forces. But it appeared that his father never intended to surrender. As Saadi called for negotiations this month, his brother Saif al-Islam and his father called for a fight to the death.
One senior rebel council official, who spoke on the condition of anonymity because of the sensitivity of the subject, said rebel fighters and military commanders were growing frustrated with Libya's new political leadership for giving so much time to Gaddafi's last bastions to surrender, while top officials and his family members continue to escape.
The battle for the remaining Gaddafi strongholds began Friday night but quickly stalled, with opposition fighters still on the outskirts of the three towns, facing fierce resistance.
Leaders of the Transitional National Council have said that they will not announce a new interim government and begin a planned 20-month transition to democracy, including the drafting of a constitution and national elections, until the fighting in the three towns is concluded.
Gallal, the council spokesman, said the Saturday deadline that had been set for the towns to surrender or face a military onslaught might have given Gaddafi loyalists an advantage.
"From a military point of view, it could prove a mistake giving them a deadline. It's given them the opportunity to regroup and given the figureheads of Gaddafi's regime the opportunity to escape," Gallal said.
Rebels made another foray into Bani Walid on Sunday but quickly pulled back after meeting more resistance from Gaddafi loyalists inside the center of town.
Although fighters said they were making progress and had control of much of the dusty and dispersed oasis town, 104 miles southeast of Tripoli, their commanders appeared to have little stomach for a final push into the center — which could see significant rebel and civilian casualties — in a town reputed for being both fierce and heavily armed.
"When our forces entered Bani Walid, they found the brigades of Gaddafi using citizens as shields," military spokesman Ahmed Bani told reporters.
"There are houses full of families . . . We are unable to strike the houses because we know there are civilians inside. Also NATO can do nothing," he said. "So we prefer to return and surround Bani Walid until the young men inside have a solution."
At a checkpoint north of the town, rockets whizzed in the distance and landed with thumps on the hills, sending black plumes of smoke into the air. Rebels said mortar rounds and Grad rockets were being fired from loyalist positions.
An ambulance returned from the front line with its sirens wailing as NATO warplanes buzzed overhead.
Abdullah Kenshil, a negotiator for the rebel council, said loyalist forces that had withdrawn from other cities in recent weeks had regrouped in Bani Walid.
"For them, it is a matter of life or death," he said. "They don't care if residents are killed in the middle."
NATO said its warplanes had hit military targets near Bani Walid the day before — knocking out a tank, two other vehicles and one multiple-rocket launcher.
Meanwhile, interim Prime Minister Mahmoud Jibril announced that oil production had restarted in Libya, but he declined to say where or how much was being produced.
With production stalled, the economy has faltered and Libyans, most of whom collect a government salary, have not been paid. Speaking at a news conference Sunday, Jibril promised to use recently unfrozen assets of more than $800 million to pay the backlog of salaries, as well as bonuses.
Jibril, who has been under fire for spending most of the past seven months outside the country, added that he would announce within seven to 10 days a more inclusive interim government, with himself still at the helm.
"We hope to break the besieged cities of Bani Walid, Sirte and Sabha so all of Libya will be united again," he said.
Denyer reported from Wadi Dinar, Libya.