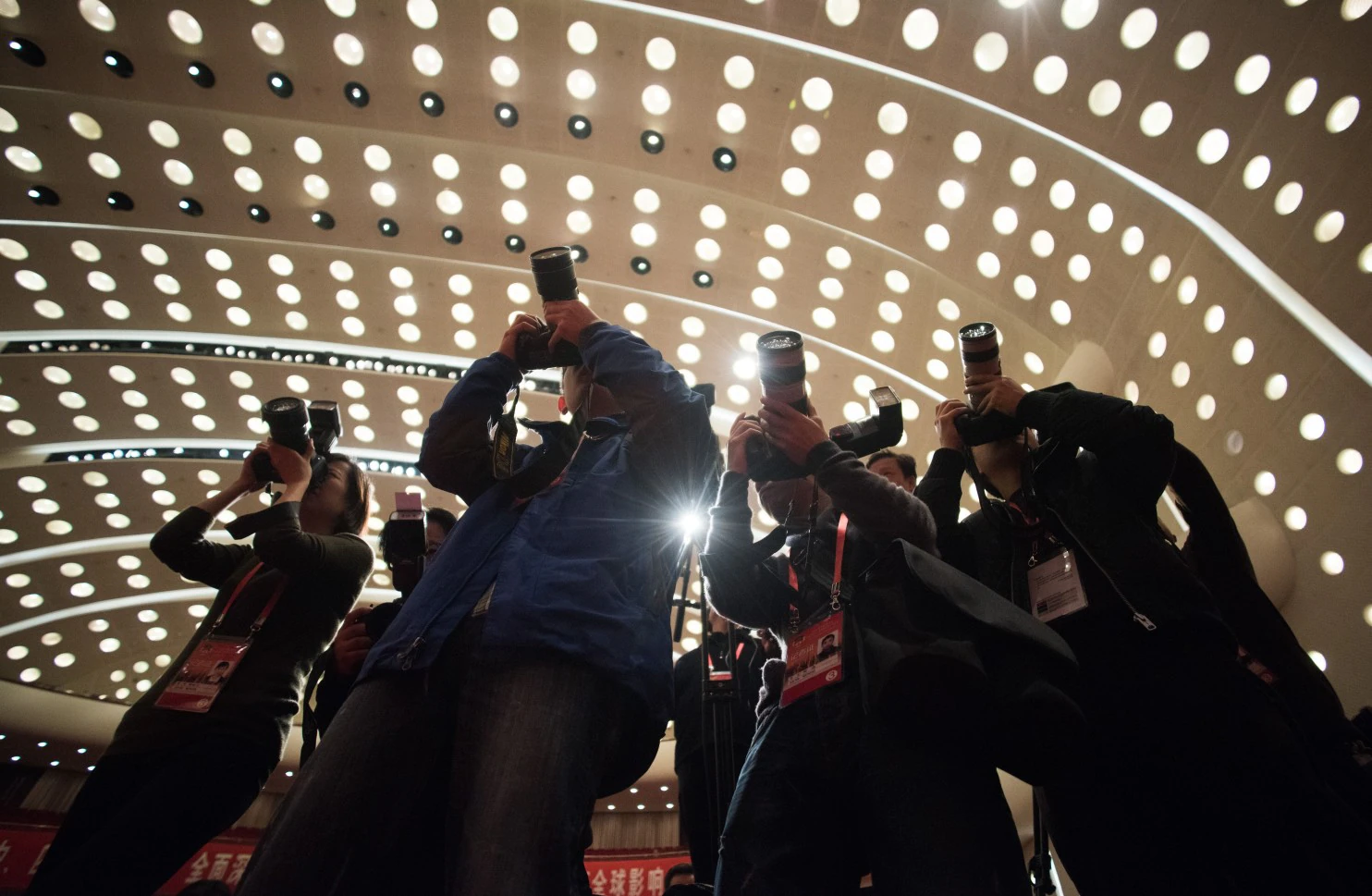 As President Xi Jinping pays a much-anticipated state visit to the United States this week, Beijing wants to show Washington that it is playing nice with the Western media. For the first time in nearly three years, China will grant fresh work visas to two reporters from the New York Times.
"Foreign media welcome," the state-run China Daily proclaimed in a front-page banner headline Saturday, quoting Xi talking to News Corp. Executive Chairman Rupert Murdoch, who was visiting China last week.
But although Xi reportedly told Murdoch that international news outlets can "boost mutual understanding and cooperation," the Wall Street Journal's English- and Chinese-language Web sites remain blocked here, as do those of the New York Times, Reuters and Bloomberg News.
And around China, suspicion of foreign journalists remains high. Efforts to prevent them from reporting freely are common, as demonstrated by a recent Washington Post trip to the Chinese city of Horgos on the border with Kazakhstan.
A Post team was expressly told we were not welcome there, with Yang Jihong, the director of the local propaganda department, instructing police to detain us until three colleagues arrived to "escort" us around a free-trade zone straddling the border.
"You can't interview traders," insisted one of the officials, a man who said he was not carrying any identification but whose black
T-shirt somewhat incongruously proclaimed the word "Happiness" in English. He did not let us out of his sight for the next several hours, before ordering us to accompany him in a police car to have our press cards and passports checked for the fifth time.
"If you compare the lot of a foreign correspondent in China in the 1990s with today, then obviously a great deal has changed for the better," said Jo Floto, president of the Foreign Correspondents Club of China. "But since the [2008] Olympics, progress has stalled and, on some issues, gone into reverse.
"As a resident international journalist, you are still very likely to experience harassment by the security forces during your time in China," Floto said. "Our members continue to report the intimidation of their sources, interviewees and local staff by the police or their proxies."
The New York Times' problems date to a 2012 article about the wealth of then-Prime Minister Wen Jiabao. Authorities retaliated by denying visas to Times journalists newly trying to enter China, although the newspaper was allowed to renew visas for employees already here.
The Times staff members who are now promised visas are being allowed in on the condition that two other reporters leave the country. It is too soon to say whether the move represents a permanent reprieve for the Times or a temporary measure to take the issue off the agenda during Xi's state visit to the United States.
Recently, other Times journalists, as well as a senior executive, were denied short-term visas to enter China on reporting and business trips.
"We've been working closely with the Foreign Ministry to resolve this problem and have recently seen some progress,"
said Times spokeswoman Danielle Rhoades Ha, adding
that the newspaper hopes "to resume a normal rotation of correspondents in and out of China as soon as possible."
The Washington Post has not experienced problems obtaining Chinese journalist residence visas since correspondent Andrew Higgins was denied one from 2009 to 2012. But the day-to-day experience of reporting in China is increasingly challenging.
Important sources, including activists, intellectuals and independent-minded lawyers, have been locked up since Xi took power. Others have gone to ground, reluctant to be seen talking to the Western media or have been specifically told not to do so.
On reporting trips to the troubled western region of Xinjiang and to Inner Mongolia in the past year, Washington Post teams were followed, detained and prevented from talking to residents.
Restrictions on Chinese reporters are much more severe. Journalist Gao Yu, 71, was sentenced in April to seven years in prison for supposedly leaking state secrets. In August, state television aired a "confession" from Wang Xiaolu, a reporter from a respected business magazine, for allegedly contributing to China's recent stock market crash by causing panic among investors. Censorship in the country is among the most severe in the world, according to the Committee to Protect Journalists.
A survey in the Foreign Correspondents Club of China's latest annual report, issued in May, found that of 117 reporters who responded, 96 percent said working conditions for foreign media did not meet international standards, while 33 percent said conditions had deteriorated in the past year.
Foreign journalists are sometimes criticized as painting too negative a picture of China, paying too much attention to human rights abuses, and missing the longer-term trends that have helped lift hundreds of millions of people out of poverty in the past three decades.
But in Horgos, The Post was trying to report a story the government should have welcomed: Xi's initiative to revive ancient trading routes to Central Asia under the banner of a New Silk Road. Still, the "Happiness" man and his colleagues could not shake off their suspicion of the Western media.