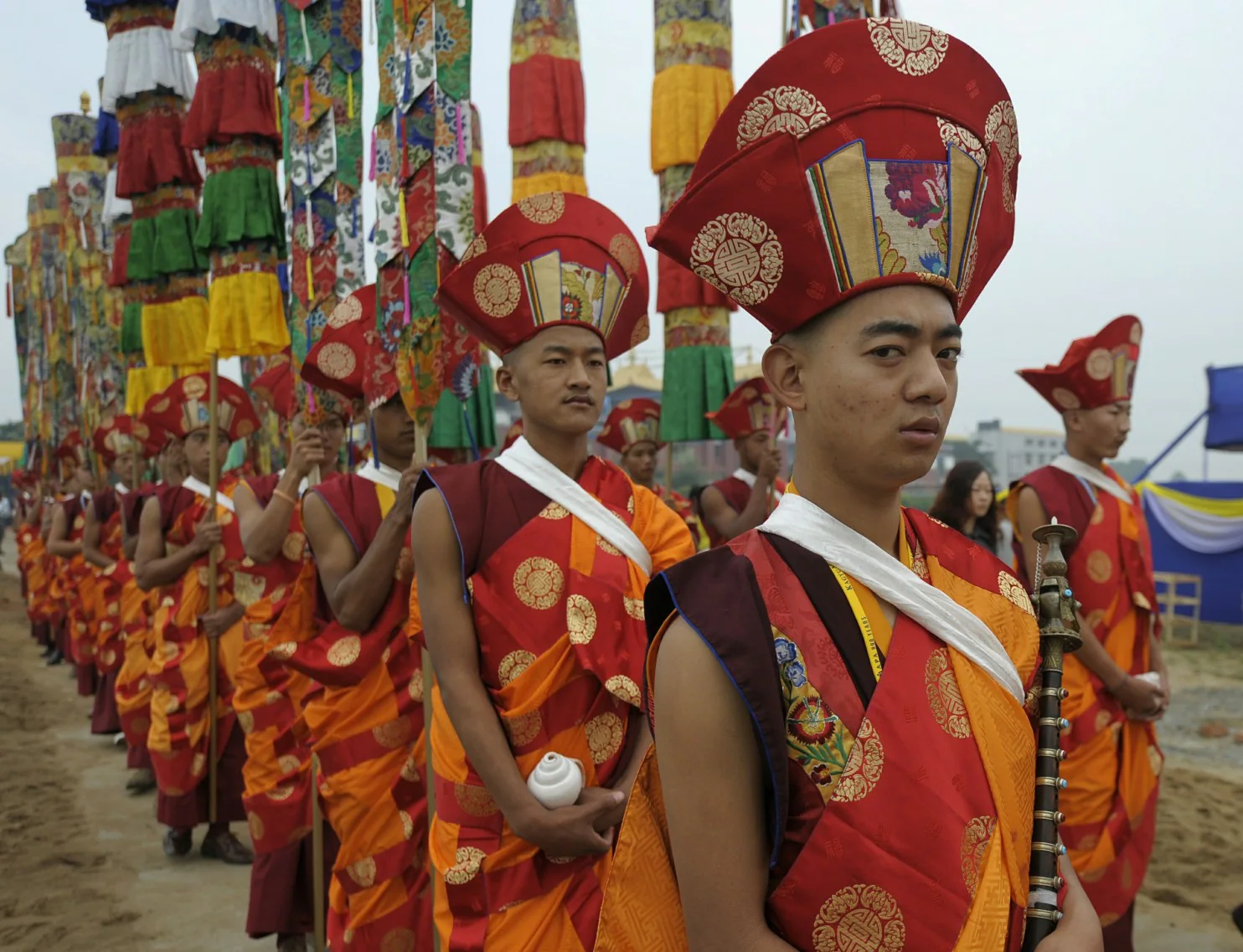 NEW DELHI — Buddhists from around the world chose India on Wednesday as the headquarters of a new international Buddhist organization and united in their criticism of the Chinese government for trying to prevent the Dalai Lama from speaking at their meeting here in New Delhi.
It was something of a victory for India in what observers increasingly see as a contest with China to win the favor of Buddhists around the world. India is the land where Buddha gained enlightenment and taught, but China has the largest population of Buddhists today.
The communist government in Beijing accuses the Dalai Lama of trying to split Tibet from China, and such is its distaste for the spiritual leader of Tibetan Buddhism that it demanded that the Indian government prevent him from speaking at the Global Buddhist Congregation, held in New Delhi this week.
When Indian authorities rejected the demand, Beijing called off talks between top diplomats from the two countries.
"The Dalai Lama is not a purely religious figure but one who has been engaged in separatist activities for a long time, under the pretext of religion," Hong Lei, a spokesman for the Chinese Foreign Ministry, said Monday. "We oppose any country that provides a platform for his anti-China activities in any form."
In apparent deference to Chinese sensibilities, Indian President Pratibha Patil stayed away from the event's opening ceremony. Other leading Indian politicians also chose not to show up, as did dozens of Chinese delegates who had initially confirmed their attendance.
"There is some contest between India and China in this; even if it is not projected explicitly, it is implicit," said Srikanth Kondapalli, professor of Chinese studies at Jawaharlal Nehru University in New Delhi. "The contest is ironic, because 40 percent of Chinese people believe in Buddhism and very few Indians do."
As the Dalai Lama ages, the question of his succession and where his reincarnation will emerge have become a key issue for Buddhism and the region today.
The Chinese government has increasingly been trying to present itself as the supreme protector of the religion, in what some observers see as an apparent attempt to ensure that its choice of successor gains acceptance among Buddhists. In the past four years, it has hosted two major international Buddhist forums, the second of which, in 2009, attracted more than 1,700 delegates from 50 countries. China has also announced plans to spend about $3 billion building a major tourist complex at Buddha's birthplace in Lumbini, Nepal.
The moves are also designed, observers say, to burnish the Communist Party's credentials among China's vast Buddhist population, numbering in the hundreds of millions.
India may not be splashing quite so much cash, but it is also trying to burnish its credentials, observers say, regularly sponsoring Buddhist conferences across Asia and at home. Its five-decades-old record of sheltering the Dalai Lama counts heavily in its favor, as does its historical pedigree as the land where Buddha gained enlightenment, taught and achieved complete nirvana.
The new International Buddhist Confederation to be headquartered in India is supposed to provide a common platform for Buddhists and present "a strong and united Buddhist voice, with moral authority to identify, recognize, protect, preserve and revive Buddhist traditions, practices and communities."
At the conference, delegates from Taiwan lamented the absence of their counterparts from mainland China, while many others said the Chinese government had no right to interfere in the meeting.
"This is a religious congregation and not a political one," said Alvydas Turskis, a delegate from Lithuania. "This is not even Chinese territory; this is another country. There is no aggression here against any country. Why should anyone object to something so peaceful?"
The Dalai Lama spoke about the need to end violence around the world and for religious leaders to practice what they preach. He also called for unity among the different sects of Buddhism. However, a news conference he was supposed to hold after his speech was canceled at the last minute without explanation.
Raj is a special correspondent.