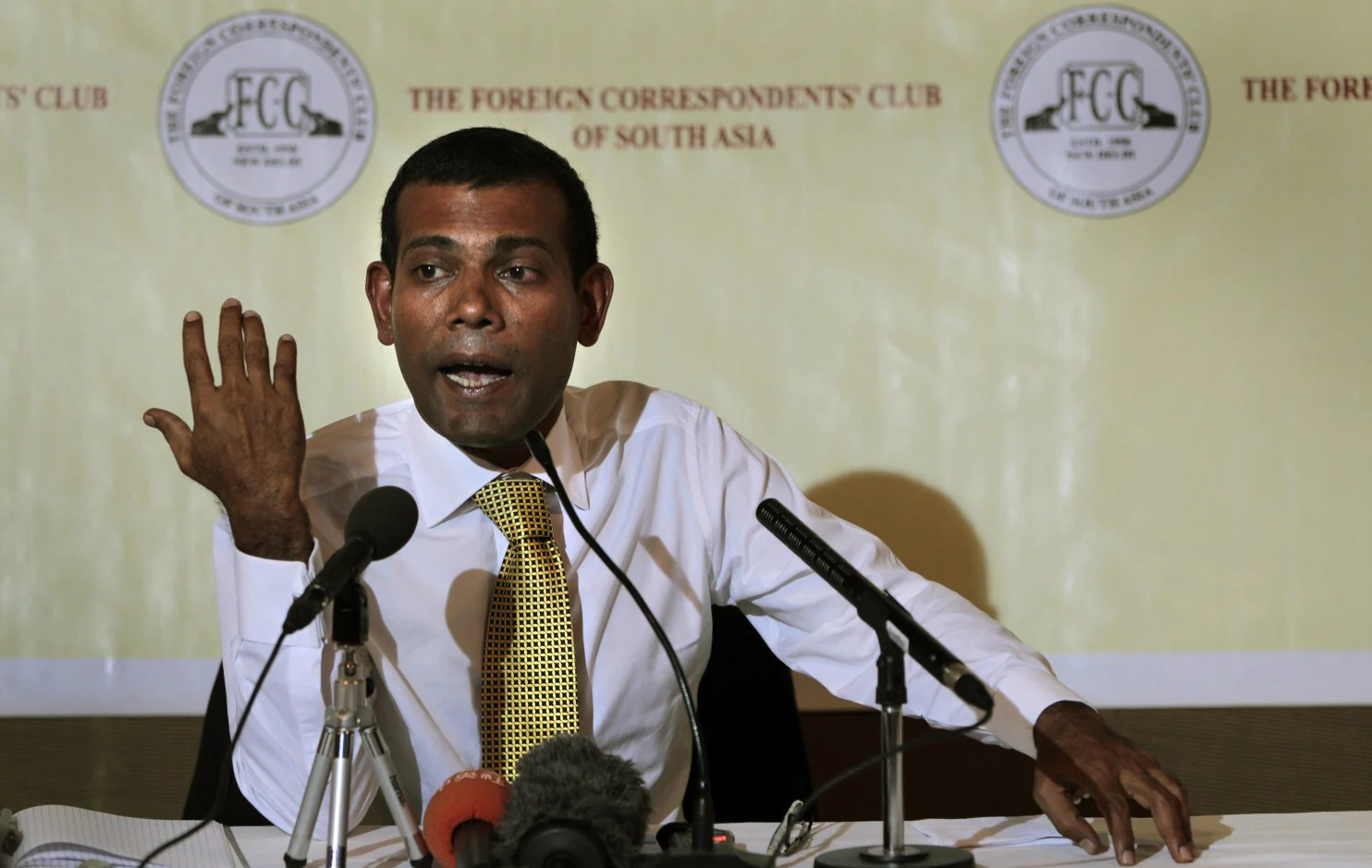 NEW DELHI — Saying he was saddened and shocked by the speed with which his friends in Washington had abandoned him, the former president of Maldives warned Thursday that radical Islam has gained ground across the sprawling Indian Ocean archipelago since he was deposed in February.
Mohamed Nasheed won the presidency in Maldives's first multiparty elections in 2008, after a lifetime advocating democracy and human rights and several long stints in jail.
Less than three years later, he was forced to resign by an angry mob of police officers and soldiers, in what he says was a coup engineered by his autocratic predecessor.
"We have to have an election," he said in an interview while visiting the Indian capital, New Delhi. "In the absence of that, Islamic radicals are gaining strength in the Maldives."
The chain of 2,000 islands is best known for its plush resorts, its scuba diving and its reputation as an upmarket honeymoon destination. But away from the tourist atolls, adherence to Islam is compulsory, alcohol is banned, and the conservative Saudi Arabian strand of Islam known as Wahhabism has been expanding its reach for decades.
Nevertheless, the main Islamist political party performed poorly in the presidential race and won no seats in subsequent parliamentary elections. "But after the coup, they have three portfolios in the cabinet, they are calling the shots in the military, and they are consolidating their position," Nasheed said.
Nasheed said he was arrested 27 times under the rule of former president Maumoon Abdul Gayoom, was tortured twice, missed the births of both his daughters and spent 18 months at a stretch in solitary confinement. In the process, he earned the nickname "the Mandela of the Maldives."
While he was in power, he says, he changed the school curriculum to make it "more balanced and not so Islamic" and proposed a new penal code less dependent on Islamic sharia law.
He noted that he also restored diplomatic relations with Israel that had been suspended for three decades under Gayoom, advocated closer ties with the United States and Maldives's giant neighbor India, introduced benefits for single mothers and tried to protect women forced by Islamic radicals to wear burqas and veils.
But when he announced his resignation in a nationally televised statement Feb. 7 — after police and soldiers had, he said, basically taken him hostage — both the United States and India moved swiftly to recognize his successor, former vice president Mohammed Waheed Hassan, without taking the trouble to find out what had really happened, he says.
"We did so much to make the Maldives more liberal," he said. "To suddenly see the United States, so quickly — they could have held onto their horses for a few minutes and just asked me — so quickly to have recognized the status quo, that was very sad and shocking."
Shashank Joshi, an analyst at the Royal United Services Institute in London, attributed the State Department's response to its focus on other priorities, such as China, North Korea, Afghanistan and Pakistan.
"They took their eye off the ball, which is why they followed India into this mistake," he said. "They didn't have the foresight to realize that with Nasheed they had something solid, something they could build on."
Once freed from his captors, Nasheed declared that he had been ousted in a coup, which he says Gayoom and his cronies had planned for weeks. Even so, he says, Washington appeared to let the new government off the hook, with State Department envoy Robert Blake accepting its argument that fresh elections could not be held immediately because the electoral commission was not ready.
At a news conference this month in Maldives's capital, Male, U.S. charge d'affaires Valerie Fowler said the timing of elections was "a decision for Maldivians to make, and the best way for them to make that decision is to have dialogue." Asked whether the United States recognizes the new government, she said, "We are working closely with President Waheed as we did with President Nasheed before him."
Nasheed and others say it was his efforts to reform the Gayoom-appointed judiciary that may have precipitated his downfall — in particular, his attempt to remove a prominent judge who Nasheed says was helping to block corruption and human rights cases against government officials. Now, he says, the old regime is back in the saddle, with Gayoom's two children and many of his allies in the cabinet.
On Wednesday, Waheed promised elections in July 2013, but Nasheed said that was too long to wait. "If we delay elections, the dictatorship, the military, police and Gayoom will skew the playing field in such a manner that elections in 2013 will become impossible," he said, adding that he would probably be in jail by then.
Under Gayoom, mosques were among the few places where people could meet to express dissent, a situation that Nasheed fears will probably return. "Where freedom of assembly and expression is curtailed, the only avenue for dissent will be underground movements, and the underground movements will be headed by Islamic extremists," he said.
South Asia terrorism expert Ajai Sahni said a front organization for the Pakistani extremist group Lashkar-i-Taiba expanded its influence in Maldives by dispensing welfare after the 2004 Indian Ocean tsunami. According to several analysts, hundreds of young Maldivians have traveled to Pakistan to attend madrassas there, several have turned up fighting in Afghanistan or as members of violent extremist groups in Pakistan, and one is being held at the U.S. detention facility in Guantanamo Bay, Cuba.
On the day Nasheed resigned, vandals smashed ancient Buddhist statues in the National Museum, in acts reminiscent of the Taliban's destruction of the giant Buddhas of Bamian in Afghanistan in 2001. Meanwhile, Nasheed says, Islamists are seeking to change the school curriculum again.
His supporters have staged regular demonstrations in Male since his ouster but have often been met with violence by the police, according to human rights groups. Nasheed voiced confidence that he would win again in a free, fair election, but stressed that was not the point.
"It doesn't matter who wins. The question is not whether we win," he said. "The people of the Maldives must be governed by an elected government, not a government formed by brute force."
Nasheed is abroad trying to drum up more international pressure on the new government to hold elections this year, and he says the United States has already "recalibrated" its position to become more supportive.
But he will soon be back in the islands, where he faces charges of violating the constitution and consuming alcohol, after bottles were allegedly found in his staff quarters. "I am very, very scared," he said. "But I will give it my best shot."