BEIJING — Chinese police said Friday that they think a 22-year-old school dropout planted a homemade explosive device outside a kindergarten, killing eight people including himself.
Written on a wall near the school was a manifesto-style rant: "Giving birth is a crime," it said, adding that India, China and Bangladesh will not "meet a good end."
The explosion took place at 4:48 p.m. Thursday outside the kindergarten in the city of Xuzhou, in the eastern coastal province of Jiangsu, as mothers gathered at the school gates to pick up their children.
There was speculation initially that the source of the blast might have been a gas cylinder at a streetside food vendor, but it now appears that the explosion was the latest in a long series of puzzling and disturbing attacks on schools in China in recent years, perpetrated by people with grievances against society or with mental health issues.
Although other attacks were aimed at young children, the manifesto, if confirmed to be written by the perpetrator, would suggest that mothers might have been the target this time.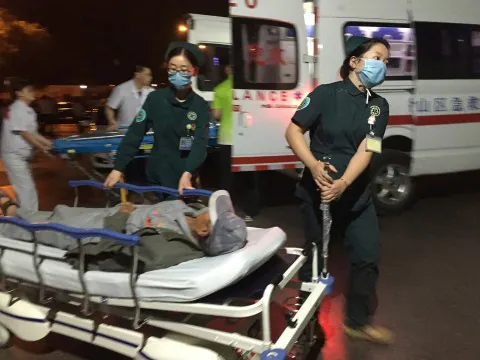 "The explosion was caused by a homemade explosive device," Pei Jun, deputy head of the Jiangsu public security office, said at a news conference, blaming a man he named only as Xu, who died at the site.
Police said their investigation, together with DNA testing, had helped identify Xu. They said he had dropped out of school with autonomic dysfunction, a disorder that can cause heart and breathing problems, and went on to work and live near the kindergarten.
"Materials for making an explosive device were found at his room, and words such as 'die' were written on the wall," Pei said. "At this point, we believe the case is solved."
There was no confirmation that the manifesto was written by the bomber.
An image circulating on social media purported to show the manifesto written on the wall of Xu's home. Later, another photo was circulated of the same piece of wall, with the words removed. It could not be immediately confirmed whether those photos were genuine.
"Crime equals giving birth, two people commit a crime, two people die, group commits a crime, group dies, country commits a crime, country dies, ethnic group commits a crime, ethnic group dies, India, China and Bangladesh, none will meet a good end," the statement said, handwritten in Chinese characters.
Police said 65 people were wounded in the attack, eight seriously, of whom four remain in critical condition. Many appeared to be mothers.
Videos circulating on social media showed women, some motionless and others barely moving, lying on the ground among pools of blood.
The attack happened before the children were let out of the school, and no teachers or pupils were among the victims, authorities said. But one video showed two very young children who were apparently wounded — one cradled in a woman's arms and another lying on the ground — and who may have been waiting for elder siblings to emerge from the school.
Clothes and shoes were also seen strewn across the ground.
Although the videos could not be verified, they appeared to be from the same location as other footage posted by state media that showed ambulances arriving, stretchers being wheeled out and police securing the scene.
Sociologists say the attacks on schools and young children are a result of the strains of a society undergoing rapid change, with rising inequality and huge pressures on young people to compete and succeed. Also cited are a lack of support for the mentally ill and a dysfunctional legal system, in which people who feel they have been treated unfairly or have suffered injustice have few avenues to seek redress.
Police said two people died at the scene and six died at a hospital.
Li Meijin, a professor in the department of criminology at the People's Public Security University of China in Beijing, said many such attackers appear to be men in the prime of their lives who may be struggling to cope with pressure or difficulties.
"Socially isolated individuals are more likely to commit crimes," she added. "If they can't get effective help or there's no good way for them to vent their feelings, they may become reckless in desperation and take revenge on society."
"I am wondering if we should have more ways for people to file a complaint or appeal," she added.
Last month, a dozen Chinese and South Korean children, all between ages 3 and 7, died after their kindergarten bus driver lit a fire on his bus, police said. The man was apparently angry that his overtime and night shift pay had been cut, police told state media.
With China maintaining strict control of firearms, most of the other attacks have involved knives or other sharp implements, such as last year's assault on an elementary school in northern China that left seven children wounded.
Between 2010 and 2012, at least nine separate attacks on elementary schoolchildren in China left at least 25 people dead and more than 100 wounded. The weapons included knives, a hammer, an ax, a cleaver and a box-cutter.
In addition to blaming mental illness, police have ascribed the incidents to motives ranging from an employment dispute to vengeance by a disgruntled suitor spurned by a woman.
The attacks on children are perhaps even more troubling in a society in which many parents have only one child, thanks to four decades of draconian family planning policies.
Such attacks have prompted the government and schools to beef up security, posting guards and installing gates and barriers outside campuses. On Friday, the Ministry of Education issued a fresh directive instructing schools to carry out a "comprehensive investigation of security risks."
Among other things, it said schools should look at former personnel who may have been dismissed, individuals with mental illness and illegal street stalls in the vicinity.
Guns are banned in China, and official data shows that violent crime is relatively uncommon in the country compared with other parts of the world; China's murder rate, for instance, is less than one-fifth that in the United States. However, experts question the accuracy of the Chinese data and say many crimes go unreported.
Shirley Feng, Luna Lin and Yang Liu contributed to this report.
Read more: