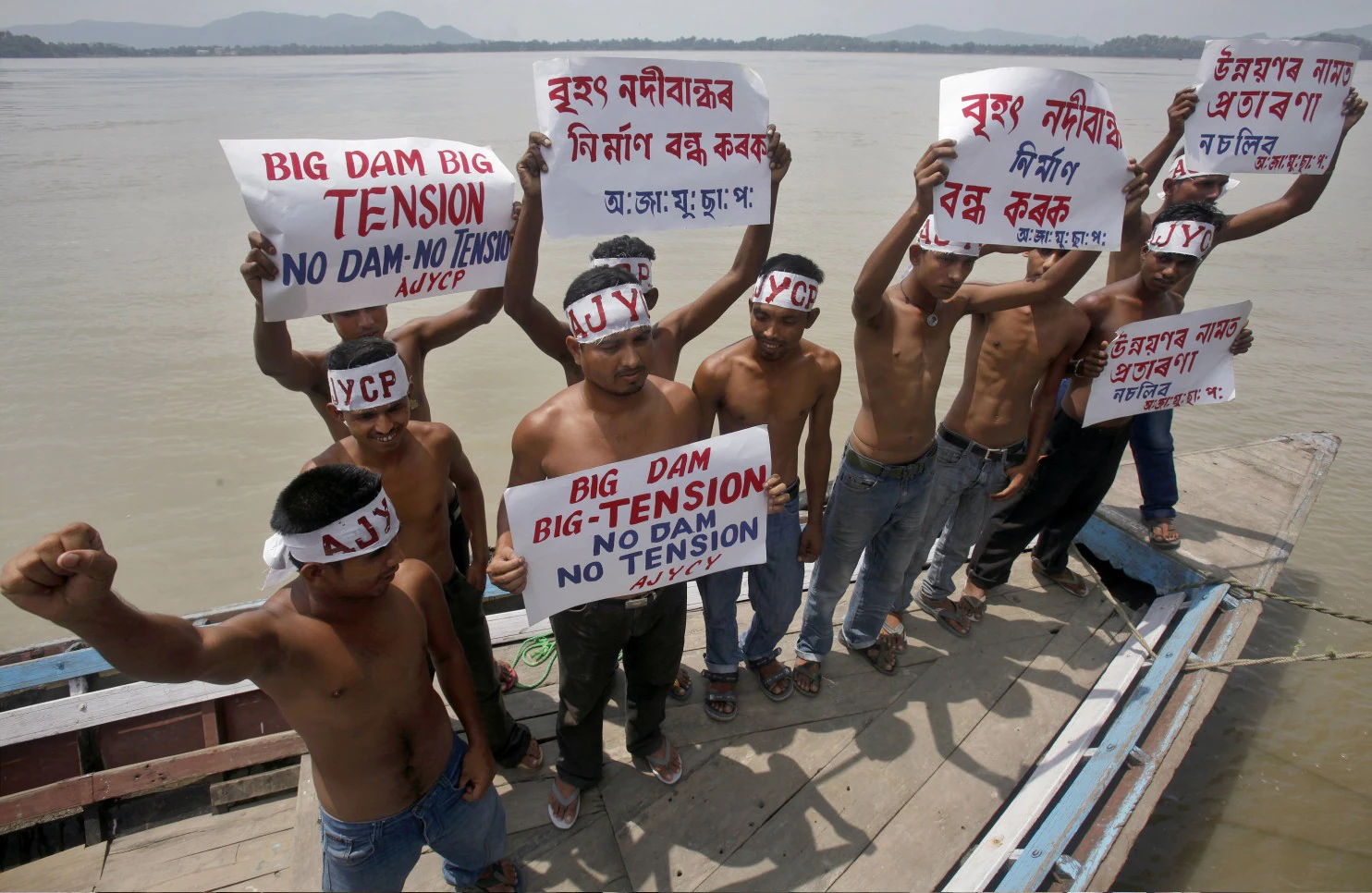 NEW DELHI — Plans by China to build three dams in Tibet have rung alarm bells in next-door India, where fears are rising that the northern nation's thirst for power and water will one day affect the flow of the mighty Brahmaputra River, a lifeline for tens of millions of people.
Some of Asia's most important rivers rise in Tibet, and China has a reputation in the region for putting its own soaring energy needs ahead of the interests of its downstream neighbors. It has no water-sharing agreements with any countries it borders.
Large Chinese dams on the Mekong River have been blamed for disrupting water flows into countries such as Thailand and Vietnam, while Chinese dam-building projects in places such as Burma and Cambodia have been criticized for displacing people and causing environmental havoc.
As its demand for power soars, China has become the world's largest dam builder, and its latest five-year energy plan, announced last month, laid out proposals for more hydroelectric plants, including three medium-size dams on the Yarlung Zangbo, as the Brahmaputra is known there.
Many experts say the dam proposals pose no immediate threat to India because they will not create large reservoirs. Instead, they are run-of-the-river projects, which harness the water's energy as it flows through underground tunnels. The dams also would lie upstream from the river's main water-catchment area.

But the fact that the Indian government learned of the plans through Chinese media reports has raised hackles here. With one eye on public opinion, New Delhi issued an unusually testy statement last week, reminding Beijing of India's "considerable established user rights to the waters of the river." India has "conveyed its views and concerns at the highest levels" of the Chinese government, Foreign Ministry spokesman Syed Akbaruddin said.
His counterpart in Beijing said China has always taken a responsible approach toward the development of cross-border rivers.
"Any new project has to go through scientific planning and study with consideration of the interests of lower- and upper-stream countries," Foreign Ministry spokesman Hong Lei said.
Nevertheless, critics here say the developments are typical of China's secrecy-shrouded dam program, especially in Tibet, and of its lack of regard for downstream neighbors. Indian media have frequently blamed flash floods on unannounced discharges of water from Chinese dams elsewhere in the Himalayas.
"They should give us all the information, the height of the dam, how much water it will hold and how much it is going to divert . . . and then decide how to proceed," said Yashwant Sinha, who was India's foreign minister from 2002 to 2004 and is a leading figure in the opposition Bharatiya Janata Party. "Instead we hear about it through the media. They do things very, very stealthily."
The latest plans also have provided more ammunition for the likes of Brahma Chellaney, who is with the New Delhi-based Center for Policy Research and who has been warning for years that Chinese dams on the Brahmaputra pose a serious long-term threat to the livelihoods of farmers, not only in India but even more so farther downstream in Bangladesh.
China needs energy for its industrial heartland and to develop the Tibetan plateau. Chellaney argues that the country has an established policy of trying to corner the natural resources that its growing economy needs — whether from its own back yard or from as far afield as Africa or Latin America.
From the Yangtze to the Mekong and now the Brahmaputra, Chinese dam-building follows a well-established pattern that starts with small dams on a river's upper reaches and eventually moves to mega-dams downstream, Chellaney said. There are 12 small dams on the Brahmaputra's upper reaches and tributaries and one medium-size dam under construction on the river, said Chellaney, predicting that the next step will be larger dams in spots where the river picks up huge amounts of water and momentum nearer the Indian border.
Those dams could not only affect water flows but also remove nutrient-rich silt that helps nourish agriculture downstream, he said.
The nightmare scenario for India is that China would one day have the engineering expertise to divert the river at its Great Bend, where it makes a hairpin turn through a gorge many times as deep as the Grand Canyon before rushing into India.
Such an idea has circulated in China for some time, but it is a practical impossibility even for the Chinese, said Mohan Guruswamy of the Center for Policy Alternatives in New Delhi. He said such a project would potentially require nuclear explosions to blow up mountains and the construction of a string of nuclear power plants to haul the water over the higher reaches of the Tibetan plateau.
Guruswamy said many of India's popular concerns are born of ignorance and a strong dose of jingoism. The Brahmaputra picks up the vast majority of its water a long way downstream from the proposed dams, he said, and India uses only 5 percent of the waters as the river, six miles wide in some places, glides by on its way to Bangladesh.
New Delhi is monitoring the river's flow as it enters Indian territory but is not overly concerned, said a government official who spoke on the condition of anonymity to discuss the sensitive subject.
As a rising global power, China has shrinking incentive to unilaterally dam rivers to its neighbors' disadvantage, the official said.
"This sort of thing wouldn't behoove a country that aspires to be a major player," he said.
Arvind Subramanian of the Peterson Institute for International Economics in Washington said tensions could rise as climate change melts the Himalayan glaciers and changes the patterns of water distribution in Asia. The risk is that China then takes a larger share of diminished rivers, magnifying the effects of climate change on downstream nations such as India.
And because the upstream power also has military, strategic and economic advantages, many observers say India has minimal bargaining power.
"India has very little leverage over China, and this is just one more lever that China is acquiring," said Harsh Pant of the defense studies department at King's College London.
Zhang Jie in Beijing contributed to this report.