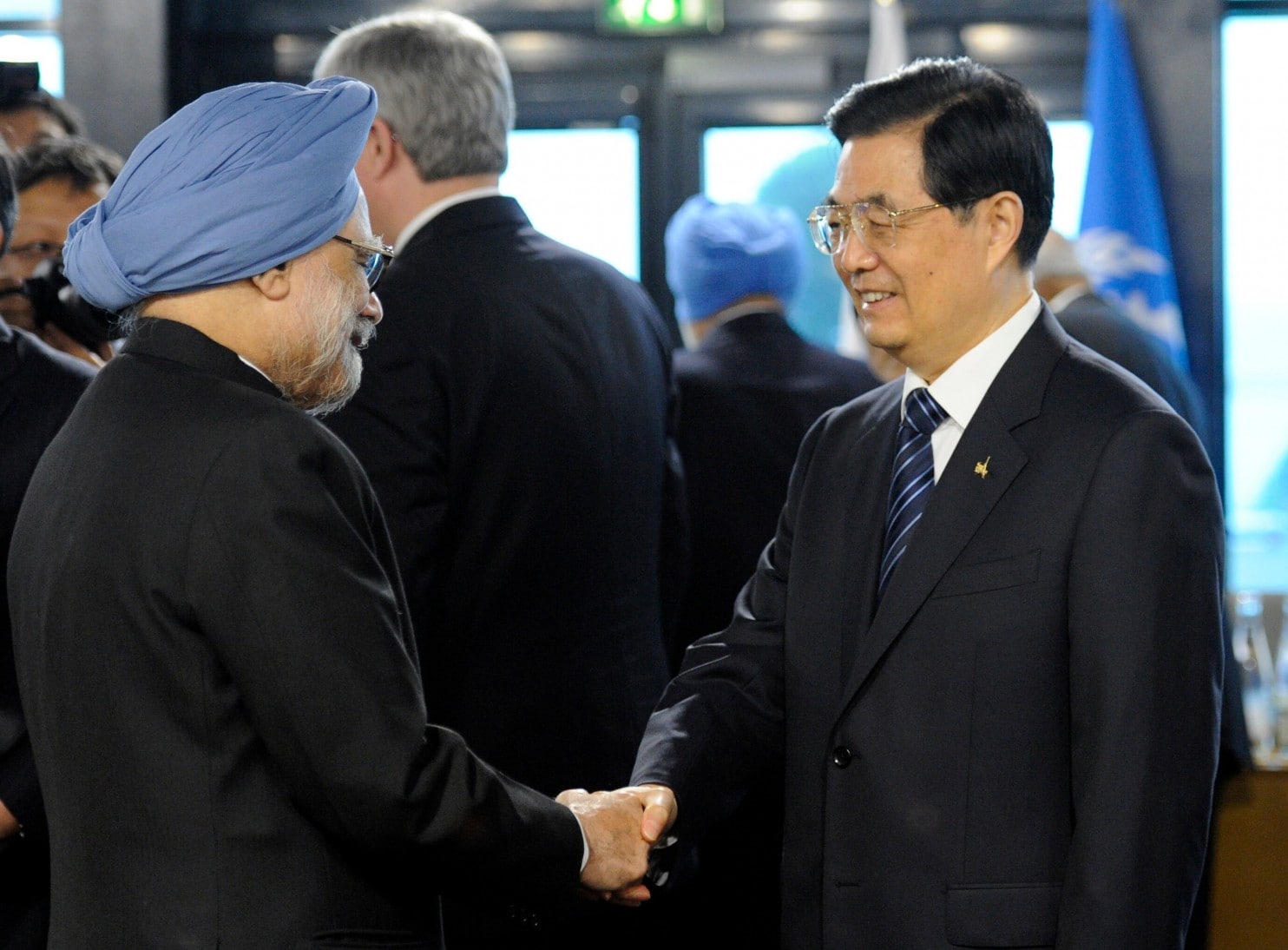 NEW DELHI — It was billed as a new assertiveness, when India's usually meek Prime Minister Manmohan Singh supposedly looked his Chinese counterpart in the eye at a summit in Bali last weekend and defended his country's "commercial" right to explore for oil and gas in the South China Sea.
But it was also a sign of rising frictions between India and China, and of what experts see as a dangerous new game between the world's most populous nations.
Threatened by China's rapidly growing ties with its South Asian neighbors, India is increasingly trying to penetrate Beijing's traditional sphere of influence, and the mutual irritations are beginning to show.
Coming just after India and Vietnam agreed to jointly explore two ocean blocks just off the fiercely contested Spratly Islands, Singh's stance in Bali prompted a frosty response from the Chinese Foreign Ministry.
"We don't hope to see outside forces involved in the South China Sea dispute and do not want to see foreign companies engage in activities that will undermine China's sovereignty and rights and interests," Foreign Ministry spokesman Lin Weimin told reporters in Beijing.
The Chinese Communist Party newspaper put it even more bluntly in an editorial last month, accusing India and Vietnam of "reckless attempts in confronting China" and warning that Indian society was unprepared for a "fierce conflict" with China on the issue.
A 15th round of talks between leading diplomats from both sides originally scheduled for Monday was called off at the last minute, with Indian media blaming growing "dissonance" after the summit in Bali. Specifically, media reports said China had demanded the Indian government prevent the Dalai Lama from speaking at an international Buddhist conference due to take place in the Indian capital this week, a condition the authorities in New Delhi refused to accept.
On one level, the discord reflects China's sensitivities over the South China Sea and resistance to outside interference in its dispute with nearly every country in the region over the potentially resource-rich ocean.
But it also represents a deterioration in relations between India and China over the past six years, and a new strategic contest in which each country has been increasingly active in what would once have been seen as the other's "back yard."
While their leaders publicly maintain that there is enough room for both countries to grow, experts and officials say Asia's heavyweights are irritating each other more and more.
"Both footprints are going to expand, the Chinese one much faster," said C. Raja Mohan of the Center for Policy Research in New Delhi. "There is going to be overlap, there is going to be friction. The challenge is how to manage it."
So far, the neighbors do not seem to be managing the frictions particularly well, and nationalist sentiment appears to be rising in both countries.
Indian fears of encirclement by China date back decades but have been heightened in recent years by Beijing's tighter embrace of — and investment in — other South Asian countries, from India's arch-rival Pakistan to traditional ally Nepal, from Sri Lanka to Bangladesh to Burma.
China, in turn, has its own fear of encirclement, by what former president George W. Bush referred to as "the arc of Democracies" — India, Japan, Australia and the United States. Such fears were inflamed this month when President Obama announced that he would be stationing Marines in Australia to help protect U.S. interests in Asia.
Joint military exercises among the four democracies in recent years were widely interpreted as directed against China. But it is the growing warmth and strategic partnership between the United States and India, and at its heart a 2008 U.S.-India civil nuclear cooperation deal, that has really strained Chinese-Indian ties.
"That was a taboo that was unacceptable to the Chinese," said John Garver, a professor of international relations at the Georgia Institute of Technology and a leading academic on the new encirclement and counter-encirclement contest being waged in Asia. "If you expect friendship with China, you must not align with distant powers hostile to China."
As the People's Daily warned New Delhi about "the price to be paid for taking what America offers," the punishment began.
Widespread talk of war between China and India began to surface on Chinese Web sites. Signs of progress over a long-standing border dispute were thrown into reverse when China reasserted its claim to huge swathes of Indian territory. China also opposed the lifting of global sanctions against civilian nuclear trade with India at the Nuclear Suppliers Group.
China began expanding its ties with India's neighbors, partly for economic and strategic reasons, but partly, in the eyes of many Indian analysts, to prevent India's emergence as an Asian and global power.
China helped Pakistan build two nuclear reactors and has more aggressively supported Pakistan's claim to Kashmir. China has become Bangladesh's leading trade partner, and investment has skyrocketed.
China has deepened ties with Nepal's army and police, and is helping build a new road to the Tibetan frontier. In Sri Lanka, it supplied many of the arms that helped the government finally defeat the Tamil insurgency and end its 26-year civil war, and it built a major new port in the island's south.
In a 2009 discussion at the Council on Foreign Relations , Singh first complained of "a certain amount of assertiveness on the part of the Chinese," the reasons for which he said he did not fully understand.
Jonathan Holslag of the Brussels Institute of Contemporary China Studies said that India was "starting to wake up to a world order which is going to be completely different, where they are going to have a lot of difficulty to defend their interests" against Chinese competition.
For years, India had talked of its intention to "Look East," to forge closer ties with the fast-growing economies of East and Southeast Asia, but it had failed to put much meat on the bones of the policy.
Finally, it began to act, albeit at its own pace, forging closer security and economic ties with countries such as Japan, Vietnam and Indonesia.
"India's 'Look East' policy, which originated in the 1990s, essentially had an economic logic, but now it has been given a geopolitical logic, in order to counter-encircle the encircler," Garver said.
Privately and now more publicly, the United States has been urging India on, declaring, in Secretary of State Hillary Rodham Clinton's words, its support for New Delhi's efforts to turn "Look East" into "Act East."
Experts concede that it is unclear where the new estrangement between India and China could lead. Trade ties are booming, and the two countries are still talking the language of partnership and cooperation.
"Competition could lead to confrontation, but I don't think it will lead to conflict," said Vikram Sood, a former intelligence chief turned analyst at the Observer Research Foundation in New Delhi.
Not everyone is so confident. In a piece last year for the Asian Security journal, Garver and Fei-Ling Wang argued that the United States, Japan and India "are playing a high-risk game" by appearing to join together to contain China.
"Germany's road to war in 1914 and Japan's road in 1941 were to a significant degree predicated on a sense of being encircled by a coalition of hostile powers. Both were determined to break out of that encirclement," they wrote.
"If leaders in Beijing conclude that the coalition congealing against China is becoming too powerful, too solid, too obvious, or simply too unfair, they might conclude it necessary to strike against one or another member of the 'anti-China coalition.' "