KUALA LUMPUR, Malaysia — China released a new image of a "suspected floating object" in the Indian Ocean on Saturday as Australians spotted debris in the search area, bringing fresh hope to the massive hunt for a missing Malaysia Airlines jetliner.
China has sent ships to investigate the object spotted by its satellite, according to the Malaysian government. But Australia said its planes had passed over the same area Saturday and did not find anything.
The Chinese government said one of its satellites spotted the object Tuesday about 75 miles southwest of another debris sighting last week.
A grainy image of the latest find was tweeted Saturday by Chinese state television. It is dated two days after two earlier images released by Australia.
The search for the missing airliner has entered a third week, with the main hope for a breakthrough hinging on planes and ships being able to locate floating objects spotted by satellites in a desolate stretch of ocean almost as close to Antarctica as to Australia.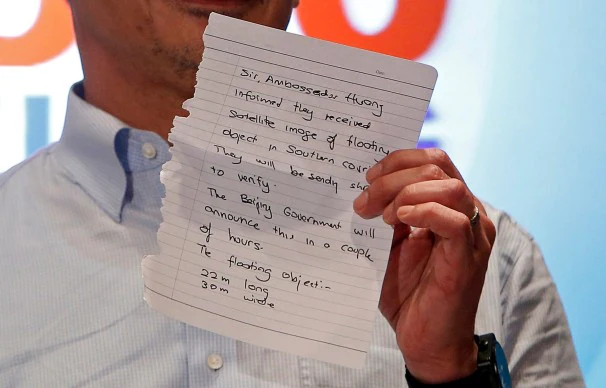 "It's still too early to be definite, but obviously we have now had a number of very credible leads, and there is increasing hope — no more than hope, no more than hope — that we might be on the road to discovering what happened to this ill-fated aircraft," Australian Prime Minister Tony Abbott said Sunday.
Abbott said observers had been able to see "a number of small objects fairly close together," including a wooden pallet.
On Saturday, Malaysia's Defense Minister Hishammuddin Hussein interrupted a news conference to say he had just received "breaking news" from the Chinese ambassador: A new satellite image had been received showing a floating object in the Indian Ocean.
"They will be sending ships to verify," he said. The object was
74 feet by 43 feet, the Malaysian government said.
A Boeing 777-200 is 209 feet long, with a wingspan of 199 feet and a tail height of 60 feet. Its body is 20 feet in diameter.
Experts said an object that large, if it came from the plane, could only be part of a wing. But even if empty fuel tanks inside the wing were filled with air, some doubted a fragment could stay afloat for 10 days after the Malaysia Airlines plane vanished March 8, especially in rough seas.
The search for debris from the plane has been complicated by strong and unpredictable currents in that part of the Indian Ocean. The two objects previously spotted by satellite March 16, the focus of the current Australian-led search, could have drifted more than 100 miles, experts said.
Charitha Pattiaratchi, a professor of coastal oceanography at the University of Western Australia in Crawley, said currents in the area are generally moving in a northeasterly direction.
He said the new debris spotted by the Chinese satellite could easily have come from the same crash site as the previous objects but could be trailing behind. "The bigger it is, the harder it is to move," he said. "It is totally consistent with what we know."
For the past three days, surveillance planes have been passing back and forth over the Indian Ocean in an effort to locate debris.
The search has become a race against time — before the objects drift too far, break up or sink in heavy ocean swells — and because bad weather was expected to set in Sunday and last through this week.
On Saturday, a civilian plane reported seeing a "number of small objects" floating in the water within a radius of three miles, including a wooden pallet, the Australian Maritime Safety Authority (AMSA) said in a statement. When a New Zealand air force P-3 Orion surveillance plane "with specialist electro-
optic observation equipment" went to the area, it found only clumps of seaweed.
A merchant ship has been asked to return to the area for a closer look, AMSA said. The agency, which is coordinating the search in the southern Indian Ocean, said it would evaluate the information supplied by China and take it into account in Sunday's search plans.
Three Australian P-3 Orion planes and one from New Zealand were being joined Saturday by two long-range commercial jets with trained volunteers on board peering out of windows. Two merchant ships were joined by an Australian naval vessel, while China said two of its air force transport planes arrived in the Australian west coast city of Perth from Malaysia on Saturday to assist.
Saturday's search centered on an area of roughly 14,000 square miles located about 1,550 miles southwest of Perth. It partly overlapped with a smaller area searched on Friday and with a larger patch of ocean searched Thursday, according to maps and data supplied by AMSA.
Warren Truss, Australia's deputy prime minister, said a complete search could take a long time and warned that the objects could have sunk already.
"Even though this is not a definite lead, it is probably more solid than any other lead around the world, and that is why so much effort and interest is being put into this search," he told reporters at the air force base in Perth that is being used as a staging area for the search planes.
"It is a very remote area, but we intend to continue the search until we're absolutely satisfied that further searching would be futile — and that day is not in sight," Truss said.
The area takes four hours' flying time to reach, meaning the Orions have only enough fuel for two hours of searching before having to return home. The commercial jets can search the area for five hours. AMSA said radar sweeps of the area have not turned up anything, meaning the effort largely must rely mostly on spotters scanning vast expanses of ocean by eye.
"While these aircraft are equipped with very advanced technology, much of this search is actually visual," Truss said.
While AMSA and pilots reported good visibility of around six miles Friday and Saturday, that may not last. Meteorologists say worse weather is expected to set in after Sunday, with a series of fronts passing through the area throughout the week.
That raises the prospect of rain, huge swells and wind-driven whitecaps in a remote and inhospitable part of the Indian Ocean near latitude 40 degrees south that is known as the Roaring Forties because of its frequent fierce westerly winds.
A Category One cyclone struck Australia's Christmas Island on Saturday, 1,600 miles northwest of Perth, and could bring further bad weather to the search area.
Time pressure is heightened by the fact that the location beacon built into the plane's flight recorder, or "black box," is likely to keep transmitting for only another two weeks before its batteries run out.
If debris from the airliner is found, complex and uncertain mathematical modeling will have to be employed to track back and find out where the plane might have come down, and naval vessels equipped with sonar technology will have to sweep the area, listening for beeps from the black box.
Then, it will be a case of searching the deep ocean floor, roughly two miles beneath the surface, with undersea drones to look for the main wreckage.
When an Air France plane crashed into the Atlantic in 2009, the first debris and bodies were pulled from the sea after five days, but it took more than two years to find the main wreckage on the ocean floor. That was partly because mathematical models of ocean currents initially sent investigators to the wrong place.
The two objects identified by Australia this week were roughly 80 feet and 15 feet long.
Peter Marosszeky, an aviation expert at the University of New South Wales, said the larger object could have been a piece of wing kept afloat for a while by air in empty fuel tanks or a fin — or simply a piece of unrelated debris of the sort that litters the oceans of the world. "At the moment, it's all conjecture," he said.
Marosszeky said the larger object could easily have been a shipping container, noting that a couple of hundred thousand of them litter oceans around the world.
But it could also be a piece of wing, kept afloat for a while by air in empty fuel tanks, or a fin — or simply a piece of unrelated debris, of the sort that litters the oceans of the world. "At the moment, it's all conjecture," he said.
Alan Kin-Tak Lau, an expert in aircraft maintenance and accidents at Hong Kong Polytechnic University, said he did not believe the large objects came from a plane, because large metal aircraft parts would be expected to sink fairly quickly.
"The only material you would expect to see is luggage and baggage and seats," he said. "The metal parts are too heavy, and for the Boeing 777, the whole aircraft is made of aluminum."
Meanwhile, the search for the Malaysia Airlines plane is continuing in other parts of the world, both over land across vast expanses of central and southeast Asia and over other parts of the Indian Ocean where the plane's final satellite transmissions suggested it might have been at 8:11 a.m. on March 8.
Hishammuddin said China, India, Pakistan, Burma, Laos, Kyrgyzstan and Kazakhstan had informed Malaysia that "preliminary analysis" had not revealed any sightings of the plane in the northern search area, primarily on land.
Malaysia Airlines Flight MH370 vanished from civilian radar at 1:21 a.m. on March 8, not long after setting off from Kuala Lumpur on its way to Beijing. It then did a U-turn and headed west back across the Malaysian peninsula before vanishing from Malaysian military radar at 2:11 a.m. in the northern end of the Strait of Malacca.
The Malaysians running the investigations say they believe the flight must have been deliberately flown off course, either by one of its pilots or by hijackers, but have not ruled catastrophic mechanic failure.
There was no indication that the investigation into what may have caused the flight to disappear had yielded new information.
A transcript of the cockpit's last minutes of conversation with air traffic controllers "does not indicate anything abnormal," Hishammuddin, the defense minister, said.
He did not comment on a report in the Sydney Morning Herald that nothing suspicious had been found on data taken from a flight simulator removed from the home of the airliner's pilot, Zaharie Ahmad Shah.
William Wan and Gu Jinglu in Beijing contributed to this report.