TRIPOLI, Libya — A chaotic and apparently ill-coordinated effort by rebels to track down Moammar Gaddafi is being led by competing factions of military commanders and bounty hunters, as well as Libyan commandos commissioned by civilian leaders.
Libyans involved in the hunt say they are not getting much help from NATO, despite the alliance's state-of-the-art electronic and aerial surveillance methods. Instead, they are relying on a deluge of human intelligence from informers and witnesses, but seem to be struggling to sift, process and share all the information that is coming in.
Meanwhile, wire services reported Tuesday that two Libyan military convoys were headed from Libya into neighboring Niger. Reuters, citing military sources from France and Niger, said scores of army vehicles had crossed the desert frontier and were traveling through Niger, in what could be an effort to find asylum for Gaddafi in neighboring Burkina Faso, which has offered to shelter him.
The reports could not be independently confirmed, however. There was no indication that Gaddafi was with either of the convoys.
Most of the leads regarding the longtime leader's whereabouts come from Gaddafi's tribal heartland, a vast triangle of scrub and desert land between his coastal home town of Sirte, east of Tripoli; the oasis town of Bani Walid in the west; and the heavily garrisoned city of Sabha on the edge of the Sahara in the south.
Scarcely a day goes by without someone claiming to know exactly where Gaddafi is hiding within the triangle. The problem is that those who know do not always agree with one another.
On Monday, Anes el-Sharif, a member of the civilian-run Supreme Security Committee in Tripoli, said he had received solid information that Gaddafi had been seen 12 miles south of loyalist-held Sirte just two days earlier, preparing to head farther south toward Sabha.
But a member of the rebel's ruling Transitional National Council said he was given "reliable information from a person close to Gaddafi" that put the former Libyan leader's location closer to Bani Walid.
The manhunt for Gaddafi is an important priority both for the rebels and for many Libyan civilians who say they will not feel truly safe until the former dictator is captured or killed. Audio messages from Gaddafi threatening to turn Libya "into hell" have added to the sense of unease here.
On Tuesday, Gaddafi's crumbling regime remained defiant, promising to resurrect its power structure.
"We are fighting and resisting for the sake of Libya and all Arabs," Moussa Ibrahim, Gaddafi's spokesman and the public face of his government, told Syria-based al-Rai television station. "We are still strong and capable of turning the table on NATO."
Despite reports that Gaddafi was making plans to flee, Ibrahim told al-Rai that the longtime ruler was in "excellent health, planning and organizing for the defense of Libya."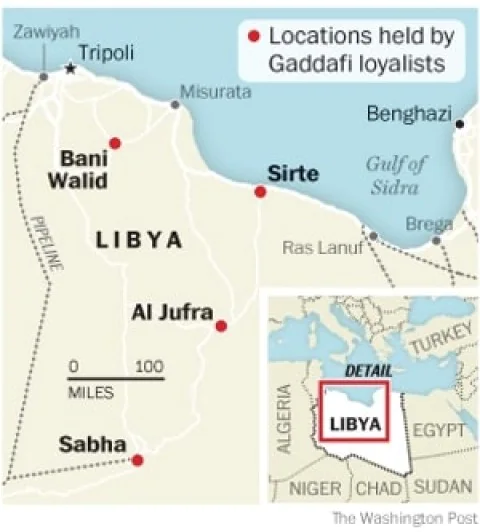 Two separate rewards of 2 million and 6 million Libyan dinars ($1.7 million and $5 million) have been offered for Gaddafi's capture or death, officials said, which has helped encourage the flow of information but also prompted some rebels to go freelance in trying to catch him.
To help coordinate the various manhunts, Sharif said the security committee in Tripoli would set up a task force and operations room in the next few days.
"At present we are not getting that much information from NATO," he said. "But we are receiving a lot of information, using many traditional methods, eyewitnesses, people on the ground, telling us where he is and his plans."
Human intelligence was key to the capture of former Iraqi dictator Saddam Hussein and the killing of al-Qaeda leader Osama bin Laden. Like bin Laden, Gaddafi is avoiding the use of satellite phones that NATO could trace, Sharif said.
Gaddafi, whose fear of an attack from the air had been a feature of his rule since a U.S. airstrike on his main compound in Tripoli in 1986, has also discarded his usual four-wheel-drive vehicles for smaller cars, according to witness accounts cited by rebel commanders. The commanders say they do not think he is traveling in the kind of large convoy that could be a target of NATO warplanes.
To some degree, the tactics are working. NATO acknowledges that it does not know where Gaddafi is, and an alliance official in Naples, speaking on the condition of anonymity because he was not authorized to talk to the news media, complained of "massive" loyalist, rebel and civilian traffic on the roads connecting the three cities at the points of the triangle. The official said the territory also is so vast that it would be difficult to spot from the air a convoy that could be sheltering Gaddafi.
One of the most convincing reports of a Gaddafi sighting came on Aug. 26 on the outskirts of Tripoli, just days after most of the city had fallen to the rebels. At a military base there, he briefly met his son Khamis before leaving with his wife and daughter, according to a bodyguard who was later captured by rebel forces.
Shortly after that meeting, Khamis Gaddafi was ambushed and killed on the road to Bani Walid, the captured bodyguard said. Moammar Gaddafi's wife and daughter made their way to Algeria, but the former leader somehow melted away into the desert.
But if Gaddafi is elusive, information about his sons seems easier to come by. Repeated reports received by rebel commanders suggest that Saif al-Islam Gaddafi was in Bani Walid until Saturday and is now "trying to escape the country," Sharif said.
On Tuesday, al-Jazeera television reported that the Libyan rebels have reached a deal with the city elders of Bani Walid and were preparing to enter the city later in the day. The deal was struck after a number of pro-Gaddafi forces left the town, al-Jazeera reported.
As rebel troops close in on Bani Walid and Sirte, their commanders said they thought Gaddafi may be headed toward Sabha. On its outskirts stands a farm owned by the Gaddafis that had always been talked about as an emergency hiding place, said former family friend Radwon Eddib. It contains a command- and-control center — bombed recently by NATO warplanes — and vast stores of weapons, ammunition and cash, Eddib said.
Sharif said the rebels had been told that Gaddafi's aides set up 50 safe houses on the route south to Sabha. Some analysts say Gaddafi may prefer to try to avoid his pursuers in the vastness of the Libyan Sahara, a region that is not hospitable country for a rebellion hatched along the coast, and where the Tuareg people may offer Gaddafi more hospitality than his pursuers.
Shashank Joshi of the Royal United Services Institute in London said the hunt for Gaddafi could potentially last as long as the eight months it took to catch Hussein in Iraq.
But electronic communications surveillance has improved by leaps and bounds since Hussein successfully evaded U.S. forces in 2003. Joshi said it likely that Gaddafi will eventually betray his whereabouts, either through messages he sends to the outside world or because he will be tempted to retain some of the trappings of his former life.
"Unless he practices impeccable communications security and impeccable operational security, he is going to be vulnerable," Joshi said. "It's going to be more difficult for Gaddafi to shed some of his pretensions of grandeur than it was for Osama bin Laden."
Correspondent Leila Fadel in Tripoli and staff writer Joby Warrick in Washington contributed to this report.