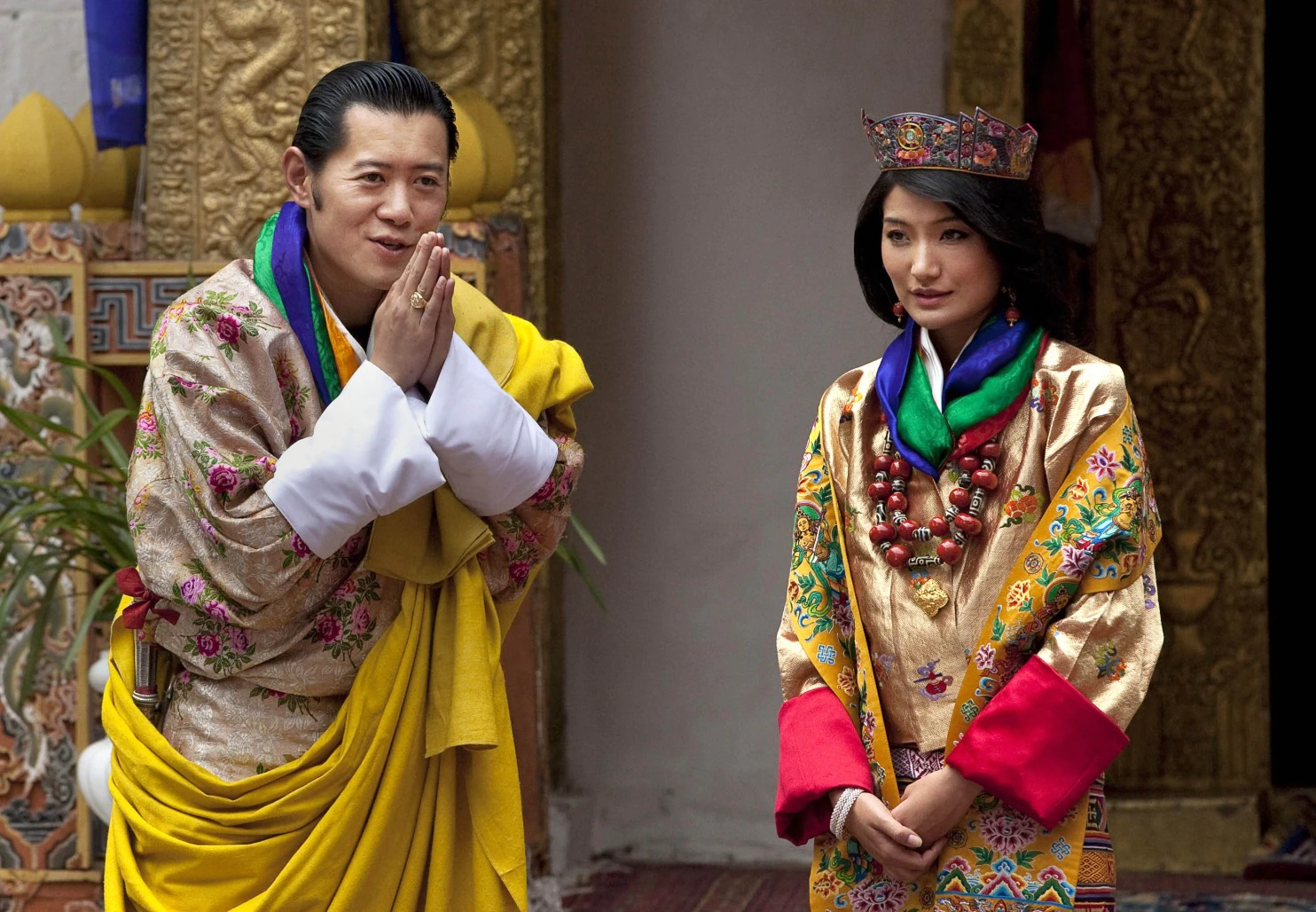 PUNAKHA, Bhutan — Bhutan's "Dragon King," its charming, American- and British-educated and immensely popular monarch, married his longtime girlfriend on Thursday, in a small, private ceremony mixing Buddhist spirituality and medieval tradition, in the heart of an ancient monastic fortress in the country's former capital.
Jigme Khesar Namgyel Wangchuck, the 31-year-old Oxford graduate and fan of basketball and Elvis, solemnly placed an embroidered silk brocade crown on the head of his beautiful but slightly nervous-looking bride, 21-year-old Jetsun Pema, to make her his queen.
He then sat back down on the Golden Throne and placed his Raven Crown on his own head, his new wife sitting to his left and a giant golden Buddha towering behind them.
After the ceremony, he told a small group of reporters how happy he was. "I have been waiting for quite some time to get married," he said. "But it doesn't matter when you get married as long as it is to the right person. I am certain I am married to the right person."
Earlier, in the most sacred part of the ceremony, the king, his father and the country's chief abbot, the Je Khenpo, had sought the blessings of the Shabdrung Namgyel, a lama who unified the Himalayan kingdom of Bhutan in the 17th century and whose embalmed body is preserved in a small chamber within the fortress, or dzong.
Access to the chamber is so restricted that not even the royal bride was allowed to enter.
Instead, she prayed and prostrated herself in an outer chamber before the king's father emerged to place around her neck five scarves blessed by the Shabdrung, and presented her with a golden chalice containing curd that had been transformed into holy ambrosia.
Later, the ceremony moved to the throne room where she prostrated herself before the king himself. She then presented him with the cup of ambrosia from which he sipped, before crowning her. Monks chanted blessings for the royal couple while long trumpets droned and offerings were made for their well-being and long life.
The ceremony kicks off three days of celebration in this tiny Himalayan land that is slowly but steadily emerging into the modern world. In the afternoon, thousands of people gathered by the side of the white-walled dzong or fortress of Punakha, where the king was entertained by traditional dances. As usual, he spent much more time mingling with wedding guests and ordinary Bhutanese people than sitting still and listening to the entertainment.
The bride is the daughter of an airline pilot whose family has long known the royals. Family friends said it was a love marriage between a couple who had already been living together for eight months.
Nevertheless, the fact that the bride's family comes from the country's elite and is of seemingly impeccable character helped smooth the way, as did the royal astrologers' views on their compatibility.
"She is a wonderful human being. Intelligent," the king told the small group of reporters. "She and I share one big thing in common, a love and passion for art."
Wangchuck's father, the country's revered fourth king, introduced to the world the philosophy of Gross National Happiness, the idea that spiritual and mental well-being matter as much as money, and that material gain should not come at the expense of the environment or culture.
Then, in 2006, he used his absolute power to force democracy on his adoring and reluctant people, before abdicating in favor of his son, a move that looks ever more visionary as the years go by. The country's first elections and the young king's coronation followed two years later.
It was a tough act for the young son to follow, but he has more than lived up to the task, observers say. Where the father is reserved and austere, the son is warm, natural and engaging. While the elder king's subjects would not dream of looking him in the eye, they find themselves laughing and joking with the son.
To the constant exasperation of his security detail, the young king never misses the chance to mix with people at public events, playing barefoot soccer with schoolchildren or hugging and comforting an old woman so overcome at seeing him that she burst into tears.
His looks once earned him the nickname "Prince Charming" when mobbed by female admirers on a trip to Thailand. His personality has earned him the more lasting title of the "People's King."
His new wife looks to have some of the same charm, signing autographs for children after the ceremony, smiling and greeting reporters before saying she had "to be with my husband now." Wangchuck said he was very proud of how she had handled herself Thursday.
The king's youthfulness and worldly experience have also made him a bridge between Bhutan's tightly guarded ancient traditions and the country's rapidly expanding younger generation. He has become a symbol of unity and stability in a country grappling with momentous changes, and that is why the royal wedding has assumed such symbolic importance here.
"It is a very important assertion of continuity, because a wedding implies a new generation, and for a hereditary monarchy that is very important," said Michael Rutland, who first came to Bhutan from Britain in 1970 to tutor the teenage boy who became the fourth king. Since then, Rutland has spent most of his life here.
Sangay Khandu, at 33 a youthful member of the country's upper house of parliament, said the wedding "gives us comfort when we are really vulnerable."
Wangchuck's father had four wives — four sisters he married in a mass ceremony — in a country where polygamy was not unusual. Although the fourth king's wives always walked a step or two behind him, the younger Wangchuck holds his fiancee's hand everywhere they go and has scandalized traditionalists by kissing her on the cheek in public.
"The fourth king was another world, another time, but this is another generation, another country," said Francoise Pommaret, an ethnologist, historian, author and expert on Bhutan.
The royal secretariat likes to portray Pema as a commoner. In one version of events, the two met at a picnic when she was 7 and he was 17; she reportedly came up to him and gave him a hug.
But what is less publicly celebrated are her family's long-standing contacts with the royal family in a country where a small elite has long had a tight hold on power: Her paternal great-grandfather was lord of the eastern province of Tashigang, and her maternal grandfather was the half-brother of the wife of Bhutan's second king. The king also dated Pema's cousin while studying at Oxford.
The fourth king's in-laws were not popular, widely accused of abusing their powers to enrich themselves with monopolistic controls of the sandstone and timber industries. The fifth king's first move as monarch, an immensely popular one, was to end those monopolies through nationalization. The fact that his new bride's parents are not business people likely stood in her favor.
Before graduating from Oxford with a degree in political science, Wangchuck was also educated at the Cushing Academy and then Wheaton College in Massachusetts, where he played varsity basketball.
A U.S. Embassy cable in 2005 released by WikiLeaks revealed he not only held a "very positive opinion" of the United States but was also a fan of the NBA and the Philadelphia 76ers. After a couple of games with the embassy basketball team, the political officer at the time said he was "a natural two-guard," had a good shot and ball control, and was "quick enough to drive the lane to score."
He's also a fan of Elvis Presley and was occasionally known to impersonate the singer at karaoke performances in his youth. These days he is an accomplished artist and photographer, according to his official biography, clearly sharing interests with his new bride who is described as "passionate about fine arts and painting."
Although his father enjoyed absolute powers, the fifth Druk Gyalpo, or "Dragon King," is a constitutional monarch. He assiduously avoids meddling in politics, but his influence remains substantial in a country that has long looked to the monarchy for guidance.
Wangchuck has spent most of his short reign touring his mountainous country and listening to his people — his stated aim is to meet all 650,000 of his subjects — and he retains the powerful tool of "kidu," roughly translated as "his majesty's welfare."
Under kidu, the granting of government land to the landless and poor remains a royal prerogative, and it is a role the king has embraced on his travels. Kidu also allows subjects to approach the king with grievances, and villagers frequently wait by the roadside when they know he is passing.
With a team of secretaries from the royal chamberlain's office taking meticulous notes for possible follow-up, getting the king's ear remains a valuable asset for the citizens of today's Bhutan.
"This is not a photocopy of the Western form of democracy; neither is it a celebration of the past," said the king's press secretary, Dorji Wangchuck. "But it is a genuine attempt to see how Western democratic practices can be merged with traditional forms of governance, where the king and the government are seen to be more caring and at the service of the people."