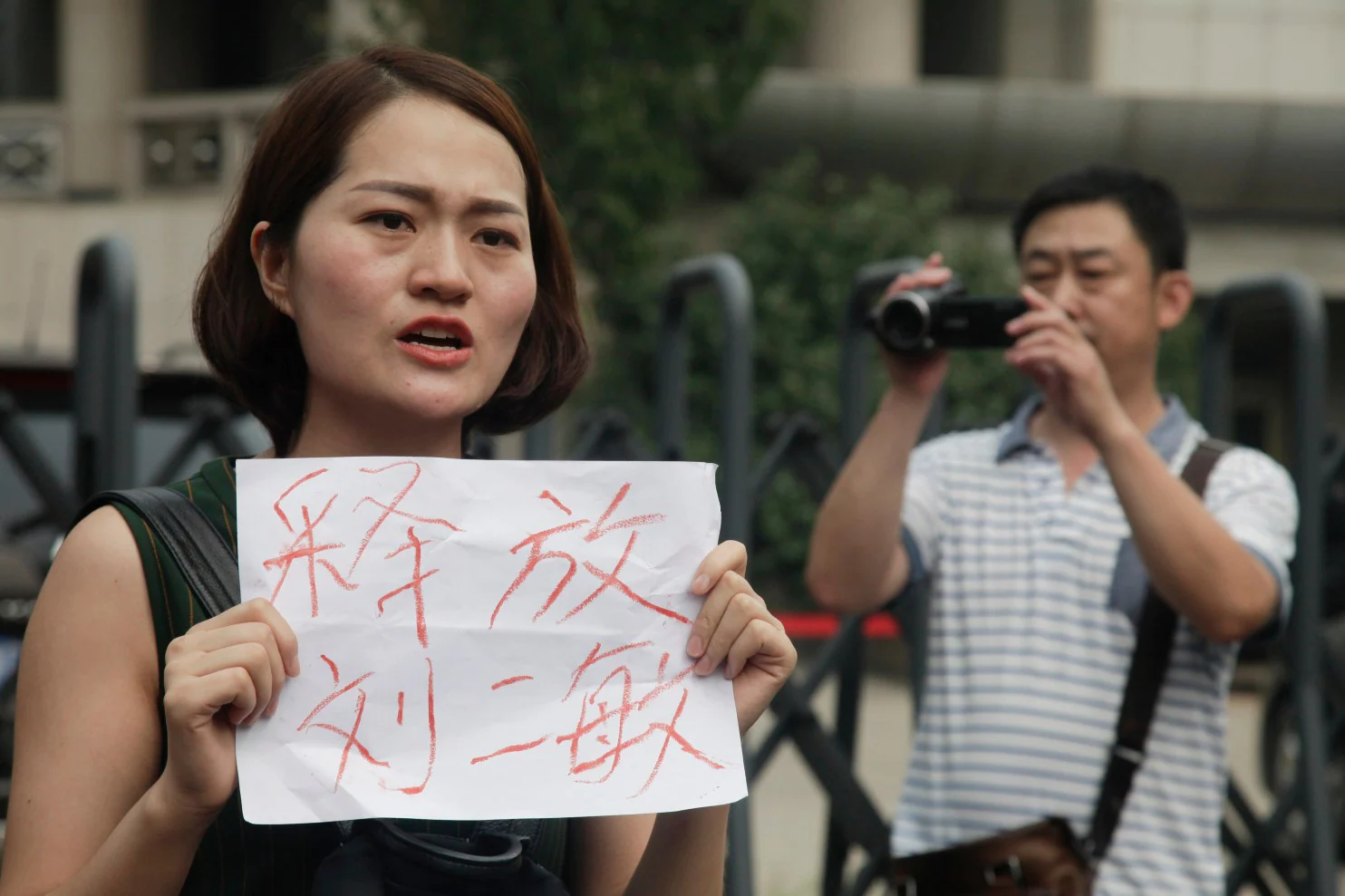 BEIJING — China kicked off trials for a group of lawyers and human rights activists Tuesday, accusing them of being part of a broad Western campaign to overthrow the one-party state by fomenting a "color revolution."
Accusations of foreign-backed plots are not new — drawing links to uprisings such as Ukraine's 2004 "Orange Revolution" — but the latest charges appeared particularly vehement at a time when China also is preparing to host a meeting of the Group of 20 major economies next month.
On Tuesday, a court in Tianjin handed down a three-year suspended sentence to activist Zhai Yanmin, a surprisingly light sentence that could be an attempt to defuse international criticism of China's year-long crackdown on lawyers and legal activists ahead of the G-20 summit.
But the trials — at least three more are underway — have been accompanied by a campaign to humiliate and vilify the lawyers before the Chinese public.
A video released Monday showed Wang Yu, one of the country's most respected human rights lawyers, confessing to having been trained by foreign forces to "attack" and "smear" the Chinese government.
Two other videos, released on the same day and widely shared on social media by the government and Communist Party, accused "diehard lawyers" — and Wang in particular — of being part of a Western-backed plot to topple the government.
No details of the alleged anti-state conspiracy were publicly disclosed, but such accusations often are built around Chinese claims of interference by Western governments and civil-society groups.
Zhai confessed Tuesday that a group of lawyers and citizens had conspired to "push down the wall" — a Chinese expression for overthrowing the government — with the "involvement of international society," according to state news agency Xinhua.
Human rights activists said the confessions appeared to have been made under extreme duress, and they denounced the secret trial as a sham.
But the accusations play into a powerful element of Chinese propaganda — that democracy and regime change here would be enormously destabilizing and costly.
The twin videos, shared by the Communist Youth League and government agencies including police departments and courts, drove that point home with gusto.
The first, viewed more than 6 million times by late Tuesday, included images of chaos and destruction from Syria, Egypt, Libya and Ukraine, contending that countries stirred up by the United States "all sunk into war, turbulence and desperation."
It also used images of the refugee crisis, including a photo of Alan Kurdi, a 3-year-old Syrian Kurdish child whose body washed up on a Turkish beach.
From the South China Sea to Tibet and Hong Kong, "the deep and dark shadow of the star-spangled banner" is trying to destabilize China, acting through dissidents and "diehard lawyers," the video argued. It also showed a picture of President Obama meeting the Dalai Lama, the exiled Tibetan spiritual leader, as well as a cartoon of a giant American shoe stomping on the South China Sea, where Beijing accuses Washington of inflaming regional tensions.
The second video, with about 5 million views, specifically accused Wang of being bribed and wooed by foreigners "to provide bullets in the fermentation phase of the color revolution."
小楼听风
Linking a respected lawyer to the chaos of Syria may seem like a stretch to many people in the West. But Chinese propaganda generally is effective in the country in limiting public support for dissidents by portraying them as agents of Western powers or as troublemakers, even if all they are trying to do is use the legal system to combat injustice and protect the rights of ordinary people.
Wang has been denied access to legal counsel and kept from her son for more than a year. Although a report said she was released on bail Monday, her lawyer said she has not yet reappeared.
"The authorities' claims that Wang Yu has been released on bail only become credible when she is seen and heard from, clearly free of all coercive measures," said Maya Wang of Human Rights watch in Hong Kong. "Until then, it's just another lie in a case built entirely on political persecution."
Zhai's sentence was suspended for four years, meaning he will not go to jail but will live under considerable restrictions and supervision. He has lost all political rights for the same period, meaning he will not be able to run for local councils or other offices. His case is the first of four expected to be heard this week.
"If Chinese authorities are so confident in their cases against these human rights lawyers, why try them in secret?" Maya Wang added, calling the case a sham.
More than 300 lawyers and activists were initially seized last year, and although most were later released, more than a dozen remain in jail.
Gu Jinglu contributed to this report.
Read more