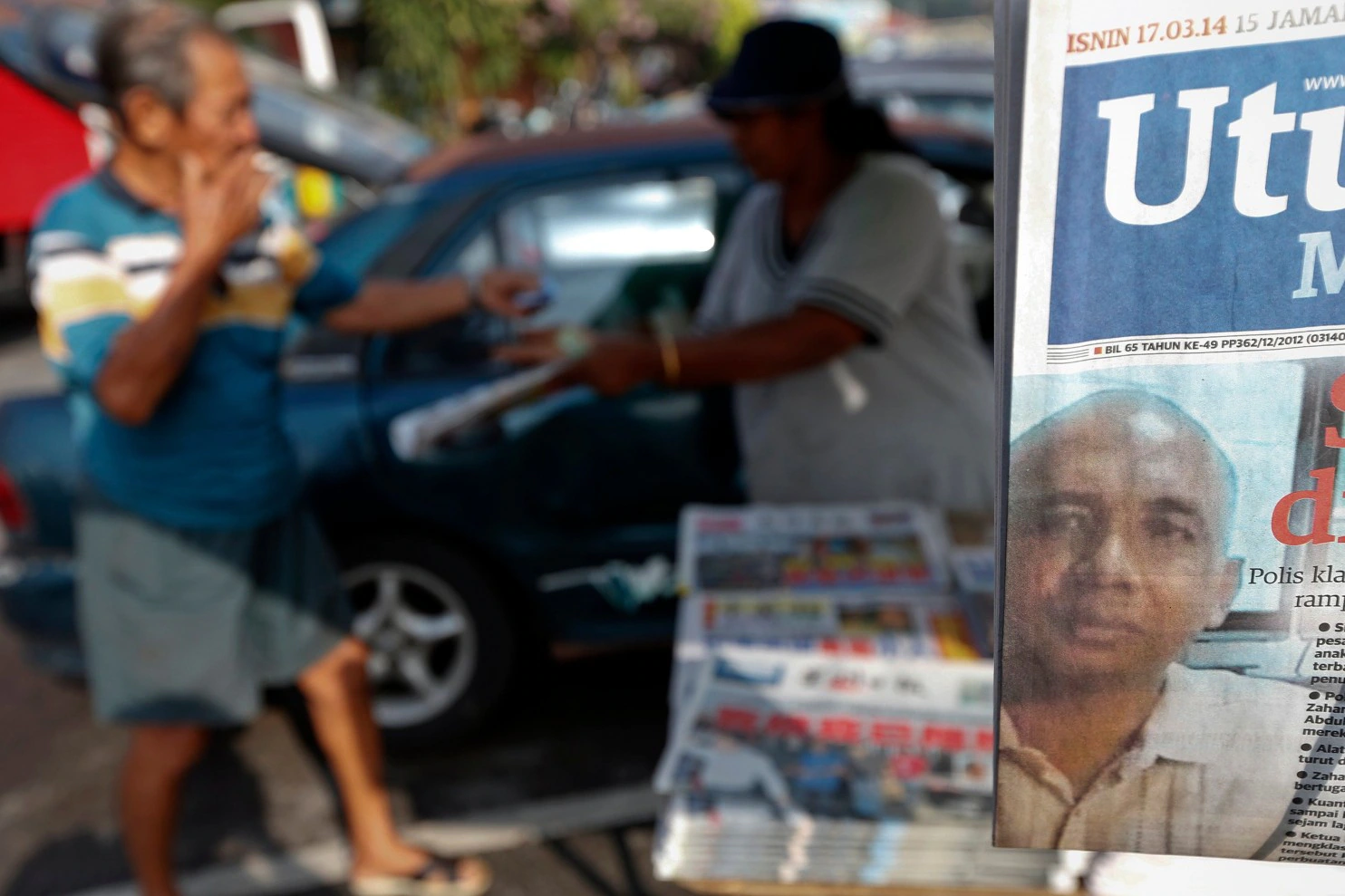 KUALA LUMPUR, Malaysia — The families of the pilots who were at the helm of a passenger jetliner that vanished near Malaysia are living a double nightmare.
Deprived of a beloved relative, still uncertain whether he is alive or dead, the family of Malaysia Airlines captain Zaharie Ahmad Shah has watched in agony as some media have suggested he deliberately hijacked his own plane and potentially flew 238 other people to their death.
Meanwhile, the family of the plane's 27-year-old co-pilot, Fariq Abdul Hamid, has seen him portrayed on television as a reckless flirt.
This week, evidence has mounted that at least one of the pilots reprogrammed the flight path and turned off various communication systems before the plane disappeared from civilian radar in the early hours of March 8. But it remains unclear whether the person at the controls was acting voluntarily or under duress.
Even if one of the pilots was behind the plane's disappearance, it is uncertain who it might have been. But that has not stopped some from assembling a case against the 53-year-old Zaharie.
The family of MH370 pilot Zaharie Ahmad Shah posted this tribute video on YouTube.
"It is very agonizing for the family, and the media is not helping at all," said Mohammed Ghouse, a longtime friend of Zaharie's brother-in-law. "The daughter especially is very upset. She was very close to her father."
Zaharie's 27-year-old daughter, Aishah, was living in Melbourne, Australia, when the plane vanished, and she returned the following day to be with her mother. None of the family members have spoken to journalists, but relatives released a tribute to "loving Uncle Ari" on YouTube this week.
"Loving, reflective, generous, cool, sporting, intelligent and supportive, the list goes on," one caption reads, in between photos of Zaharie posing with his family, doing volunteer activities and working as a pilot in his younger days.
Peter Chong, a friend of Zaharie's and the private secretary to an opposition member of parliament, used such words as "humble" and "jovial" to describe the pilot."In the two years I knew him, I didn't ever see him angry," he said.
Nasir Othman was a school friend of Zaharie's who has stayed in touch, attending a barbecue at the pilot's house two years ago and seeing him once last year. "He was a harmless person, a nice person, very cheerful, the kind who makes an event come alive," he said.
Yin Shao Loong, the research director of an opposition think tank in Malaysia, said he had worked as a poll monitor with Zaharie during elections two years ago. He described Zaharie as someone who believed in reform through the democratic process. Zaharie was a supporter of Malaysian opposition leader Anwar Ibrahim.
Zaharie had a flight simulator at home, and some have speculated that he could potentially have plotted the plane's disappearance on it. Last weekend, Malaysian police took the simulator from Zaharie's home for examination. On Wednesday, Malaysia's police chief said that data had been deleted from the simulator Feb. 3 and that investigators were trying to recover it.
But Amir Said, a pilot who runs a flight simulator business in Kuala Lumpur, said it was common practice to delete data periodically from a simulator to free up more memory. "We do that also," he said.
Thanos Kontogiannis, who makes electronic systems for simulators out of Seattle, said many pilots have simulators at home. He said he is "sick of the negativity" in the media surrounding Zaharie, whom he described as a client and a friend.
Some reports have suggested Zaharie had a fight with his wife the day before he flew, citing the fact that she left home and went to stay with one of her children. That accusation has been particularly painful for Zaharie's wife, said Ghouse, who added that she often would stay with her children when he was flying.
Less is known about the flight's co-pilot, Fariq, who made the final radio call. In subsequent days, his reputation took a hammering when Australian newsmedia reported that he and a fellow pilot had invited two female passengers to join them in the cockpit in 2011, where he smoked and flirted with them.
Malaysia Airlines said it was "shocked" by that report.
Friends and family members have described Fariq as serious about his career and as someone who had wanted to be a pilot since his school days. "He worked very hard to get where he was. His parents are so proud of him," one relative told Reuters, declining to be identified.
One friend, who spoke to The Washington Post on condition of anonymity because of the sensitivity of the issue, said he had met Fariq in a nightclub two years ago. "He is just a regular guy," he said.
Fariq's family temporarily moved out of their home Friday in the city of Shah Alam. Their neighbor Azwan Azmi said that the co-pilot's father, Abdul Hamid Mad Daud, was trying to put on a brave face.
"He's been very calm and has been strong on the outside. You know how men are — they don't show what's going on inside," he said.
On Wednesday, Malaysian Defense Minister Hishammuddin Hussein appealed for an end to speculation about those aboard the missing plane.
"Passengers, pilots and crew remain innocent until proven otherwise," he told a news conference.