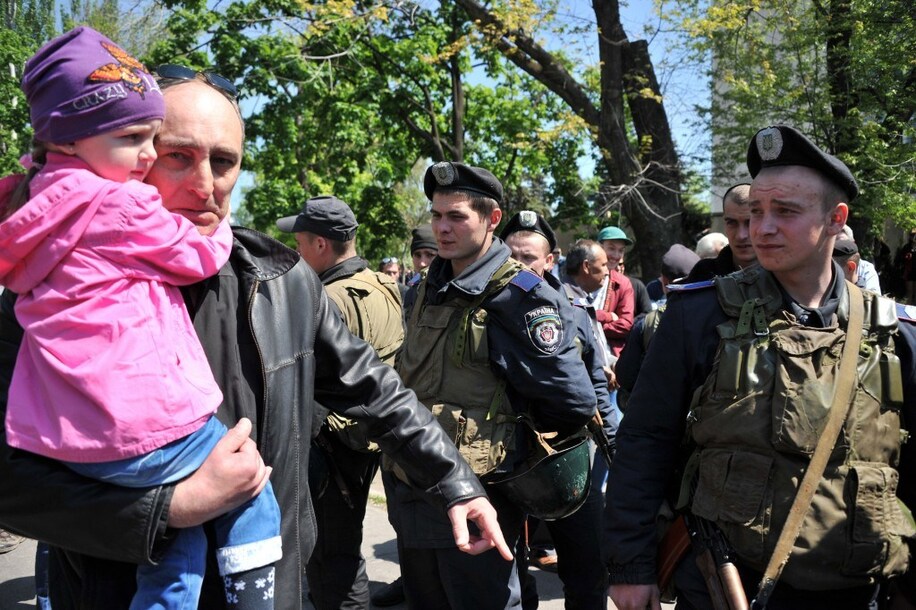 In Mariupol on Wednesday, small battles played out over the city council building and one police station. While the skirmishes appeared to allow Ukrainian forces to assert their control of the main port in the eastern Donetsk region, they weren't big enough to disrupt most residents' daily lives.
The tension began Tuesday night, when separatists and police fought a gun battle in a small town outside the city in which one rebel was killed. In response, separatists blocked roads in Mariupol's city center, burning tires and parking a trolley bus with deflated tires across one major avenue, police said.
The city council building had previously been taken by separatist forces, so Ukraine's security forces made a bid to reclaim it in a dawn raid Wednesday, firing tear gas and arresting guards. A Ukrainian flag briefly fluttered over the building while police conducted a "crime scene examination" and started taking down the barricades.
Advertisement
But when a large pro-Russian crowd turned up at the building, Ukrainian authorities melted away and let separatists retake control without a struggle, witnesses said.
"The goal was to release the building, to normalize the work of the city council and to detain the organizers and participants of mass riots," said police spokswoman Yulia Lafazan. But she gave no explanation as to why the building was later abandoned to the separatists again. "Police are trying to explain that it is illegal to participate in mass riots, but ordinary people will not suffer from the police."
Another pro-Russian crowd, this one with at most 100 people, turned up at one of Mairupol's police stations.
They were demanding that 16 separatists held inside be released. For two hours, they taunted armed security troops guarding the building, shouting "fascists" and "killers." The troops — identified by police as national guard but lacking any insignia — stood largely impassively, holding automatic rifles in the police compound.
Advertisement
But as members of the crowd tried to enter the compound, the atmosphere deteriorated quickly. One of the troops guarding it shouted, "I will shoot, I will shoot," and fired into the ground. Others fired into the the air, pointed their weapons at those in the crowd, and set off smoke grenades.
After a while, they left the building with guns at the ready, causing the crowd to scramble for cover and forcing some to lie on the ground.
Medics said three men were wounded; one had a broken nose, one was bleeding from a head wound, and another was bleeding from his eyes and ears after being hit with tear gas. The two men with head wounds told medics they had been struck by soldiers with rifle butts. Two trucks containing more soldiers turned up and evacuated their colleagues.