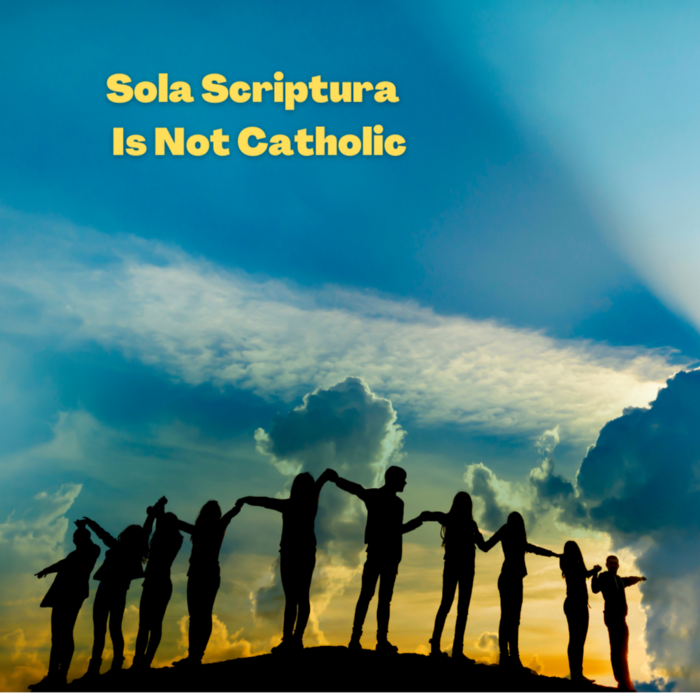 No one can be strong by his own strength or secure except by God's mercy and forgiveness — Saint Cyprian
I see Catholics enter the arena to defend the many objections to biblical passages against homosexuality during the month of June.
We can sum up the teaching in these articles in one sentence. "Homosexual activity is wrong because God said so." This does not help anyone. We need a set of principles to explain the teaching more than simply defining what is acceptable and what is not.
As a priest in the Boston area surrounded by Harvard University and Boston University addressing issues related to the homosexual community is part of what I do occasionally.
The articles I see online in Catholic venues, which I am critiquing, address what many call the "clobber passages". These are Biblical passages related to homosexuality such as Romans 1, Leviticus 18:20, 20:13, etc.
To focus on addressing these passages and objections against them is to bring us into the sola scriptura world of the Evangelicals. We are Catholics and our faith is not sola scriptura or based just in scripture. We build our teachings on scripture and tradition. Therefore, we have to be careful of working out of this one-dimensional world.
Both St. Augustine and St. Thomas Aquinas warned that Jesus' words are not written down because Our Lord did not want his words set in stone from two thousand years ago. Our understanding of who He is and who He calls us to be grows over the history of our Christian faith. So, we develop this deep understanding drawing on the living tradition of our faith in order to speak to the people about what we believe.
Why We Do Not Have the Writings of Jesus
The same reason Catholics do not embrace sola scriptura
medium.com
If you are going to address any form of morality in the Church, you cannot do it adequately without a focus on the Catechism of the Catholic Church's teaching in paragraph 2098. This is where any instruction should begin. "Prayer is an indispensable condition for being able to obey God's commandments."
I really hate any moralizing material that demands a behavior any atheist can follow as well. This is not Catholicism. We, instead, understand that in order to live the commandments, we must be persons of prayer — something that atheists are not, by definition.
All have a vocation to chastity
The Catechism actually teaches that all people have a calling to chastity in their state in life. So, if we are going to live as Catholics, we have the vocation to chaste living in our respective states of life: Catholic married couples have a calling to fidelity to their spouses and to sexual activity reserved to them that is open to life. Anything outside of this is not chaste living. Remember that instruction also assumes a prayer life shared by the spouses.
The unmarried in all stages of life similarly have a chaste way of living which does not include engaging in sexual activity because they are not married. They too live under the assumption that a prayer life is a default.
To be clear, if one is just citing rules of what the Bible teaches and does not include the default that all Catholics have a vocation to be people of prayer then the instruction is at best incomplete and at worst wrong.
The church makes it clear that unless a person prays then he or she cannot be assumed to be successful at this call. Those who can claim that they are chaste and do not pray have nothing on which to boast. In fact, it is a fault at best. The Church gives other tools that are central to the mission including Christ-centered friendships which the Catholic Catechism also encourages and different forms of ascetic practice such as the Church's own instruction of fasting and abstinence during different seasons of the year. We still maintain a Friday invitation to some form of penance. The Church also calls every Catholic to be patient with themselves and always avail themselves to the sacraments regularly.
These tools are part of the resources available for chaste living. Simply moralizing what the Church considers sins and calling people to obey those laws just does not work. Bishop Doerfler taught this when he wrote his pastoral letter Created in the Image and Likeness of God
To address the behavior apart from fostering a personal encounter with Jesus and his love is likely to harm the other person.
— Bishop John Doerfler, Bishop of Marquette, Michigan
Spiritual friendships in the tradition of the Church
St. Aelred of Rievaulx in his book Spiritual Friendship explains Christ-centered friendship is the greatest form of love. He also says that the true friend leads another to Christ. So even the same-sex friendship rooted in Christ is blessed according to the ancient abbot. This is part of our tradition and call as Catholics. You will not find this instruction just working through sola scriptura teaching. We as Catholics have a more profound well to draw from than the ways of the Bible alone.
There are many examples of this in our Catholic world and Christian history. Many cite, for example, the deep friendship of David and Jonathan from the First Book of Samuel. The account says nothing about theirs being an unusual relationship. They were deeply in love with each other. Was it physical? I maintain no. If it was, Saul would have justification to kill David something that he had no bones about doing. He considered David a threat to his power. Often the future king had to flee in fear he would be killed by the reigning monarch. If Saul caught or even knew David and Jonathan were physically intimate he would easily carry out his jealous plans using the demands of God as an excuse. David and Jonathan, however, did have a deeply intimate friendship and this is a model that all unmarried heterosexual and even homosexual Catholics can live.
There are countless other examples as well, not the least of which is St. John Henry Newman and Ambrose St. John. They had such an intimate friendship that according to NPR, they shared everything but the marriage bed. Was it Catholic? Yes, of course. (for the record, I do not believe the title of the NPR article is anything but secular reasoning outside of Christian understanding.)
One must have a growing intimate relationship with our Lord to do his will. No one can live Catholic morals without prayer and the main goal is not just to live a moral life, that is paganism. It is to live the commandment to love God and neighbor.
Catholicism is a relationship with Christ and his people, it is not a pagan moral code
If we do not understand this backdrop we will either not understand Catholic morality or get terribly discouraged by it. It does no good to address the rules of Catholicism and not mention prayer. We must teach the deep tradition we have in our faith of being transformed by our intimate relationship with Christ to which all are called. Moralizing helps no one. Unfortunately, it is endemic in our Catholic media.
Instead of condemning others for their behavior, we need first to introduce them to the prayerful tradition of the Church in union with Christ. Failing to do that, we fall into nothing more than a pagan form of rules based on human strength and accomplishment and that is far from what our faith actually teaches.
Fr. Robert J Carr is the author of Encounter Christ in Your Humanity