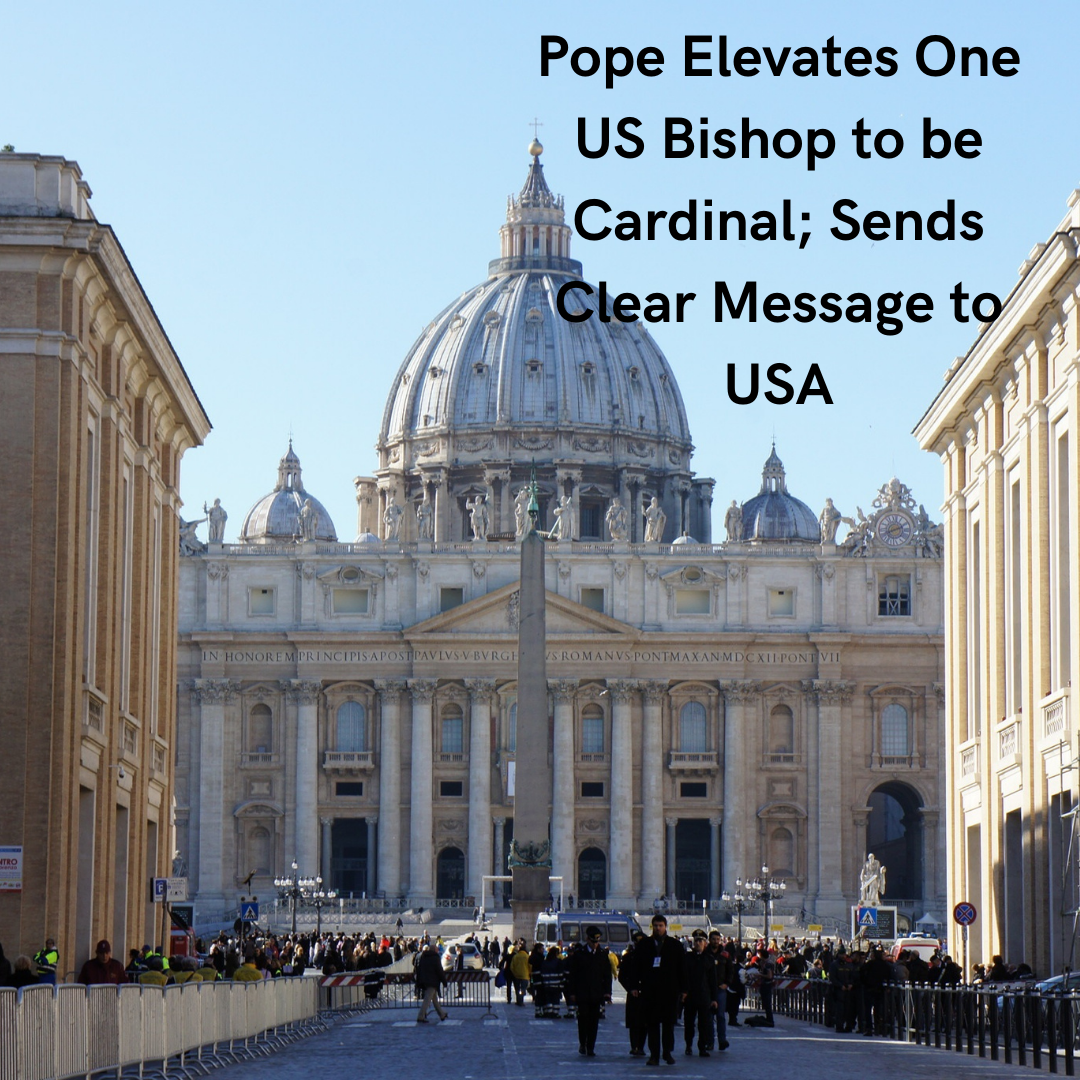 If Pope Francis wants to send a stark message to the United States, he may have found the exact method by his latest announcement of now Cardinals-designate.
Although bishops often enjoy the laity looking upon them with awe and reverence. The saints always warned against a blind form of this devotion. St. Jerome reminded his readers almost two millennia ago that we can remember Peter (the First Pope) but not forget Judas. The bishops are the spiritual descendants of the Apostle. They trace their ordination back to them. He also warned against Nicholas not the one who we base our legends of Santa Claus upon, but the one mentioned in the Book of Revelation who led people astray.
St. John Chrysostom a bishop himself around the same time warned that the road to Hell is paved with the skulls of bishops. So while some may look at bishops with awe, that has never been a teaching in the church. It goes back to Jesus' admonition to recognize the holy leaders by their fruits, not their office or their clothing.
Pope Francis may be giving a similar upbraiding to the American bishops as well.
Diocesan bishop elevated to Cardinal
This weekend he announced twenty-seven new cardinals and only one from the United States. In the past, this country enjoyed certain archdioceses headed by Cardinals. Boston, New York, Philadelphia, Washington, Chicago, Detroit and Los Angeles. The Cardinal Archbishops of Boston and New York remain elevated by Pope Benedict XVI. Cardinal Blasé Cupich received the "red hat" in 2016 from Pope Francis. DiNardo of Galveston, Texas not a traditional see to have a Cardinal as ordinary, received it from Pope Benedict XVI. Cardinal Wilton Gregory received the red hat about a year ago not long after the pope sent him to Washington, DC.
Finally, the Archbishop of San Diego Robert W. McElroy will receive it on June 27.
His elevation is significant. San Diego is a diocese and not what is traditionally the place for cardinals — an archdiocese. Cardinal-designate McElroy railed against denying politicians the Eucharist as a politicization of this sacrament. He angered the more traditional side of the Catholic community by his focus on social justice and a more welcoming stance to those who felt rejected by the Church including members of the LBGTQ community.
He also makes it clear that although abortion is a pre-eminent issue in Catholic Social Teaching, other issues including climate change and immigration issues are also important. He does not recognize one issue like abortion to be pre-eminent over some others as do some bishops. He clearly sees the importance of recognizing all of the Catholic social teaching.
Catholic social teaching more even than presented
Further, Bishop McElroy can be critical of the political parties. He criticized the Democratic party for abandoning its position of making abortion safe, legal and rare:
At one time, there was bipartisan support for erecting policies that made abortion rare. Now that commitment has been eviscerated in the Democratic Party in a capitulation to notions of privacy that simply block out the human identity and rights of unborn children.
In 2020 he gave four points of discernment for the Catholic vote:
There is no mandate in universal Catholic social teaching that gives a categorical priority to either of these issues as uniquely determinative of the common good.
The death toll from abortion is more immediate, but the long-term death toll from unchecked climate change is larger and threatens the very future of humanity.
Both abortion and the environment are core life issues in Catholic teaching.
The designation of either of these issues as the preeminent question in Catholic social teaching at this time in the United States will inevitably be hijacked by partisan forces to propose that Catholics have an overriding duty to vote for candidates that espouse that position. Recent electoral history shows this to be a certainty.
He is not a metropolitan archbishop. That role for his diocese is in Los Angeles held presently by Archbishop José Gomez currently the head of the USCCB.
A warning against weaponizing the Eucharist
In a challenge to the Pope's authority, bishops in the United States who maintain full sovereignty in their respective dioceses considered withholding the Eucharist from President Joseph Biden and Speaker of the House Nancy Pelosi. The pope lobbied against taking that action. Recently, the Archbishop of San Francisco publicly announced that Ms Pelosi may no longer receive communion in his Archdiocese. Cardinal Wilton Gregory of Washington, DC where Ms Pelosi obviously works said she would be able to receive it in his region.
The pope did not want to see the Eucharist used as a political tool and many bishops rejected his request.
Now, the Pope sends a deeper message. Bishop McElroy was dead set against calling politicians to refrain from the Eucharist and warned this would weaponize the Sacrament. Of all the non-Cardinal bishops in the United States including those who are ordinaries for traditional sees that would be normally headed by a Cardinal, he is the only one to receive a red hat in the latest round.
This demonstrates Pope Francis' call to solve issues pastorally and through dialogue instead of hardline enforcement of rules. The Pope clearly stands behind all Catholic teaching, his disagreement with some bishops in the world is the proper implementation in real life.
Get with the program
The Pope's message to the American Bishops is clear, get with the program.
A cardinal is what is known as a prince of the Church. He has a diplomatic role on top of his position as head of a diocese. One man of late in the United States Cardinal Avery Dulles had the role without being a diocesan head. He died in 2008.
Cardinals also vote for the next pontiff. If Pope Francis were to either die or resign his post in July, then the United States Cardinals who would have a role in voting in his successor or even succeeding him include Cardinals O'Malley of Boston, Dolan of New York, Cupich of Chicago, Gregory of Washington, DC, DiNardo of Galveston and now McElroy of San Diego. Cardinal Raymond Burke staunchly supported by many of the more traditional forces in the Church in the United States currently serves in Rome also would be able to vote.
This means that figures such as Archbishop Cordileone of San Francisco. Archbishop Naaman of Kansas City who called for the President to receive the same restrictions, Archbishop Aquilla of Denver, and even Bishop Strickland of Tyler, Texas all of whom and others who supported Archbishop Cordileone's actions will have no direct voice in choosing the new pope.
The pope claimed after a hospitalization last year that there are those in Catholic media who want him dead. Major elements of American Catholic media have a strong leaning towards the Latin Mass and the more traditional elements of our faith. Pope Francis believes this leans to division and rigidity. Some members of the radically traditional members of the Catholic media call him "the evil pope" and reject his authority. This became a focus after the pope restricted the further promulgation of the traditional Latin mass.
Pope Francis' naming Cardinal-designate McElroy clearly sends a message to the United States: those who use abortion as the litmus test of who can and cannot receive the Eucharist and while in and out of American Catholic media create division in the Church will not form her future, at least while Francis is in charge.
Fr. RJ Carr is the administrator of St. Anthony Parish in Allston, MA