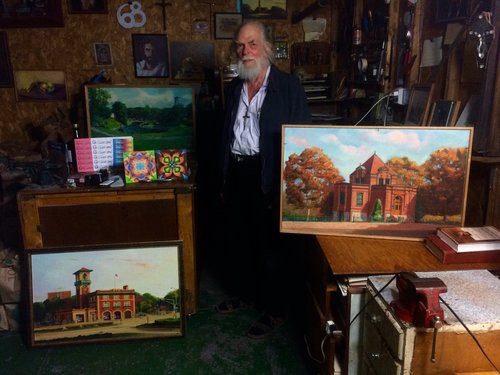 Allston, MA — It is one o'clock in the afternoon and I am in a foyer of an apartment building trying to figure out the right button to press to tell my appointment I arrived. His name is Alfred Mira and he is a parishioner now and he was a parishioner in another parish twenty years ago. I am outside his door waiting for him to show me his printing operation.
We are on Commonwealth Avenue in Boston in an area where many college and university students live. Alfred's apartment is along the main thoroughfare between Boston University and Boston College. Eighty-one years old, he is long past his student days, attending Fordham University for one semester over sixty years ago.
His voice comes through the intercom as he buzzes me into the apartment building. "Just come in and I will meet you." I hear his footsteps coming up the stairway from the basement apartments. The door opens and I walk towards him as he turns back to the same way he entered. "Am I touching the door," he says. He faces the downward staircase. He went blind about two and a half years ago before even COVID hit.
"Yes," I respond. "Be careful of the stairs."
"I know where the stairs are don't worry." His voice is gentle and a bit raspy with always a dint of humor.
He leads me to his apartment and his wife opens the door. We are greeted by their two black cats. They welcome me into a large, wood-paneled room; to the left is an old printing machine and to the right is an old cutting machine. He leads me over to the latter. There I see what he has been doing since 1969.
Small cards spreading great love
You may have seen these small cards that have sayings on them like "The Jesus in me loves the Jesus in you", "God loves you", "Jesus I trust in you" and still others. They are multi-colored, striped, and producing them has been Alfred's life project for over fifty years. He printed, cut, packed and mailed out over one hundred forty-five million of these using either silkscreen or the printing machine off in the corner.
We walk over to the cutting machine where he will take a stack of cards and cut off one strip at a time to be packed up and shipped off. He asks me if it is lined up correctly as he moves the cards by turning a wheel at the bottom of the large machine and then turns another at the top that brings a large metal slab upon the cards. I watch him pull a three-foot lever lowering a blade through the stack of cards. They are cut perfectly despite his blindness.
"I know to turn the lower wheel one and a quarter turn and that will be the right place to cut the cards," he explains. This is how he lines up the stack under the blade, despite his inability to see them.
He stands with white hair and beard and a thin frame and describes to me how he prints these cards, prepares them for shipping and mails them out all over the country. They go to churches, people, and prisons.
"Most of these are sent to private people evangelizing. It's 'Thousands for Free' so people get them for free and give them away all over the place."
They are all colors and striped. That is, he explains, except the ones going to a Texas prison. "Texas prisons want white paper, black ink on white paper." He shows me the ones on their way to Texas. He is sending them to a prisoner.
Every package, he explains, contains a book with Bible phrases in it. "This book contains about one hundred phrases in here, and if I start announcing them to you, Father, I am afraid that you will levitate and I will have to push you levitating down to Brighton, (MA)." He speaks with dry humor.
A vocation that continues
"You see, God said, 'Alfred, I am going to give you a place and all your funds and all your tools and I just want you to keep printing these things until I say stop.' " God has yet to tell him to stop.
"I started in 1969 with "The Jesus in me loves the Jesus in you." He says. "Jesus is very busy because he loves everybody. He is saying 'love them, love them, love them.' "
Whoever requests the cards receives them with no form of vetting. "There is one person who decides who gets them. It's me and they all get them." In this time where there is preaching on who is accepted by God and who is not, he explains that his message is to spread the love of Jesus to all.
His cards go out in one of two methods, a priority mail box with one thousand cards or an envelope with sixty.
A one-time Franciscan novice and a Cistercian Novice who spent collectively seven years between the two orders, he considered becoming a religious order priest. The Cistercians, also known as Trappists are contemplatives most known for living in a silent environment. They are also industrious. The New England Trappists, which Alfred considered joining, located in Spencer, Massachusetts, produce Trappist Jellies and Spencer Beer. He did not finally enter the order but he comes across as both contemplative and industrious.
Alfred felt he had another calling and now a whole lifetime, marriage and four children later, he is eighty-one and humbly talks about his work. He is also an artist and some of his paintings are on the wall in his apartment.
A great love of God
A simple conversation with Alfred reveals his great knowledge and love of God in Jesus Christ despite his lack of university formation. Clearly, his love for God is also reflected in his seeking to spread His love for all with this simple message in small cards throughout the country.
His son, Christopher, maintains a website for him at AlfredMira.com. There you will find Alfred's life story and displays of his great artistic talent.
Alfred is always looking for a volunteer to help since he lost his eyesight.
For over fifty years, the evangelistic work of Alfred Mira appears in many places: small cards that produce one simple message: "God loves you" in many different ways.
If you enjoyed this article, join me on Substack