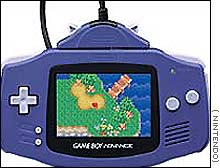 TOKYO, Japan (CNN) -- Sometimes life gets in the way. Video gamers face that harsh reality when they have to break a game at home to tend to pesky issues like work or school.
Thanks to Nintendo, now they can just take the game with them.
Nintendo recently unveiled an adapter for its GameCube console that lets players download games to the handheld Game Boy Advance.
They can then get back to the same spot in the game while they move around -- without the need for a cartridge.
It's pause, save and pick up where you left off.
First game designed for families
The first game to include the feature is "Animal Forest +", a "communication" game designed for families to play together. The game is scheduled for release with the adapter on Dec. 14 in Japan.
"One of the things about Animal Forest + is being able to take a piece of the game with you," said Jim Merrick, Technical Director at Nintendo of America.
"Take whatever character you're working with, or whatever puzzle you're working on, download it to the Game Boy, take it with you to school or what have you, and at the end of the day bring it back and upload it again."
A must for secret keepers
Gamers can also use Game Boy Advance as a controller for the GameCube machine.
So video addicts can also use the adapter if they want to set "secret" information on the Game Boy Advance screen.
Merrick says that might prove popular with, "for instance, sports games -- where I would like to make my play selection on my local screen, where you can't see it."
Another game that Nintendo demonstrated at a game show here, "Koro Koro Kirby," comes with a "tilt sensor" cartridge to slot into the Game Boy Advance.
With the sensor, physically tilting the machine causes the character to move around the screen.
"What are trying to show with Koro Koro Kirby is a unique way of using it as a controller, something that you couldn't do with the GameCube controller alone," Merrick noted.
A double whammy
By linking their two machines, Nintendo is hoping that Game Boy Advance customers will buy a GameCube -- and vice versa.
"Ideally, we'd like people to buy both -- it's the marketing ploy we have in mind," said Shigeru Miyamoto, general manager of Nintendo's design division.
On paper, it seems a sound move. Nintendo has sold over 110 million Game Boys around the world. The Game Boy Advance is the latest model, accounting for 5 million of those sales, despite being on the market for less than six months.
Should they tap into Game Boy's massive base, Nintendo could give GameCube an edge as it steps into a bruising battle against Sony's PlayStation 2 and Microsoft's Xbox to control the lucrative home-console market.
GameCube will be released on Sept. 14 in Japan. But Nintendo recently delayed its release to Nov. 18 in the United States -- 10 days after Xbox gets released there.
Last week, Microsoft said it would delay the release of Xbox in Japan, until Feb. 22, 2002.
Original URL: http://asia.cnn.com/2001/BUSINESS/asia/09/04/japan.nintendo/
Archived at: https://web.archive.org/web/20020328103449/http://asia.cnn.com/2001/BUSINESS/asia/09/04/japan.nintendo/