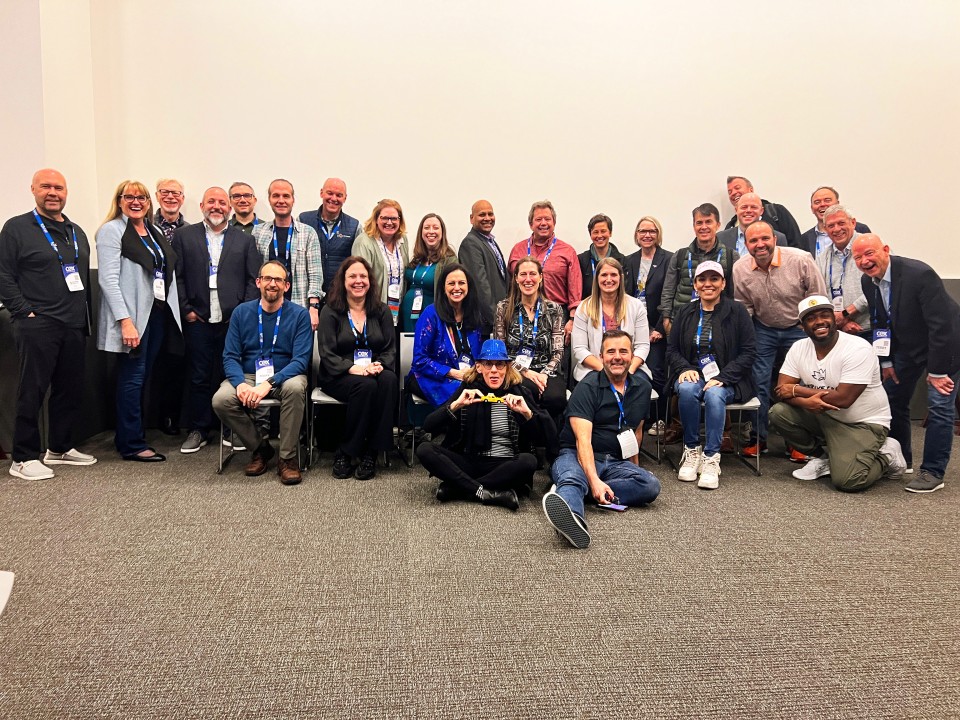 PLUS: Meet the Creator: Marianne Lehnis
"Jesse Cole's presentation, linked to his book Fans First, was the best talk I have ever seen." A takeaway from last week's Creator Economy Expo in Cleveland, US, from Mark Masters, one of the most pioneering (and nicest) men in marketing I've ever encountered.
Mark is the founder of You Are The Media, a thriving and inspiring global community. He delivered a session on 'Working Together' based on YATM's 2023 Creator Day. Read on for his top takeaways from CEX…
Here is more advice from the keynote stage and the latest content entrepreneur research. Exciting times!
The ability to experiment and recognise that we don't have the answers when we start is important. Experimentation lets us evaluate and become better at our work.
5. The work we create will always be replicated. Robert Rose's message struck home when he shared that content provides zero competitive advantage. It's the expression of our ideas that truly matters and why other people should care. The journey we accept matters, not the words on a page or the video we publish.
Thank you, Mark - hope your luggage has turned up!
Get the YATM weekly newsletter
Join YATM Lunch Club | LinkedIn Sofa Surgery on June 15 in Bath.
Missed CEX? Get access to ALL the recordings, on demand, with a digital pass. Over 40 hours of keynotes and breakout sessions. Use code FOMO and save $100 here*.
Invest in yourself and your content business!
*my affiliate link
Meet the Creator
Marianne Lehnis 👩🏻‍💻
Marianne Lehnis, Founder and CEO of The Green Techpreneur, is one of The Tilt's 2023 Content Entrepreneur Awards finalists *trophy winging its way to the UK*
Tell us about yourself and why you started The Green Techpreneur
A little about me! I'm English/German but was born in India and lived in Ukraine for a while as a child… I have a multicultural background.
As a student, I remember someone asking me what I wanted to do, saying I'd like to work for Positive News and that I wanted to freelance. The seeds were there for being self-employed and building The GT, but I had no idea I would go on to create my own positive news platform or of the meandering journey leading up to it.
I started my career as a journalist but became disillusioned with the prospects in the industry after a couple of years and burnt out. So, in early 2018, I did something crazy – quit my job and moved to London with just £4K in savings. Through an unexpected series of events, I became self-employed.
But again, I had a niggling feeling of dissatisfaction. I was working on short-term projects and didn't feel I was progressing or building for the long term. I wanted a scalable business that I loved, which made a positive impact.
When the pandemic broke out, life changed dramatically again. I launched The GT to combine my passion for sustainability and fascination for entrepreneurship and innovation while illuminating the leaders making extraordinary contributions to society.
Who are you serving? Target audience and niche?
Climate tech entrepreneurs and investors are my niche. My platform has evolved to help entrepreneurs with pain points, such as finding investors via a partnership with a marketplace platform. I'll also offer several additional services, such as consulting for getting investment-ready via partners.
How did you get your first 1K followers?
In the beginning, I worked and put in time for every single subscription I had. When I first launched, I would commit time daily to DM people on LinkedIn with a friendly message and offer to sign up. That helped me test the idea, get early adopters, and confirm I had a product people were interested in – if I could get it in front of them.
Over time more subscriptions came in from cross-promotions on Substack and constant promotion on LinkedIn – sharing in relevant groups and including an ad to sign up in the comment section of most of my posts.
You're doing all the creative work – research, interviews, writing, podcast, and social media. How do you manage your time and avoid burnout?
This is a great question. It's been and still is a continual growth journey. I keep things as simple as possible. There are a thousand things I could and should be doing to promote the podcast, but for now, I focus on the basics and keep things lean.
I've learnt that establishing partnerships with companies serving the same niche but offering a different product is a fantastic approach instead of going alone or trying to create too many products/services.
We can't succeed and bootstrap on our own. Actively look for collaborators. Build a tribe that cross-refers clients and cross-promotes.
Creation Vs distribution… how do you distribute your content?
I distribute my content primarily via LinkedIn because I'm B2B. Substack and cross-referrals bring consistent growth.
If someone could only read one of your interviews, which would it be and why?
I love so many of my interviews; this is tough to answer. Interviewing climate tech entrepreneurs has been wonderful as I meet many incredible mission-driven leaders with great mindsets and values.
Here is one of many that I love for its honesty and authenticity about the entrepreneurial path.
What's the best piece of advice you've gotten on creativity and entrepreneurship?
Successful entrepreneurs have an 80/20% focus on sales compared to everything else.
Unsuccessful entrepreneurs have a 20/80% focus on sales/other work.
The focus on sales brings in the cash, which enables the business to lift off and extra work to be outsourced. If you spend all your time tinkering yourself instead of selling, you won't make the lift-off.
But here's the catch-22… you need to create an attractive product/service and establish credibility before selling. This can take time and experimentation. You need social proof and testimonials, but as soon as you've got a product you know the market needs… stop tinkering and sell, sell, sell.
Be an entrepreneur, not a tinkerer.
Any top recommendations for creators?
Listen to Brendon Burchard's Daily Fire on the Growth Day app if you want to start your day with a bit of fire! 🔥
Exciting news. You were recently announced as one of The Tilt's Content Entrepreneur Awards finalists. How do you feel?
I'm overjoyed! I have been a fighter for a long time, persevering in what has often felt like an against-all-odds odyssey. It's lovely to feel like people have noticed and appreciated the result of my blood, sweat and tears and love the positive impact my business is bringing into the world.
It comes after winning an Innovation & Excellence Award for Environmental News Platform of the Year by Corporate LiveWire. It is a double confirmation that I'm on the right path, and it's time to fly!
What are your plans for The GT in '23? Where would you like to be this time next year?
I would love to have several more mutually beneficial partnerships with companies that are GT platform sponsors (if you or anyone you know would like to get your brand in front of climate tech entrepreneurs, get in touch!).
I'd love to have quadrupled my audience and have loads of inbound sales leads while outsourcing some tasks.
www.thegreentechpreneur.uk
Coming up: Ellen Donnelly, Founder + Chief Coach at The Ask® will share entrepreneurial career guidance and insight from YATM Creator Day 2023. Got a burning question about solopreneurship? Send it in!