For most adults, the prospect of running a triathlon for the first time is daunting. Mastering three disciples, the time-consuming training, and pain and injury are among the many excuses people find to avoid the sport.
However, it's hard for any excuses to hold up after hearing about some of the youngest triathletes competing in the field. If an eight-year-old can finish, why couldn't you?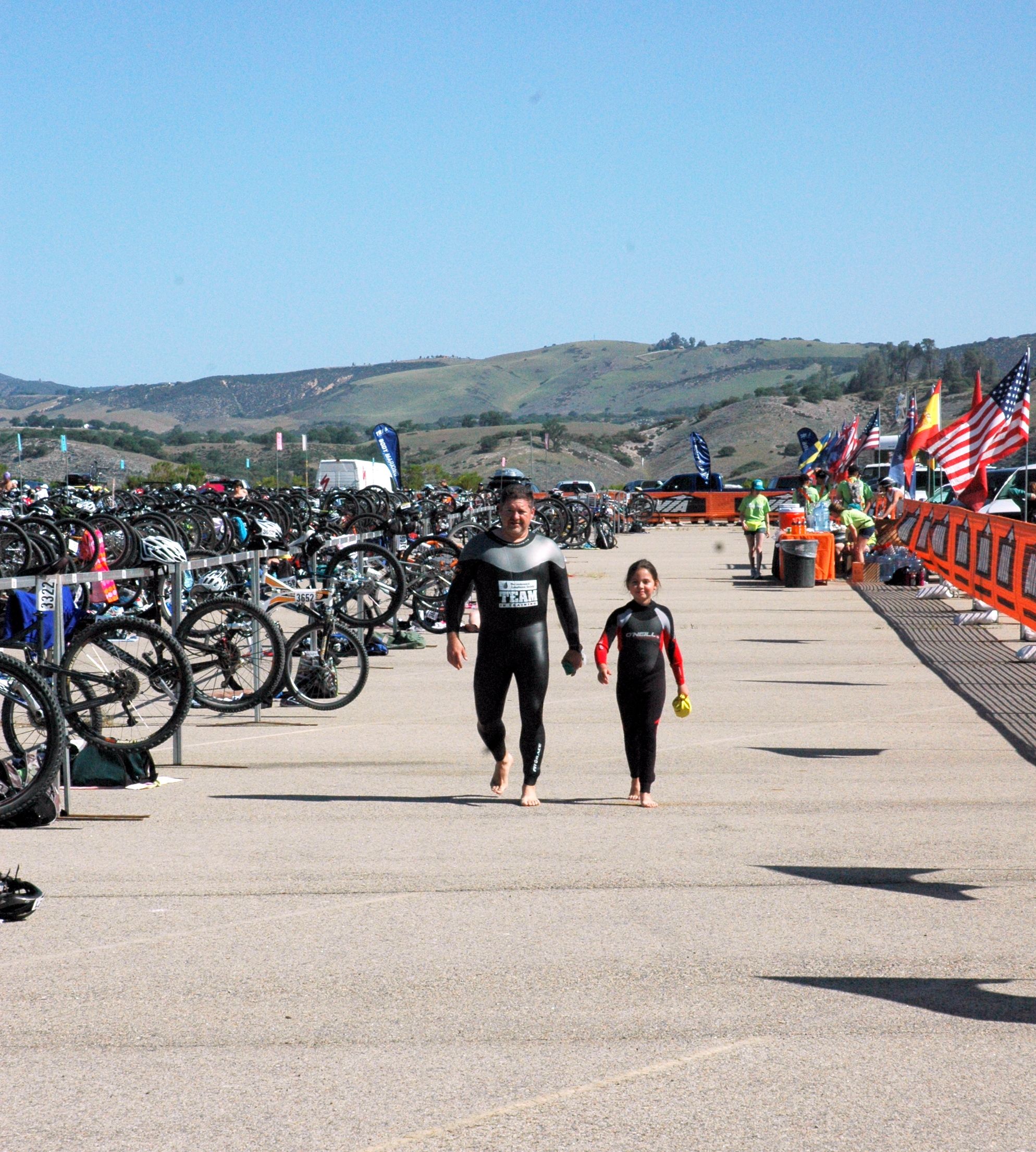 Siblings Delainey and Mason Kelly are one such story, competing in this year's Olympic distance Wildflower Triathlon at the ages of ten and eight, respectively.
Their father, Bay Area resident Jeremy Kelly was first introduced to multi-sport in 2008 by a friend, soon after receiving a diagnosis of Type II Diabetes. He laughed off the concept at first, but then accepted the challenge and was hooked after his first race finish. In 2012, Jeremy and his wife bought their eight-year-old daughter, Delainey, a bike and a wetsuit. As she grew more comfortable in the sport, she asked to join her father racing at Wildflower.
"I saw Dad racing and wanted to race with him. I thought it would be fun," explained Delainey. I knew it would make me feel older because it was an adult triathlon, and not one of those kid races. The kid triathlons are fun, but Wildflower medals are cooler."
"Her Mom and I were worried she would struggle, worried she would drown, worried she was unprepared, worried she would fall or get a flat; we just worried," said Jeremy.
During that first Wildflower experience in 2012, race personnel mistook Delainey for a bystander at various transition points and she took a hard fall on the bike, skinning her knee, but with her father's help and bystanders' cheers, was able to continue and finish.
"I felt really nervous and excited at the starting line," she recounted. "After Dad and I made it around the buoy and headed for shore, I felt relieved. I knew if I could make it out this far I could make it back no problem. When I got out of the water, I felt accomplished! I could hear everyone yelling and cheering me on. One person even said I was her inspiration! The coolest part of the race was hearing Julie Moss calling out my name."
Delainey will return to Wildflower for the third time in 2014, alongside her father Jeremy and her younger brother Mason, competing for the first time. Her goal for 2014 is to beat her previous race time and to try and to challenge her school librarian's time, also a Wildflower triathlete.
Mason wanted to join his father and sister this year because it looked fun, but also because he was sick of waiting all day for them to finish. His goal is to place first, second, or third in his age group to win one of the "spinner" medals.
Teenager Nils Taylor is another young man who began racing at a very young age. Unlike the Kelly family, Taylor came from a long family tradition of racing at Wildflower.
"I've been coming to Wildflower since I was a kid in diapers and my mother pushed me up the path next to Lynch Hill in a double stroller with my brother," he said.
In 2008 at the age of eight, Taylor trained with his father and entered in the mountain bike leg. When the announcer announced at the transition setup that he was the youngest athlete in the race, he panicked: "I raced to the bus, and ran back to camp. Not that year!"
Taylor overcame his fears to race in the run portion of a relay team over the next two years, and decided to compete in his first full Olympic course at age 11. Since then, he has placed in his age group multiple years and won his age group in 2013.
"The first couple of years were hard," he said. "I think I am the youngest person to have completed the Olympic course. The third year, when I was 13, I found myself running with Julie Moss between miles three and five, and then I just found energy and took off for the finish. It was cool being on the podium with Julie presenting the awards."
In 2014, Taylor will compete in the long-course triathlon for the first time at Wildflower.
"I'm ready to see how well I can do this year at the longer distance," he said. "This will be my first half marathon. I've trained at Wildflower for the full course and now we'll see how I do."
We could all use a lesson in fearlessness from the young.