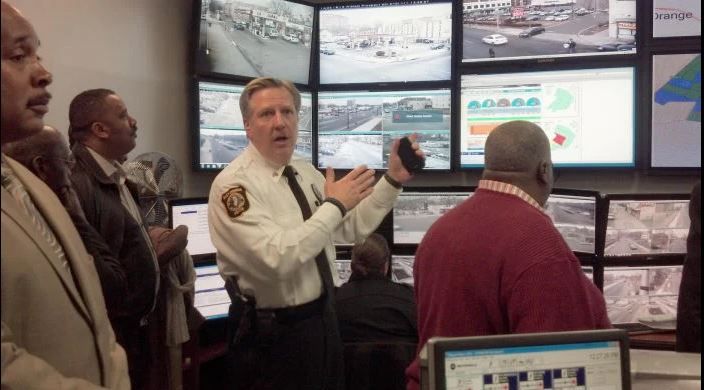 Atlantic City representatives traveled to East Orange on Friday to find out how the Essex County city was able to cut its violent crime by about 70 percent in five years.
"We need to get this," said Councilman Marty Small, who spearheaded the trip, where the group saw a presentation of East Orange's system of integrated technology, which includes cameras, vehicle location and crime tracking. The system is also being used in Camden.
The Casino Reinvestment Development Authority granted the city $3.5 million in September 2011 to pay for upgrades to the Atlantic City Police Department's outdated technology.
But so far, only $17,500 has been used. That money paid for the tip411 system, which allows people to text tips to police and reply to questions, all anonymously. The problem is, people aren't utilizing it.
Residents need to see something is working before they will trust it, said Jose Cordero, a retired New York City police inspector whose Cordero Group created the system used in East Orange.
"If you have folks that aren't talking to police to begin with, you're giving them a piece of technology that they won't use," he said.
His system has iCAN, or an interactive Community Alert Network that is web-based and allows a kind of virtual community watch. People sign up under usernames and are able to share information about what's important to them. They are also encouraged to form blog teams to share information with one another.
In 2003, East Orange was a lot like Atlantic City. There were streets of the four-square-mile city that people wouldn't walk even during the day. Certain areas would be barren once it got dark.
The relationship between police and the community was in tatters. The chief needed an escort when he would attend ward meetings. The mayor was getting constant calls about crime that wasn't being handled.
There were 286 police officers, and law enforcement leaders wanted about 50 more to meet patrol demands, Cordero said. But the economic demands didn't allow that.
Now, there is less crime, and fewer officers.
The town of 70,000 now has about 220 officers, with a goal of adding 20 more, Police Chief William Robinson said.
And regular surveys of residents show that those officers are having a positive impact not only on crime, but in their interaction with the community, Robinson said.
The first step is to identify the problem.
"If you don't know what your problem is, you're not going to solve it," East Orange Mayor Robert Bowser said.
Inside the command center for the system, three sworn officers and a supervisor monitor the city through cameras and a system that includes a "dashboard" configured for that town that shows things such as deployment, calls for service and response times. Color codes let those monitoring it know if the city is meeting its goals.
If a section falls into yellow or red, the supervisor can click on it and get information on how to rectify the problem.
"It's the equivalent of (Cordero), with his 30 years of experience, standing over their shoulder," explained Tamer Zakhary, CEO of the system's installer, PackeTalk.
"Anything in red means you're not meeting your expectations," he said during a presentation in his company office where the group got to see Camden's live feed.
Four minutes after one section was red, it was green.
"If they didn't have this system, they wouldn't have a clue," Cordero said.
"How do you fix something you don't know?" Zakhary asked.
That includes equipment.
When a camera goes down, they are alerted. It can be worked on remotely, and will be up within two hours. If it requires someone to come in person, it's done within four. The worst-case scenario — such as needing a part — is eight hours.
That, Zakhary explained to Atlantic City Housing Authority representatives at the meeting, means the cameras down for months in Stanley Holmes Village would have been working during the recent police-involved shooting there. Instead, investigators are left without that visual evidence.
"That would never happen here," he said.
Like Atlantic City, East Orange has districts that officers work. But then the town is further broken down into a grid of 110 areas. That allows for each street to be visited at least twice per shift.
"No, we can't be everywhere all the time," Capt. Thomas Koundry said. "But we can be everywhere at least six times a day."
"This is what we need," Public Safety Director Willie Glass said.
"I'm impressed," Mayor Lorenzo Langford said. "We're trying to get our arms around it."
Religious leaders, members of the Police Department's Information and Technology Department, along with Small and Councilmen Steven Moore and Rizwan Malik made the trip Friday.
"We're going to sit down and discuss this all together," said Malik, who heads the technology committee. "I'm going to explain to the whole council what we saw today and why we need it so badly. This is going to be my goal so we can push this through (as soon as possible)."