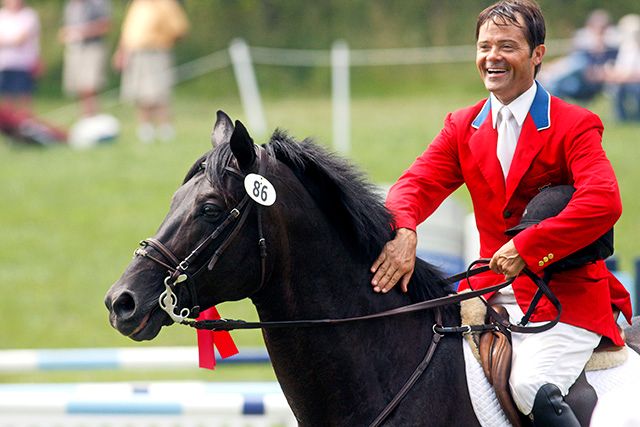 Sometimes healing from physical wounds is the easiest part about recovering from an injury. Many doctors have called Darren Chiacchia's rapid physical recovery from a catastrophic accident at Red Hills (Fla.) this March nothing short of miraculous. But sometimes the emotional and psychological bruises leave the deepest scars, and it takes the familiar and sincere support of those closest to quell those injuries.
"You have to understand that this is more important to me that the Olympics," Darren said before running his cross-country trips at the Cosequin Stuart Horse Trials on July 19. "These are my closest friends and family here."
Based in Victor, N.Y., the Stuart Horse Trials has always been near and dear to Darren, and he has always been warmly welcomed. "It was especially heartwarming to welcome him, Windfall II and Better I Do It back that weekend," said Kyra Stuart, one of the events initial founders and organizer or 15 years. She has known Darren since he was 18. "It's often been said competing in front of your hometown crowd is most difficult. However in this case, I truly believe the crowd was delighted to welcome Darren and his horses back."
The boisterous ovations he received when entering and exiting the dressage and show jumping arenas were remarkable. But as Darren and Windfall glided down the Stuart Steps and over the Skinny Brush like an equitation ride in front of a packed patrons tent, the explosion of support, accolades, and respect was truly inspiring.
"I think Darren, and particularly Windfall, greatly appreciated the reception. They were both smiling throughout cross-country," Stuart said. Comfortable with his surroundings and aboard his most trusted partner, Darren and Windfall rode smoothly, accurately, and methodically, and placed second in the Open Intermediate division.
"I, for one, am proud of Darren. I've watched him and Windfall together many times before," said Gale Fox, one of the Technical Delegates at the Stuart Horse Trails. "But at Stuart it was more like watching a private moment rather than spectating a cross-country event."
"It had everything to do with emotional recovery and getting my confidence back," Darren said. At the end of the day, spectators, riders, reporters, grooms and officials discussed amongst one another the cross-country course and merits and faults of each trip around it. But the consensus was obvious: Windfall and Darren flawlessly illustrated how that course was supposed to be ridden. "It felt really good hear that," Darren said.
"It was very remarkable that Darren was able to do so well, and we were all really glad that he could make his comeback here in front of his home crowd," said Wezo Pierson, organizer of the Stuart Horse Trials. "And of course we were glad that we could provide a wonderful venue for his return."
Darren said he owes much of his rapid, safe homecoming to his long-time best friend Chester Weber, and all of the coaches who helped keep the Chiacchia business running during his recuperation, as well as his forever-dedicated assistant and friend Cristin Stoop. "And I wouldn't be having this conversation today without Rusty Lowe and the medical response team DarrenWindfall1at Red Hills," he said. Also Darren thanks the neurology Team led by one of the nation's leading neurologist Dr. Peter Kinkel.
"I absolutely have to thank my mom and family who have been by my side through the entire ordeal and all the members of Team Chiacchia. That means everyone," Darren went on, "And literally, the thousands of people who sent their support through donations, and well-wishing, and just being there for me."
So many members of Team Chiacchia stepped up to keep Darren's business running smoothly – from the guys that mow the grass, to his bookkeeper, to the shavings delivery guy, and of course the obvious – the grooms, barn manager, vets, and farriers.
Also, the coaches that helped Darren's students in his absence were incredibly important and enjoyed by all – John & Beezie Madden, Lauren Hough, Jessica Ransehousen, Robert Dover, Jane Savoy, Missy Ransehousen, Kyle Carter and others.
Darren plans to run at the Millbrook Horse Trials (N.Y.) in August and hopes to run at the Wellpride USEA American Eventing Championships at the Lamplight Equestrian Center in Wayne, Ill., September 10 -14. And if all goes well, the Fair Hill CCI3* International Three-Day Event (Md.) is also a possibility.