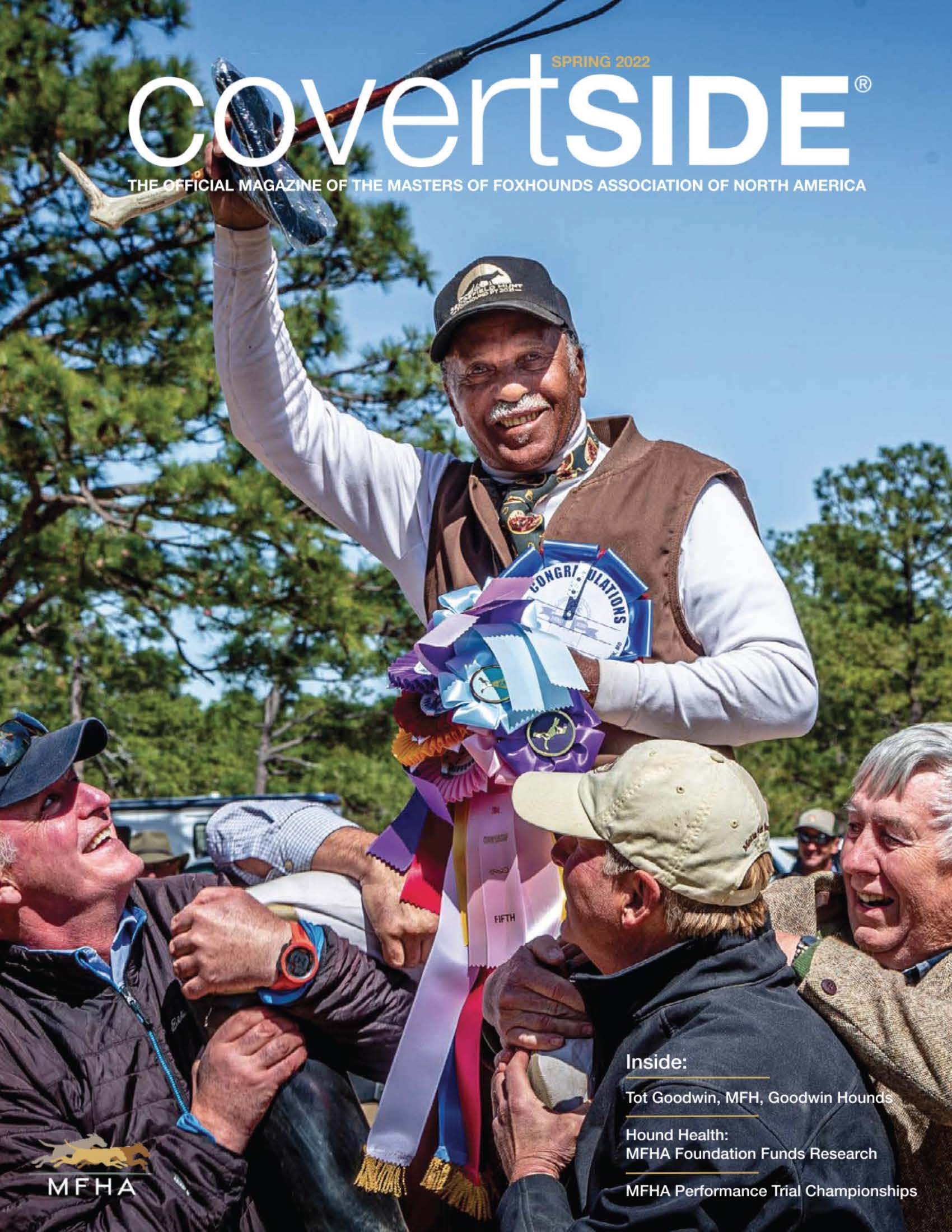 The champion of the MFHA Performance Trials Championship (with Indigo) cut his teeth whipping-in to a legend to launch his career in foxhunting, but an undeniable quiet confidence has shaped his own legacy.

Read the printed article here.
In his late teens, Jefferson "Tot" Goodwin watched a group of hounds race toward the highway. Not so far off, a tractor-trailer truck barreled up the asphalt. On foot, he sprinted toward the road and diverted the hounds before the truck roared by. Those hounds belonged to a pack owned by the legendary Ben Hardaway.
Hardaway was arguably the most well-known American foxhunter in the world at that time, not to mention the most influential American breeder of foxhounds, so it's hard for Goodwin to convey the significance of that moment. When speaking to him, it was obvious he'll remember that moment as long as he lives. It's subtle but totally evident. Those who know Goodwin understand how humble and understated he is. Never one to gush or sensationalize anything, it felt utterly earnest when he simply stated, emphatically and without hesitating, that that moment was the moment he knew foxhunting would consume his life forever. Now 79, and the only black Master of Foxhounds in the United States, he runs his own pack, Goodwin Hounds. He's been putting in the work, nurturing his passion and sharing more than 30 seasons worth of experience with quiet confidence around the globe.
Born in 1944, he grew up on a farm as one of 16 siblings. Goodwin remembers hunting beagles on foot with his grandfather every weekend when he was 8. Grandad was a horseman, Goodwin said, but it skipped a generation. His parents were not. Goodwin watched his grandfather train and break horses right there on their farm in Columbus, Georgia. Grandad didn't live long enough to teach Goodwin to ride though, and his family only kept mules for plowing. Goodwin didn't know anything about foxhunting, really, not mounted anyway, but he did hunt deer, rabbit. and raccoon on foot to help put food on the table.
In his teens, one of his older brothers, Benny, introduced him to Hardaway, who was Master and Huntsman for Midland Fox Hounds in Columbus, Georgia. Benny worked at the Hardaway Motor Company in Columbus. One conversation led to another until Hardaway himself invited Goodwin to hunt with him on foot. Goodwin knew the countryside well enough and he knew how to hunt, so he took the opportunity with hopes he might learn to ride like his Granddad.
"I had hunted small game all my life," Goodwin said, "but the sight and sound of these hounds... I knew it was for me." After he essentially whipped-in on foot for Hardaway and arguably saved some of his hounds from the business end of a tractor-trailer, Hardaway offered Goodwin a grooming job that would change the trajectory of his life forever.
When Goodwin was 19, Hardaway asked him if he wanted to ride. In his own understated way, Goodwin emphatically said, "yes." Ann Ticehurst, who trained young horses for Hardaway, was never short on greenies that needed exercise and schooling or starting from scratch. Some of those horses knew how it worked better than others, Goodwin remembered, but it didn't seem to matter one way or another when she handed him the reins. When there was a horse that needed a rider, he got to be that rider.
"I learned to ride by helping Ann break horses during the summer," Goodwin recalled. "I was the first one to get on them. I ate a lot of dirt and have disliked Connemaras ever since, but they made me a great rider."
As his aptitude grew and his skin thickened, Goodwin graduated to whipping-in on horseback instead of foot. He fell in love with the July hounds that Hardaway favored. "I like a hound with a lot of drive and that will respect you and work with you," he said of the hard-driving breed Hardaway had described as short, sharp and decisive.
"Hardaway gave me the chance to learn the sport and he took me places to see the best huntsmen and learn even more," Goodwin said. Stateside, he remembers trekking up to Gladstone, New Jersey, to hunt with Buster Chadwell's pack at Essex Fox Hounds. "That was one of the best packs of hounds I ever went in the woods with," Goodwin remembered. "I couldn't get enough of the way they put their noses down, sang and stuck to the line." Later, as he crossed the Atlantic horizon, his own horizons expanded.
In Ireland, Goodwin whipped-in to Elsie Morgan, Master and Huntsman of the West Waterford Hounds. "I loved to watch her handle her hounds," he said. "She taught me a lot. She had so much control over the hounds, but she just let them hunt. They relied on her and she relied on them."
Goodwin said he had been the first black man to ever hunt in Ireland at the time. "I was treated like a king over there," he said. That wasn't always true Stateside. Folks who didn't know him might have seen him in his overalls, cleaning out a trailer or stall at dawn, and then dressed to the nines in his colors at the hunt breakfast. Someone would ask with a surprised expression how one might ask a child if he's going to drive a car, if he was hunting, too. When he was Huntsman and Master at Green Creek Hounds in North Carolina, Goodwin considered answering that if he didn't go out, nobody else would be going out either. Instead, he simply said, "Yes, I go, too."
Forty-three years ago in Ireland, "He was the first African American I had ever seen," said Tony Leahy, Joint Master of Massbach and Fox River Valley Hunt in Elizabeth, Illinois, and former president of the Masters of Foxhounds Association of North America (MFHA). He was 10 when Goodwin hunted near his hometown in rural Ireland. He'd known of him before via Hardaway, but he said regardless of his appearance or who he worked for, you don't forget someone like Goodwin and how he whipped-in.
"He was understated but warm," Leahy remembered. "He let the hounds do the talking. There was no self-promotion. He's the type of guy who believes you just do your work, and you do it well."
When Leahy came to the United States for a show jumping competition in the late '80s, he and Goodwin crossed paths again. "For me, as a young guy in the sport," said Leahy, "he was and is incredibly kind and generous with his time. He'd do anything he can to help you."
Likewise, "I like the way he hunts his hounds," Goodwin said of Leahy. "Having said that, I think he hunts like I do. I like the way we draw through the woods. His hounds go on and on, and if you keep the field moving, you keep everyone happy."
Over the years, Goodwin's natural abilities in the hunt field caught the eye of countless others in the hunting community. "Tot had a huge influence on my learning to be a whipper-in," said Dennis Foster, former executive director of the MFHA and author of multiple books about mounted hunting with hounds, including, Whipper-In, in which he examined much of Tot's career and philosophies. "He was the epitome of a great whipper-in, which I didn't realize until years later. When writing the book, I tried to come up with a perfect, succinct definition of a good whipper-in. It turned out to be what Tot did. 'Be at the right place at the right time and know what to do when you get there.' It's that simple but not at all simple. No one's been able to improve on that definition. Tot could ride hard, stay with hounds and do whatever was necessary to keep the day."
"I remember having a brilliant day in his country," Leahy remembered. "I brought fourteen and a half couple thinking he'd bring about the same. He brought fifty couple and said the more there are, the more fun it is. I think that's the way he likes it. We had well over 100 hounds. We ended up having a really fast and good day and that was the biggest pack I'd ever been involved in at the time."
"My only criticism," Foster admitted, "would be when he occasionally hunted Ben's pack. He would often lose the field because he was too bent on staying with hounds."
But that's the way Goodwin likes it. It's how the hounds like it. Both Leahy and Foster describe Goodwin as a dog man through and through, an exceptional Master of Hounds. He talks to them, literally having mature conversations with each of his hounds like they're friends—family, even. "I think that's how I get along with people so well," he said.
"There's a dog's spirit in Tot," Leahy added. "He lets the hounds be the stars by being quiet and patient with them and confident in his experience. He leads with that quiet, peaceful confidence. And isn't it so that all dogs want to live in that kind of quiet confidence?"
Sure, Goodwin celebrates when all the members of a massive pack stay together, keep off the deer, and away from the busy highways. But he also gives them what for when they've done wrong. "They know," Goodwin said. "You don't have to be mean to them, but they have got to know that you know when they've done wrong. It's a fine line. You just have to spend a lot of time with them and talk to them. It's almost twenty-four hours a day. But they'll listen."
When Goodwin parted ways with Hardaway and Midway, he eventually met with Dick and Peg Secor, who asked him to help start a pack in 1989—the pack would become Green Creek Hounds with territories in the foothills of North Carolina's Appalachian Mountains. He served as Huntsman starting 1990 and was named Master in 1997.
"The territory in that part of North Carolina felt like home," Goodwin said. But he continued traveling just as he'd always loved doing while working for Hardaway. He enjoyed visiting other hunts and hounds and working with other Masters. Above all, he liked helping others. "I've got so much experience," he said. "I've been watching and doing this for, what, fifty years now? I always liked when other people helped me out, and I like to do the same for others."
Goodwin handed the reins of Green Creek Hounds over to Huntsman David Raley in 2018. He and his wife, Colleen, launched their own pack called Goodwin Hounds. "When you work for someone else you can only go so far," he said. "I always thought I knew what I was doing—this way, I will find out. I was thrilled with the support I received from other hunts, both emotionally and financially. So far, it's working for me."
They started with access to territories once hunted by Stonebroke Hounds in North Carolina, which disbanded in the late 90s. This past winter, Leahy met up with Goodwin for a meet in Aiken, South Carolina.
"We hunted our hounds in Aiken country for a big meet," Leahy said. "There were 120 people out there. There were twelve Huntsmen, all these Masters from all over the place, and photographers were taking pictures. Tot comes up to me and, in his own humble, understated way, gives me this funny little smile. It felt like an inside joke to me. It was like, in all that craziness, I was with him and he was with me. It's hard to describe, but it just kind of sums him up. That's the beauty of Tot. He has that patient way with the hounds and with people that's quietly encouraging. I met him when I was 10 and he looks the same today as he did then. He's ageless. When you put him on a horse today, it's like Tot from 43 years ago."