April 19, 2023

by Diana Rosen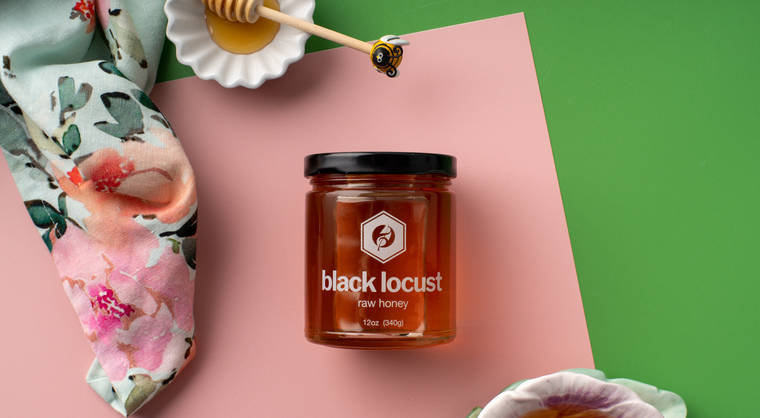 Like sugar, honey adds a touch of sweetness to many cocktails plus more: a distinctive, floral, herbal or woodsy note that provides a umami essence plus the rounded, soft texture of honey as the ambrosial cocktail floats over your palate.

How to Incorporate Honey Successfully
How can you combine a thick, unctuous ingredient like honey without it ending up as a glob-on-ice? The secret is two-fold. One way is to blend all the other ingred-ients in the glass or shaker first, then slowly drip in the honey using a bar spoon until the honey dissolves into the cocktail.

Or, make a honey syrup not unlike traditional sugar syrup. Use equal parts honey and hot water and stir until the honey is fully incorporated. Allow to cool, covered, then use as you would sugar syrup. The ratio can be amped up or toned down for the sweetness level you desire such as 2 parts honey to 1part water for a sweeter flavor; or 1 part water to ½ honey for a syrup that's less sweet.

Other Irresistible Additions
Another option is to perk up the honey syrup with spices or herbs. Consider tiny (a pinch or two) of lemongrass, thyme or rosemary. Want to go spicier? Choose from fresh ginger, cinnamon sticks, crushed red pepper, or a sprinkle of ground white pepper. Strain out these ingredients before serving even if the spices are ground rather than crushed or whole.

For the freshest and most diverse variety of spices, please visit
Selefina!

Honey syrup can be made in advance of your New Year celebration; prepare as you like, store in a covered jar, and refrigerate up to two weeks.

Honey and Liquor Pairing
You choose. The varieties are legion, so the key is to taste, taste, taste. Selections of honey are varied, from fruity to herbaceous, so have fun tasting them with your favorite liquor choices.

Ask yourself: Is the honey's sweetness intense or light? Is the flavor floral or herbaceous? Is it fruity or neutral? This will give you clues about using them with spirits so that you match or add complexity to alcohol that is lightly mineral or herbal or boldly peaty or woodsy.

Exceptions: wines, except champagne, or prosecco, and fruity liqueurs which can overwhelm the honeys.

You want to achieve a nice balance of fullness and flavor in your cocktail with hint of sweetness yet not overpower the flavor of the liquor.

We have just over a dozen of raw, whipped, or premium honeys and they're all delicious in beverages and foods. For cocktail recipes, we're listing just a few for your consideration, yet we encourage you to experiment with this delicious opportunity.

Sourwood Honey is the perfect with anything that bespeaks of wood or smoke like Irish whiskey, or aged Scotch.

Blueberry Honey works well with gin or consider a blueberry tequila margarita.

Manuka Honey has hearty earthiness and stands up well to strong whiskeys and intense non-alcoholic choices like ginger beer.

Buckwheat honeys are bold and intense and go best with whiskey varietals that can stand up to their strong flavor like rye, bourbon, rye or Scotch. To avoid overwhelming the liquor, use a 1:1 ratio of honey syrup.

Orange Blossom offers a light floral essence to gin or vodka drinks like an apple or lemon martini or a nice sweet edge to classics like Gold Rush or Whiskey Sour.

Onto the cocktails!

THE BEES PLEASE
YIELD: 2 servings

INGREDIENTS
2T Black Locust honey

1 cup hot water

6T bourbon

2 lemon peel strips, 3" x 1/2"

DIRECTIONS
Add honey to the hot water in a 2-cup measuring cup (for easy pouring.) Stir until the honey dissolves. Add bourbon and stir again. Pour 2 heat-proof glasses. Twist a strip of lemon peel over each drink. Stir each with a cinnamon stick and serve.

ALTERNATIVE

Switch the Black Locust honey for our Whipped Cinnamon Honey, and skip the cinnamon stick. A pow of an ingredient to tantalize any palate.

FRENCH 75 MOCKTAIL
YIELD: 1

In this classic recipe gin or Cognac is used to mix the drink which is then topped off with Champagne. This is a terrific idea for a non-alcoholic drink to toast health and fortune to all substituting Ginger Beer for a spicy rendition or combine it plain seltzer, if you seek something milder. Alternative suggestion: Use only ginger ale for milder drink. This also tastes great with lime juice.

INGREDIENTS
¾ oz. fresh lemon juice

¾ oz. honey syrup made with 1½ oz. hot water and ¾ oz. Blueberry or Orange Blossom Honey

2 oz. plain seltzer

3½ oz. ginger beer

Lemon slice, cut on one side, for garnish

DIRECTIONS
Mix together the hot water and honey for the honey syrup. In a cocktail shaker, combine juice and honey syrup, cover, and shake vigorously. Add ice to the shaker, cover, and shake again, vigorously for 20 seconds. Strain into a large flute glass and add the plain seltzer. Top with ginger beer. Garnish by putting the slit lemon slice over the top edge of the glass.

CRANBERRY CRUSH
YIELD: 1

INGREDIENTS
1½ oz. of vodka

1 cup cranberry juice

1 T Goldenrod honey syrup

2 T hot water

Fresh cranberries and rosemary to garnish

DIRECTIONS
Goldenrod honey is slightly floral and light to enable the tart-sweet essence of the cranberries to take center stage yet not be too astringent.

Mix the hot water with the honey, and set aside. In a cocktail shaker, add the vodka and cranberry juice. Shake, then add the honey syrup and shake again. Fill a cocktail glass with ice and pour the cranberry mixture over the ice. Garnish with fresh cranberries and/or rosemary.

Party Hard?
Not to worry, honey may help prevent a hangover!

Did you know that honey enables the alcohol in your drink to burn quicker, metabolize well, and prevent sudden blood sugar levels? Best of all, honey may prevent that dreaded morning-after hangover.

For added insurance, drink plenty of water whenever you drink.

You may also opt to eat some toast with 1 T butter and 1 T of honey; eat with a tall, tall, tall glass of water. The toast calms your digestion, the butter coats the stomach lining, slowing down the absorption of alcohol, and the water replenishes the dehydration from the alcohol. Even if you don't overdo, buttered, honeyed toast makes a great breakfast any day. We suggest matching it with your favorite Adagio Tea.