The Rockaway Hotel and Baxter St Celebrate Rejuvenation with New Mural by Ivan Forde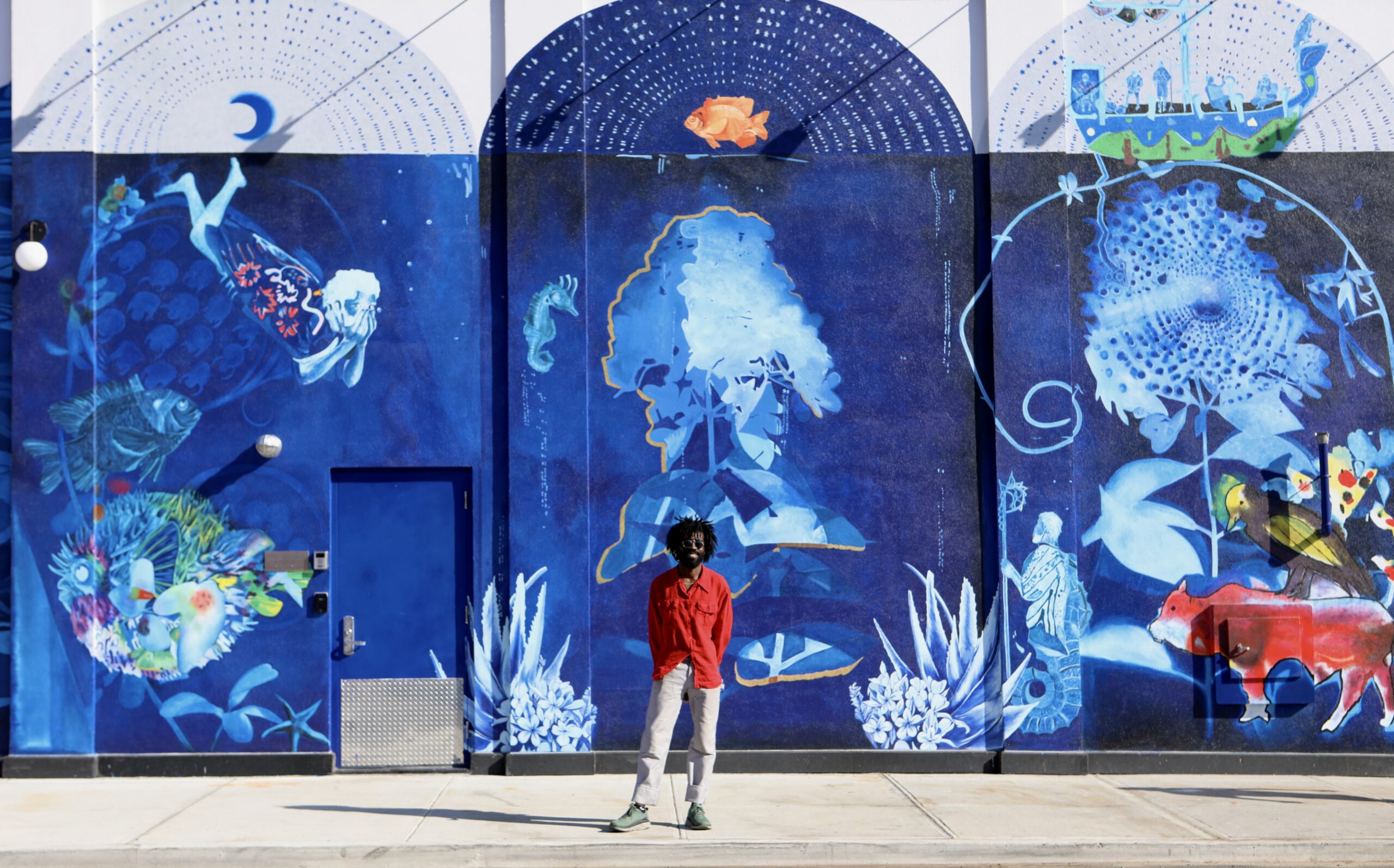 When multidisciplinary artist Ivan Forde was commissioned by The Rockaway Hotel to create a 90-foot-long mural on its facade at the intersection of Rockaway Beach Boulevard and Beach 108th Street, he began to research plants local to its surrounding area. "That showed me how tender this peninsula is," he said. Between that insight and considering the legacy of the Lenape people on this land, he began to ask: How can we live with nature? How can it nurture us and we nurture it? How can we take from it and always give back?

The resulting mural, titled "The Fabulous Plant of Rejuvenation," was celebrated on Friday, June 18 at the Baxter St on the Rock event hosted by the hotel. Michi Jigarjian, president of Baxter St—an artist-run non-profit organization focused on community engagement and progress for underrepresented and emerging lens-based artists—is also partner and chief social impact officer in the 7G Group, which co-owns the hotel with Rockaway natives and brothers Terence and Dee Tubridy.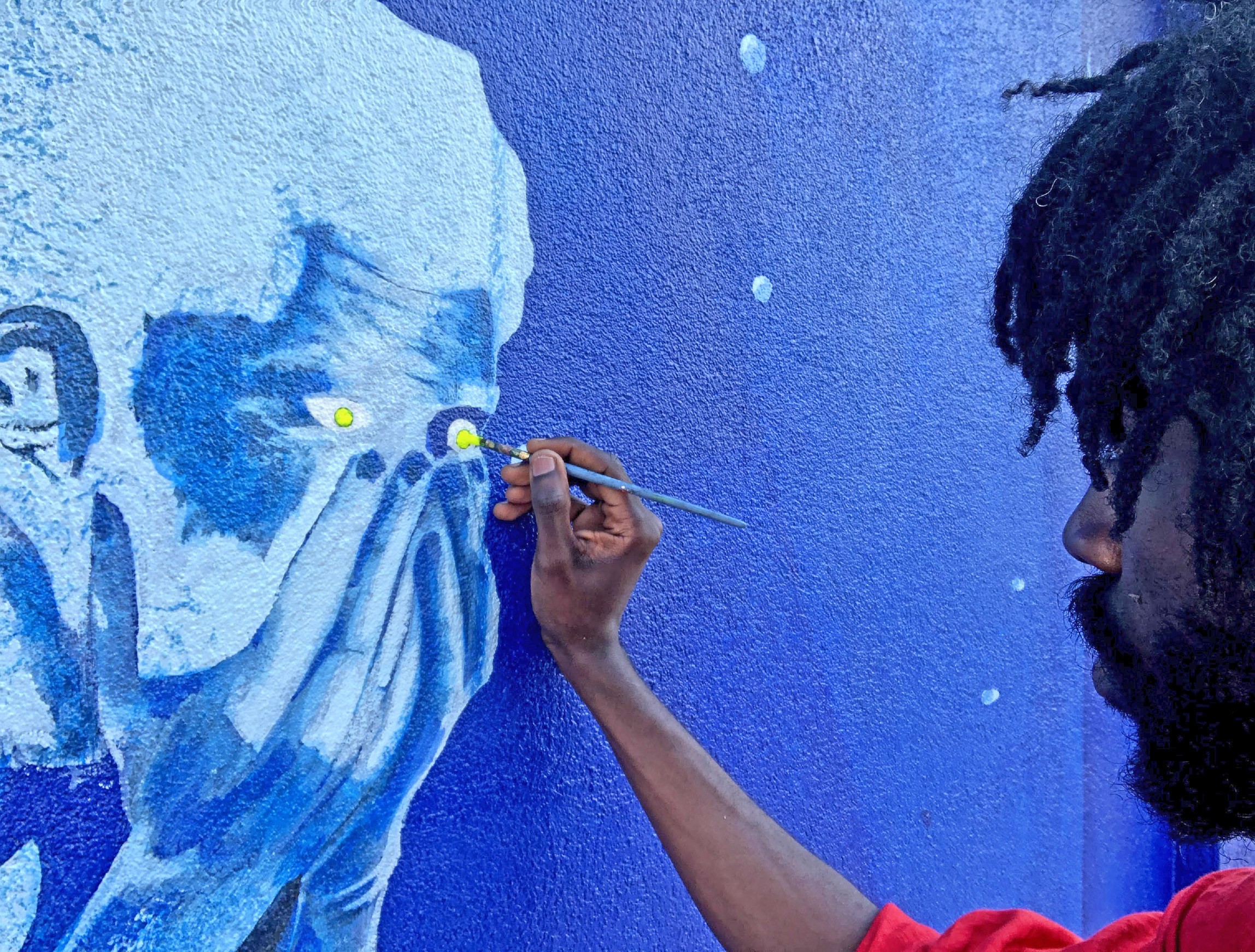 Jigarjian, who spearheaded his mural commission, met Forde when he was a Columbia University MFA student. "It's really connective," she said of his work. "It speaks to our ethos of inclusivity and the diversity of what's happening here in Rockaway. In choosing him for this project, I felt it would create a dialogue between all different types of people on the peninsula while connecting Rockaway to New York more broadly." In the coming months, Forde will engage with local students through Artist Talks, as part of the hotel's cultural and community programming.
Forde, who was born in Guyana and now lives in Harlem, said the mural grew out of the Epic of Gilgamesh and its magical plant that grows from the deepest part of the ocean to restore one's youth or youthfulness. The mural, which "builds on plant and poetic motifs from the oldest poetry on earth," Forde said, is based in his self-taught work with cyanotype, an early form of natural photography. "Through the process, you coat paper with a light-sensitive chemical and put it out in sunlight for about 10 minutes. When the sunlight hits, it turns the design blue."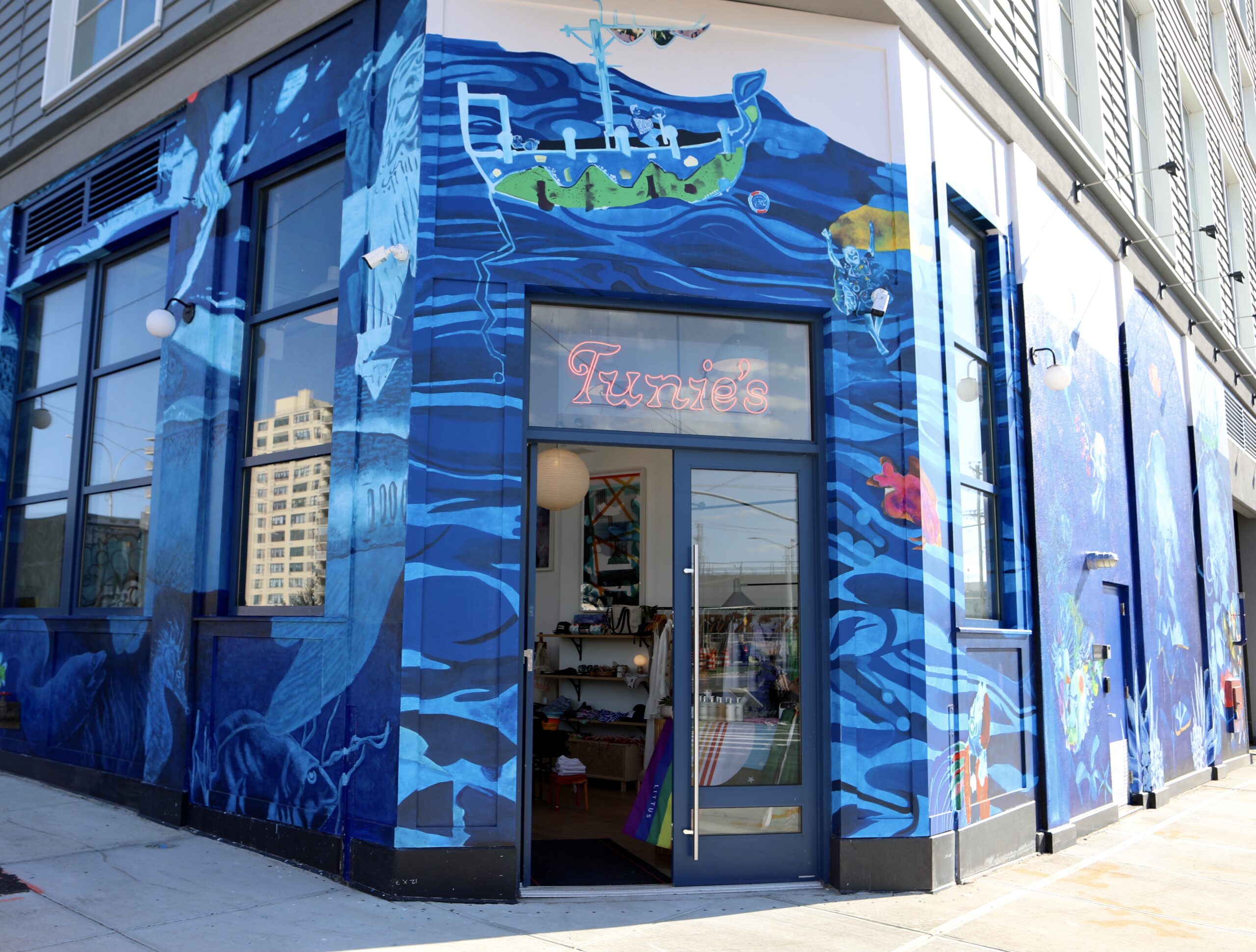 The mural's theme of rejuvenation, Forde and Jigarjian agree, speaks to our emergence from the COVID-19 pandemic, how we might heal from its impact, and start anew. In that context, Jigarjian and her team continue to weigh these questions: How might this connect to the experience and intention of the hotel, especially in light of the pandemic? What is this hotel doing for this neighborhood? How are we thinking of the entire community together? How are we understanding and honoring the importance of those who came before us?
Forde has also been considering rejuvenation in these terms: "It's about practices we do to feel better and to care for others. That could take the form of an elixir made by your grandmother, or a day trip to the beach." As with so many New Yorkers, his appreciation for nature grew during the pandemic last year. "No one was around when my partner and I would go out on rainy days and see these beautiful blossoms. It was such a poetic time."
As an undergraduate literature major at SUNY Purchase, Forde said he was fortunate to have an incredible professor who introduced him to Milton's "Paradise Lost" and other great books. "Before that, I was never into poetry," he said. "It was never a thing growing up a young Black man in Harlem. But in college, I made the connection between poetry and visual art. Being able to imagine and create the image myself still guides my work, and will perpetually."
Recalling a teenage summer when he and his friends would regularly take the train from Harlem to Rockaway, he's grateful for the ferry that now brings him here. "My relationship with Rockaway is still unfolding," he said. "It's been really interesting to work on the mural and have people driving by stop at the traffic light and say, 'I live down the street. I love what you're doing.' It's amazing that I can create something from my brain and heart in this really vulnerable way and make that connection."
Rockaway Loses Beloved Advocate Dr. Deborah HoyleRemembering Joan Ward GeorgeJuneteenth in the Rockaways!