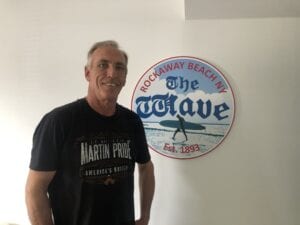 Danny Moran's recent visit to The Wave was a homecoming. As a kid, he bought penny candy from the shop where our 129th Street office now stands. His family owned a house on the same strip for more than 60 years, sold soon after Sandy. As drummer and vocalist for the band Fool's Night Out, he now plays all over Rockaway and beyond.
On Friday, June 11, the versatile cover band with a repertoire of close to 250 songs, from rock to R&B to Motown, plays RBQ—a venue Moran loves for its "rich, warm sound" thanks to its all-wood interior paneling. Add the wood-burning aroma from a meat smoker fueled by cedar chips, and RBQ "gives you an intimate feeling," says Moran. "The staff is amazing. They treat us like gold. It's really a fun time to play there."
Much of that paneling was salvaged from Boggiano's restaurant, the Rockaway fixture that preceded the Tap & Grill and Playland on the same site, says RBQ's Shawn Dell, brother-in-law to owner John Moroney. RBQ, which opened in 2018, built out its performance space just before Covid hit. Now it's back and ready for the rousing sound of FNO and the sing-along dance party that follows the band wherever it goes.
A brainchild of Moran's, FNO also includes guitarist Mark Magliaro, Rich Guerzon on bass, and singer Melissa Raye. Of Raye, Moran says, "Her voice has this richness of tone, an R&B soulful sound. Sometimes when we play, I find myself listening to her instead of really concentrating on doing what I'm supposed to do!"

It was the 2011 death of local musician Tommy Boland that brought Moran, a lifelong musician, back into performing. "Tommy grew up in Rockaway and made a recording studio in his mother's two-car garage," said Moran. "When he passed away, there was a big benefit for him. That brought a bunch of bands back together—some reunited after more than 20 years. I played drums for everyone that night." Since then, it's a steady flow of music-making in Moran's life. He brings a light heart to it, and that beat propelling Fool's Night Out brings out the joy in every crowd.