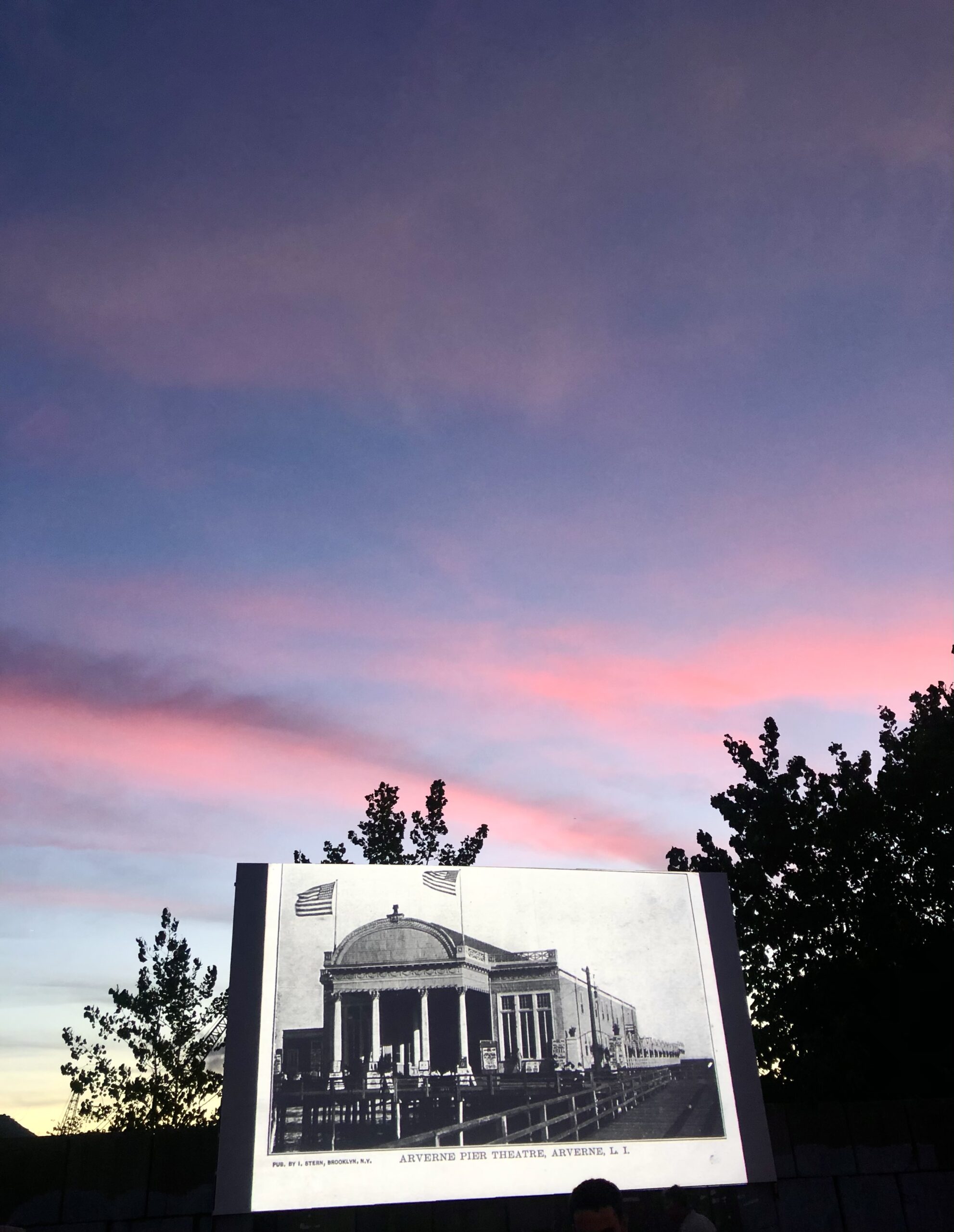 If you enter the new Arverne Cinema at the corner of Beach 72nd Street and Gouverneur Ave and feel a sense of déjà vu, you're not alone. Built this summer to house the fourth season of Rockaway Film Festival's films, discussions, and performances from September 13-19, the outdoor theater was made using wood familiar to Rockaway locals—boardwalk planks destroyed during Hurricane Sandy in 2012.

Framed by stacked cubic-yard cement blocks and salvaged ipe (pronounced EE-pay), the durable South American hardwood, the cinema feels industrial yet inviting. Formerly a funeral home site, and still visible on Google Maps as an abandoned lot, full of weeds and trash, the space provides important social and cultural grounding for Rockaway residents living without a movie theater for more than 20 years. (Our cinema-going challenges go back more than a century: According to a 1914 issue of this newspaper, a devastating storm swept the 1,200-seat Arverne Pier Theater out to sea.)
On August 19, 2021, the new Arverne Cinema, built largely by festival cofounder Sam Fleischner and cinematographer Oliver Lanzenberg, opened with a screening of Cryptozoo, a film by cartoonist-animator Dash Shaw. "Screening there was a total delight, and the screen looked fantastic against the night sky," says Shaw. "Because of the pandemic, my film has played in a lot of outdoor venues, and sound is always the number one concern. The sound was perfect that night." Shaw lives in Richmond, Virginia, which he considers to also be a "cinema desert." Once lovers of art and film find each other in such a landscape, he observes, "Those relationships become deep, because they're all we have."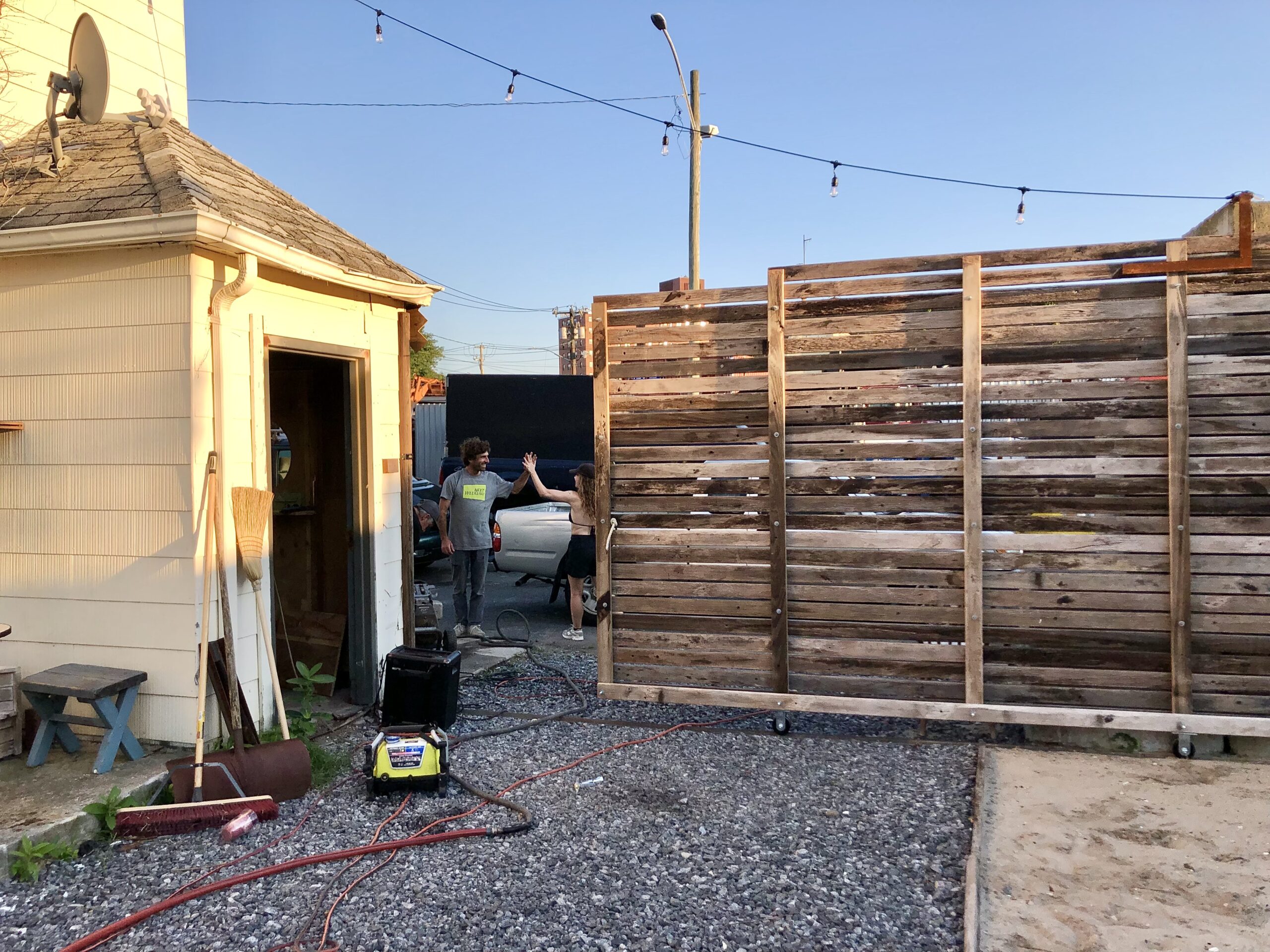 Courtney Muller, who programs the festival's mix of new and old films with Fleischner, appreciates features juxtaposed with short films for "the way they can allow us to include more filmmakers." Fleischner describes the gratifying challenge of trying to create programming that Rockaway's diverse population will truly enjoy. "It's a hard thing to accomplish, and each year, we try to make it more balanced," he says.
On September 17, programming includes Judas and the Black Messiah—a drama about the legacy of the Illinois Black Panther party, nominated for six Academy Awards—and a post-screening discussion with its director, Shaka King. And on September 15, Benny's Club, a Rockaway collective especially for queer surfers and surfers of color, will conclude its three-month programming partnership with the festival with a free screening of Andrew Kidman films about the evolution of surf culture.
Launched in 2018 as a 501c3 nonprofit by Fleischner, Muller, and Greg Stewart, the roving Rockaway Film Festival has hosted events at the Beach 74th Street Warehouse Market building, Jacob Riis Park Bathhouse, Rockaway Brewing Company, and Far Rockaway's O'Donohue Park, among other local sites. In 2020, because of pandemic shutdowns, its program was virtual.
This year, Rockaway Brewing Company approached the team about developing an outdoor cinema in the adjacent lot it also rents on Beach 72nd Street. After first hesitating, Fleischner consulted neighbors about noise and traffic concerns and wrote up a proposal with a budget for the project. "We started in the beginning of June," he says, "and just went to work one step at a time."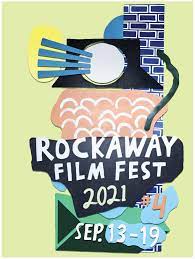 In addition to support from the Brewing Company, Queens Council on the Arts, Blundstone USA, and other partners, this year's "neighborhood production"—as festival organizers call it—is made possible by The Rockaway Hotel, The Rockaway Retreat House, and Camp Rockaway, which accommodate visiting filmmakers and other guests.
This upcoming festival features live music by mostly local artists, including Argentinian punk by Tall Juan, psychedelic rock by Blac Rabbit, and electronic sound art by Erosika. "It's been a tragic time for live music with Covid," says Fleischner, "so we wanted to step that up and offer more paid opportunities for local musicians."
With a mission to provide quality cinema at affordable rates, the festival charges $10 for most tickets and $75 for a Shell Pass, which includes entry to all screenings and events. This fall, at the suggestion of their board member Prerana Reddy, festival organizers hope to launch Movie Nights for teenagers. "We want to make it really accessible, and charge like $5 for two tickets and popcorn," says Fleischner, adding that during the festival, local restaurants The Cradle, Seany Slices, and Brothers will share the cinema's outdoor kitchen. "It's an event space with endless potential."
It's impossible for passersby to miss the new theater—with its iconic corner "Arverne Cinema" sign by local artist Valentina Gallup—and all that the space symbolizes. "Renewal is part of life," says Fleischner, who filmed his second feature, Stand Clear of the Closing Doors, in Rockaway during Hurricane Sandy. "Maintenance is part of life. Things are constantly in various phases of a life cycle. It's never-ending."
Rockaway's Fallen Hero Remembered in Annual Surf ClassicSt. John's Fire Rattles Community"Mother Earth" Takes Off, "Soft Spots" Moves In