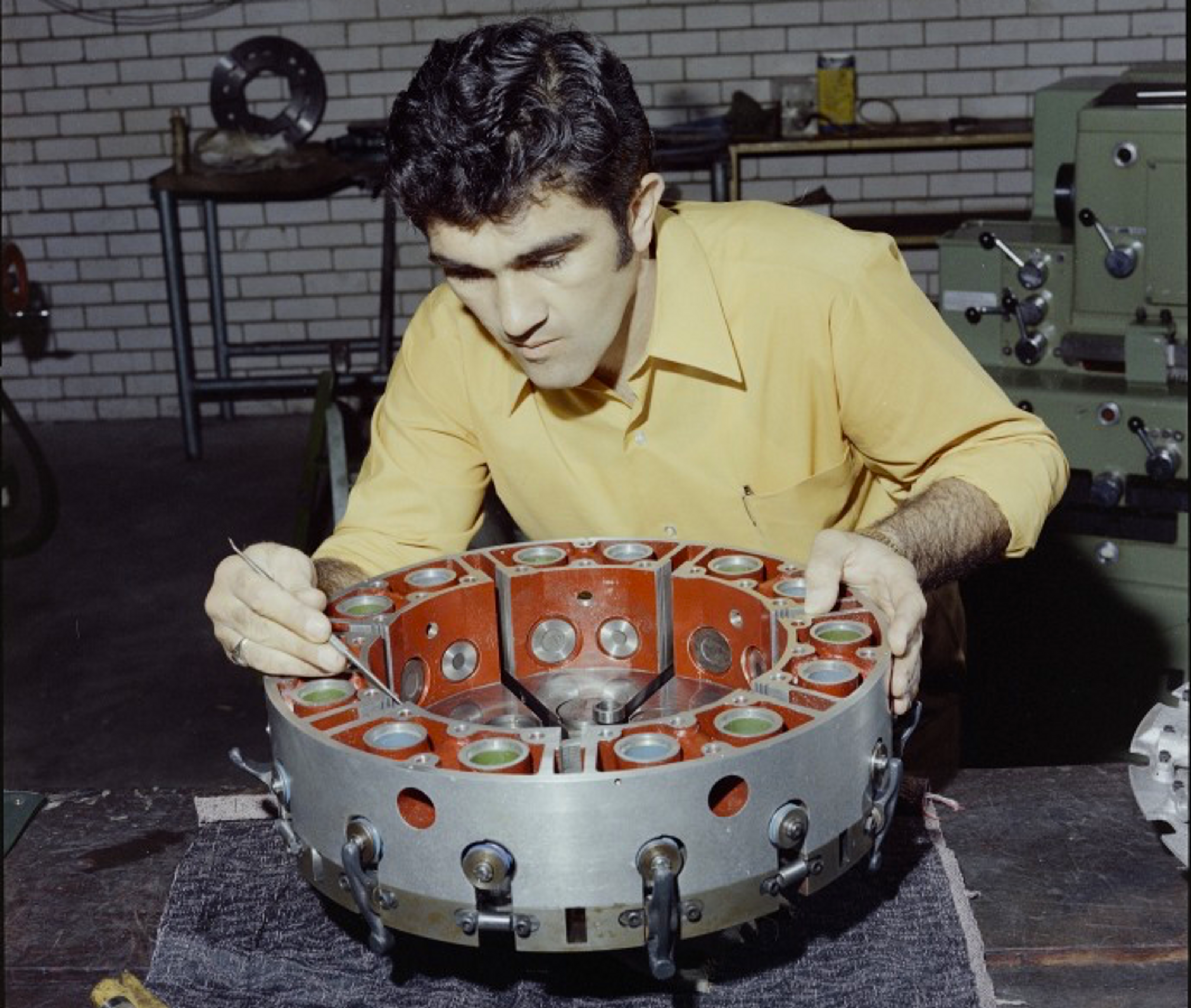 By Wilson da Silva
PERTH, Australia - Twenty years ago, Ralph Sarich gave up selling industrial motors to develop a new car engine, more fuel efficient and easier on the environment.
Today, his small Orbital Engine Co, along with joint venture partner Walbro Corp, is three years away from building 250,000 engines annually at a former General Motors plant in Michigan.
Automotive magazines say Ford will be the buyer although Sarich declines to confirm it.
Industry analysts say the engines are destined for both Ford and General Motors. Both have bought the rights to use Sarich's technology.
Orbital does say that once at full plant capacity, probably in 1995, Sarich Technologies Ltd – Orbital's listed parent – expects net annual profits of US$100 million (US$76.4 million) a year from the U.S. plant in Michigan.
Orbital spent only A$40 million (US$31 million) beating the world's motoring giants in developing a cheap, clean, light and efficient two-stroke engine which it claims is as powerful as a conventional four- stroke.
Tests conducted last month in the West Australian capital of Perth, where the brash young company is based, showed the engines met stringent limits proposed by the U.S. Congress for the year 2007, Orbital said.
The tests were conducted according to methodology approved by the U. S. Environmental Protection Agency as required by the company's contracts with Ford and General Motors.
They showed 50 per cent reductions in nitrogen oxide and hydrocarbons, and a 90 per cent decrease in carbon monoxide compared with conventional equal-horsepower American motors.
"Worldwide there are demands for lower car emissions and better fuel economy because of concern over the environment," Sarich said. "(In this) our engine is far superior to conventional engines."
The tests also showed fuel economies of 30 per cent. Orbital claims its engine has 200 fewer parts than a conventional motor and will therefore be cheaper to make.
"Each engine is 20 per cent cheaper to make," said Sarich Technologies engineering chief Kim Schlunke. "Capital investment in plant is 31 to 40 per cent cheaper."
Schlunke said a 90 horsepower Orbital engine weighs 54 kg (118 pounds) while a conventional 90 horsepower motor weighs 125 kg (275 pounds).
At first sceptical, other engine users are scrambling to catch up. Orbital has signed with U.S. marine engine makers Brunswick Corporation, producers of Mercury and Maritime motors, Outboard Marine Corporation and India's Bajaj Auto, according to announcements released through the stock exchange.
Trade publications have reported that Toyota, Honda and Subaru of Japan are studying the radical new engine, as are Peugeot, Citroen and Renault of France and Chrysler in the United States.
Sarich told Reuters his firm is near agreement with two European car makers, one a prestige manufacturer, and expects to sign contracts with two other firms, one Japanese, within a few months. He declined to name the companies.
Maurice Joseph, an analyst with stockbroker Potter Partners in Sydney, recently spent weeks researching the firm. He believes the company is worth more than double its share price of around A$2.10 dollars (US$1.60)
"U.S. investors consider Sarich a rags-to-riches story, but they see Australians dumping the price and worry there might be something wrong with it, especially after the difficulties other Australian high-flyers have had," he said.
Joseph said some investors were nervous, unsure that agreements with car makers would actually go ahead.
But even if only GM and Ford proceed – and they account for about 30 per cent of world engine production – Sarich Technologies stock would be worth between A$4.04 and A$5.80 (US$3.10 and US$4.45), he said.
"The engine will change the world motoring market. The over-riding factor in their advantage is pollution control and energy efficiency. The question is what happens to Sarich if GM decides to go ahead with an electric car," Joseph said.
Sarich credits the conservatism of Western manufacturers for his company's success. "What we have is revolutionary and they can't match it," he said.
"We targeted the Americans because they had taken such a battering from Japanese companies. We offered them new technology that would make them front-runners in emission reduction and fuel economy," he said.
"The strategy paid off. The likes of GM and Ford would never sign a licensing agreement if they felt there were ways around the patents. No one's sold them a licence in 40 years.
"The deal we have with Japan is the first time a manufacturer in that country has bought engine technology from outside."
Ford's Australia spokesman Patrick Lyons commented: "If it was held together with rubber bands, we wouldn't have invested in it."
Orbital is not worried by potential competitors. With almost all of the new eng ine's parts protected by international patents for 15 years, every Orbital motor built will earn royalties for the Australian firm.
The unassuming son of a Yugoslav immigrant, Sarich controls 27 per cent of the firm he founded. Australia's largest company, Broken Hill, owns 35 per cent and the rest is held by banks, pension funds and individuals.