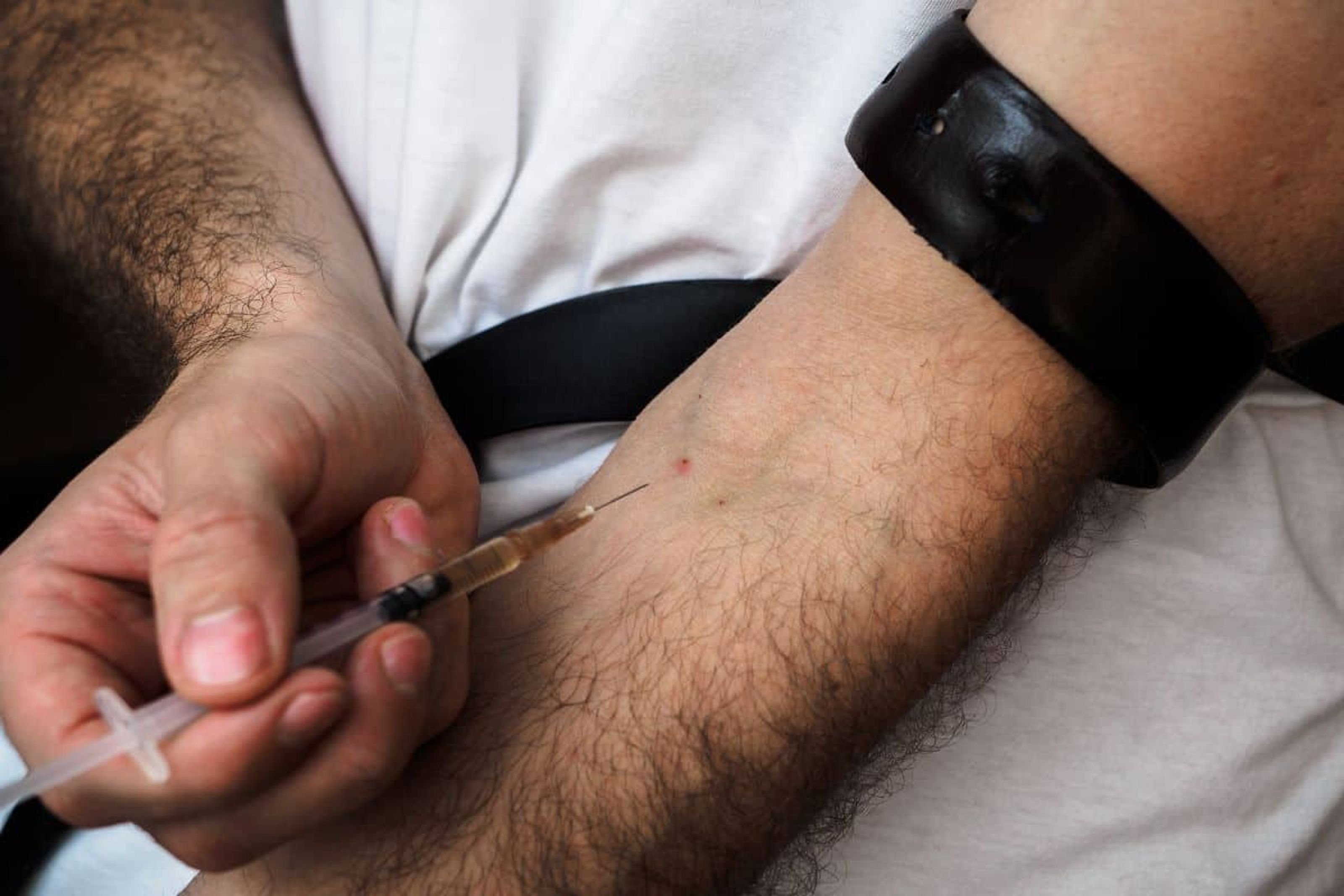 WILSON da SILVA
EASTERN metropolitan Sydney has the dubious honour of taking the Australian drug scene into new areas of abuse. Cannabis and heroin are the mainstay of the drug trade, but cocaine and a new designer drug, ecstacy, are rapidly replacing them.
According to one drug dealer, the market for ecstacy, otherwise known as MDMA (methylene dioxy methamphetamine), is doubling every week.
The director of drug and alcohol services at St Vincents Hospital in Darlinghurst, Dr Alex Wodak, has just returned from a study tour of drug centres in North America and Europe. He said the trend away from the opiates towards stimulants was worldwide.
"Ecstacy is highly used in Great Britain and in New York city, you can't walk the streets without your feet crunching the discarded perspex tubes used for crack (an enhanced cocaine derivative)," he said.
A lecturer in sociology at the Australian National University, Dr Stephen Mugford, last weekreleased an 18-month study into cocaine use in Sydney, Melbourne and Canberra. It shows that cocaine has spread "downmarket" to those on more moderate incomes.
According to Jeremy Floyd (not his real name), a "wholesale" drug dealer who agreed to speakto The Eastern Herald, ecstacy is now spreading in the same way that cocaine did.
Detective Sergeant Frank Hansen, of the State Drug Group, said police were losing the fight in stopping large quantities of illegal stimulant drugs reaching the streets.
Police could only stop about 5 to 10 per cent of the drug trade and it was possible police would have very little impact on any new drug for a few years
"The criminal element will move in wherever there is a demand, and the demand for the drug is something we have no control over. Only education can help that," Sergeant Hansen said.
*** THE ADDICT ***
SIMON DUNN was introduced to heroin at 16. He smoked marijuana for three years before that, and had already "done" amphetamines. More than 15 years later, Simon is a shell of a man - his friends, family and girlfriend lost in the drugged haze of the past.
At 32, he has seen more crisis services, detoxification units, rehabilitation centres and psychology clinics than he can remember. He served time in jail for fraud, false pretences and petty theft.
In December last year he was admitted to the Royal Prince Alfred Hospital(RPA), and spent five days in the detoxification unit. He later went through eight days of intensive re-educationat the McKinnon unit of Rozelle Hospital.
Simon is now at the Cyrenian House live-in drug rehabilitation centre in Stanmore, learning to control his narcotic obsessions. He has been drug-free for seven months.
"I started at 16, hanging around the beach crowd at Maroubra," he recalls. "It was that sortof environment, everyone was into experimentation. You wanted to do what the big guys were doing.
"I'd done dope and acid. Everybody was saying heroin was the best they had ever tried. An older guy introduced me. It wasn't like some sleazy dealer slipped it into my food. It just looked very attractive to a young and very insecure 16-year-old.
"I had the problems of any normal 16-year-old, it's just that instead of dealing with them, growing out of them and maturing the way any normal 16-year-old does, I fell for heroin."
He calls heroin a "chemical overcoat", and goes on to describe its effect. He has a sort of reverence for it, almost as if he misses it.
"It made me feel accepted by my peers, full of self-esteem and like I had emotional maturity ... all the things I couldn't get on my own.
"I'd buy it in hotels around Surry Hills, Newtown, all over the street in Kings Cross. All you have to do is dress down, look a bit haggard and walk around long enough in Kings Cross. I guarantee that by the end of the day, five people will have approached you."
He said the street price for heroin is about $150 for a half-gram weight(five to 10 per cent pure), enough for two average hits.
"If I'd pulled a good scam on one day, I'd hit $300 in one shot. The amount I took depended on how much I could get my grubby hands on."
Simon went to a selective State school, acted the rebel, and was asked to leave. He felt he never fitted in anywhere, always felt the loner.
"There was a doctor I had been seeing for five years. He was very anti-methadone, always encouraged me to build up my confidence instead, and work on giving heroin up. I had periods when I'd be free, but I would go on a little bit, and it would take off again."
After another day of heroin and a night of loneliness and desperation at the Foster Street Salvation Army lodge, Simon went to the RPA detoxification unit, feeling very sick. His doctor was there.
"He said that maybe I should go through a methadone program after all,"Simon paused, his eyes far away. "That was like the final shock. It scared the shit out of me. Even he had given up."
Simon shares the refurbished Federation house in Stanmore with 14 other rehabilitated addicts and five counsellors. Slowly, carefully, he is being taught to deal with his emotional problems, with disputes and crises, without falling apart or running away.
"My problem was not a drug problem, it was an inability to accept life on life's terms. I have the physical body of 32, but the emotional level of a 16-year-old. I'm learning to grow up emotionally."
He does not harbour resentment towards the people who introduced him to drugs. But he does hate the people who sell drugs purely for financial gain. The desperate addicts who deal so theycan supply themselves he can understand. But not the big time profiteers.
I put to him the argument offered by a drug dealer who had agreed to talk to The Eastern Herald. The dealer, Jeremy (not his real name), sees dealing in ecstacy and cocaine, among other things, as providing a recreational commodity that people want. But Jeremy regards heroin dealers as contemptible and sleazy.
"That's the best bit of rationalisation I've ever heard," Simon said. "It's bullshit. How can he say ecstacy and cocaine are all right when it leads him and the people he supplies to do anti-social things?
"He sounds like he's just saying that to make himself feel comfortable about what he does. At that level, there's no difference between heroin and cocaine."
*** THE DEALER ***
JEREMY FLOYD (not his real name), a drug dealer for 15 years, used to trade in marijuana, but in the 1980s the market has changed. He has diversified, and just as well, since the dope market has dried up, what with all the police crackdowns. Anyway, it is not as much of a buzz as some of the other drugs available. Like ecstacy.
"The business has built up very quickly," he said. "The market for ecstacy is doubling everyweek. It's been around for six months or so, but it's really taking off now. It's just rife."
Jeremy operates what he calls "a street, party and nightclub service". His two major "product lines", ecstacy and cocaine, are distributed through a network of 15 "retailers", or dealers.A capsule or a tablet can cost $40between and $65.
His side of the operation is strictly wholesale. He has the contacts, and has built up the trust of a large and well-organised group who import the"products". He calls this group The Organisation.
"They have a very well planned, very well thought-out operation," Jeremy said. "There's a network of couriers and police distribution. The cops have a lot of powder (cocaine)."
Cocaine has been on the Sydney market for 20 years but only in the past decade have sales begun to take off. They now represent a good part of his business, and sales are still growing. The profit margin tends to be about 20 per cent.
Ecstacy is where the real returns are. The market is growing rapidly, and the police seem tohave no idea where to look for it. Like cocaine, it is considered a recreational drug, and it is reaching the hands of users almost unimpeded.
The profit margin on ecstacy tends to be about 60 per cent. This earns Jeremy a comfortable "couple of grand a week".
Usually people planning a party will book quantities through his dealers. They pass the orders to him at one of their regular meetings. The venues change, but tend to be in restaurants, coffee shops and cars. Jeremy then organises a "drop", which his dealers then distribute.
He said he never carried drugs and would not enlarge on how the "drops"were orchestrated. He did not discuss quantities.
The "narks" - narcotics police - do not worry him. Undercover or not, they almost always look like police. They are too well fed, their hair is too short or too well kept, they wear wedding rings and ask far too many questions. And once they start doing that, they are marked, remembered.
But things are not as easy as they used to be. There are some extremely well-camouflaged "narks" working the streets, indistinguishable from their backgrounds - until they start asking questions. Either way, Jeremy said it didn't worry him because he never carried drugs.
Jeremy, in his 30s, is almost at the point of retirement. His distribution network is clicking over smoothly. He has a line on the crest of its product life, an older but these days more popular seller, and can count on $500between and $1,000 a week from the smaller but more established lines like LSD and amphetamines.
Things just fell into place for Jeremy. He didn't go out in search of becoming a drug "wholesaler", it just happened through meeting people and associating with them.
Most of the time he keeps a daytime job. According to him, the drug scene is now upmarket, with a lot of professional people involved.
"The days of the scruffy guy in the corner are gone. The deals are planned. Only grass (marijuana) and heroin are still done by the amateur and the sleaze on the corner."
If there's one product line Jeremy will not touch, it is heroin.
"Only people who are f...ed in the head deal with it. I've seen people die of the stuff, 16-year-old kids. It's a dirty trade so far as I'm concerned. I don't sell anything that I can't recommend myself, and that stuff's shit."
*** THE COP ***
THREE years ago, Detective Sergeant Harvey Chapman met an attractive 19-year-old model. She had befriended a drug dealer and started using heroin. Her life had taken a nosedive, but she refused to admit that she had a problem.
Over the next nine months he watched her deteriorate, until she finally dropped out of view.The collapse of her life stayed in his memory.
For 3 1/2 years, Sergeant Chapman has worked the streets of Kings Cross, Surry Hills and Darlinghurst, talking to informants, following suspects and watching the addicts. He is what dealers and addicts calls a "narc" - a narcotics police officer.
The last year or so has been fairly good for his unit. Since the 42 local drug-unit detectives moved out of Kings Cross and into the concrete menagerie of the Sydney Police Centre at Surry Hills, street dealers have recognised them less and less. In Kings Cross they were too close to the action, and too seen.
So far this year, his unit has netted 278 drug "busts". None was quite as spectacular as thearrest a couple of years ago when more than 340 grams of heroin was seized and part of one Asian smuggling network was put out of operation. They have also taken a lot more suppliers out ofthe equation.
But the increase in drug busts can mean things other than good police work. Arrests for the designer drug, ecstacy, have gone up. This suggests some truth to the information, supplied to The Eastern Herald by one dealer, that the sale of the drug is growing exponentially.
There have been two big arrests this year - one netting 2.3 grams and the other 15.5 grams. Sergeant Harvey, however, is not all that convinced.
"I don't think it's an indication of any trend," he said. "Heroin and cannabis are still themain drugs out there."
Since the move to the Police Centre, the unit has had more time to spend on the street. They"dress down", go into the pubs and clubs of the area and search out their prey. Mostly they rely on information received, intelligence collected or their own instincts.
He would not discuss at any length what his unit of "narcs" do to infiltrate networks, or inwhat sort of covert work they engage. They just"blend in", he said.
One of the frustrations of the job, he admitted, was to be on the scene and know that someone was a supplier, but not being able to prove it.
"It means that we have to spend a lot more time on that person," he said. "There may not be enough evidence to substantiate a charge at the time. But, eventually, they come under notice again."