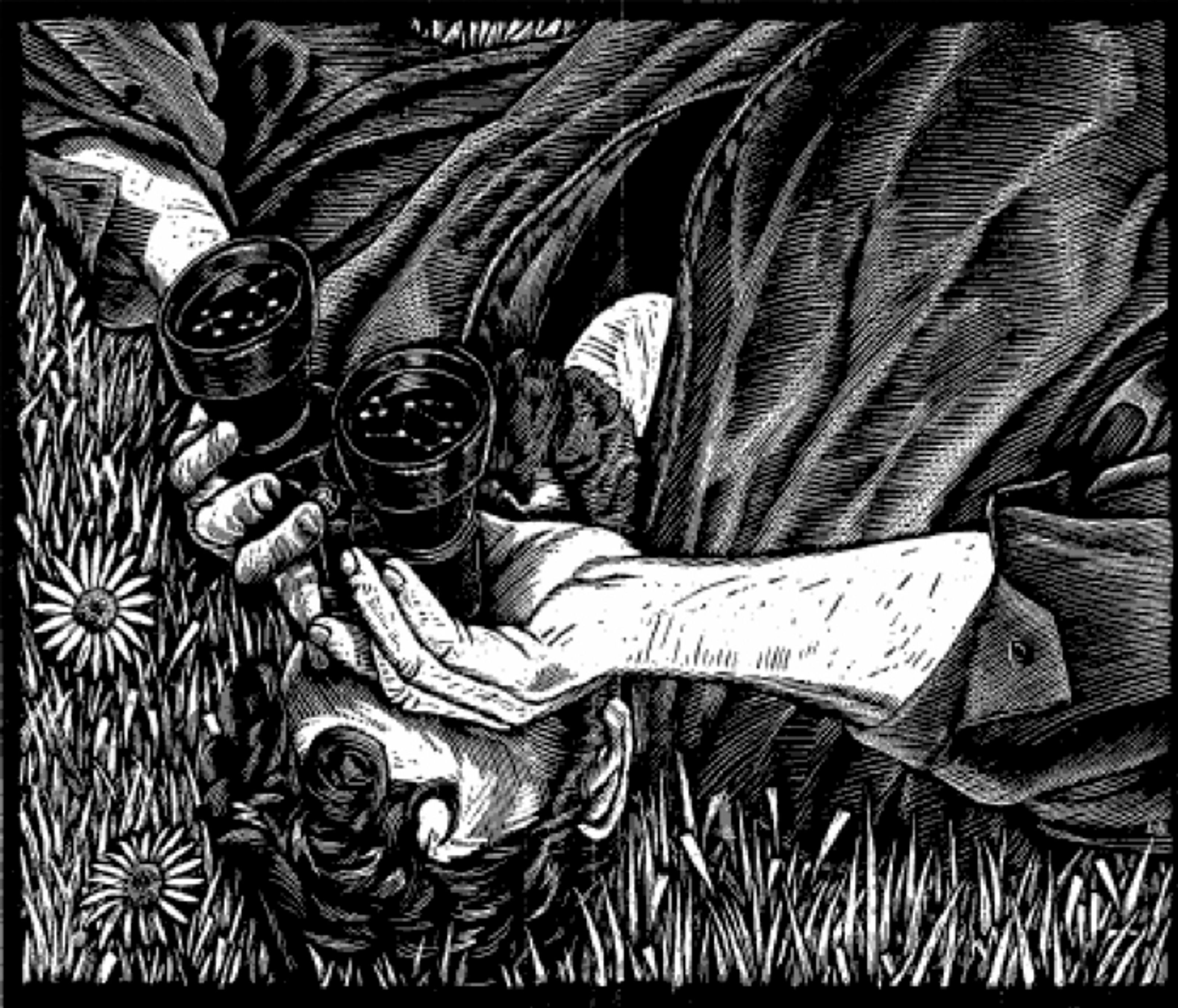 By Wilson da Silva
FASTER than a speeding bullet. More powerful than an atomic bomb. Able to reduce whole planetary systems to dust.
"Look, up in the sky. It's a bird ... it's a plane..."
"No, it's a supernova!"
An astronomical rarity has appeared in our skies and, as it happens, Australians are well placed to see it. In the vicinity of the constellation of Doradus, in the Large Magellanic Cloud, scientists believe a star has exploded.
Stars very much larger than our sun tend to die in spectacular ways. They collapse into themselves when they have used up all their fuel, then explode in one super burst of light, gas and energy.
This recent apparition in our night skies is only the second supernova from outside our Milky Way galaxy to be visible to the naked eye, and the fifth brightest supernova ever. Professional astronomers have been in a fever since its discovery was announced in Chile and New Zealand almost three weeks ago.
However, you don't have to be a professional to get into astronomy, nor do you have to sell the car and buy a share in a local observatory. A pair of binoculars is as legitimate in the pursuit of the hobby as any other other equipment.
"It really does depend on what you want to do," says Glenn Dawes, president of the country's largest amateur astronomy group, the Astronomical Society of NSW (ASNSW). "If your interest is in astrophotography, then you go out and buy a 300mm reflector, camera mount, ultra-sensitive film, the works. Or you could just track planets and satellites for fun."
Astronomy as a pastime in NSW is catching on. There are seven amateur groups throughout the State, with a total of more than 700 members. In the case of the ASNSW, the membership has been growing at a steady 10 per cent a year for the last few years.
"The biggest jump in membership was last year, as a result of Halley," says Ken Wallace, the society's treasurer. "But this year we've managed to better the 1986 figures, even though we lost a few people."
Of the seven societies throughout the State, two have observatories for the use of their members. The Sutherland Astronomical Society (SAS) has a dome in Oyster Bay,housing three telescopes. It meets officially once a month in an adjoining hall, which also contains the society's library. The observatory itself is open every Thursday night.
According to its president, Greg Hayward, the four main areas that tend to interest the members of the SAS are, "...variable stars, astronomical computing, occultations (eclipses) and planetary/lunar/asteroid observations"
The ASNSW has an observatory under construction near North Richmond, but has had a number of delays in getting power to the site ever since it began to build there. Most of the members prefer to go elsewhere to observe, anyway.
"We all have our favourite little places away from the light and smog,"says Glenn Dawes. And where are these places? "Well, they wouldn't be our favourite places if everybody knew them, would they?"
Although amateur astronomers are reticent about revealing their celestial hang-outs, they do offer advice based on experience.
"It doesn't really matter where you are, the same rules apply," Glenn Dawes told Metro. "You want dark skies and no cloud cover. Now, you can get dark skies by simply leaving the City and going for a drive. In the case of clear skies, though, a general rule to follow is this: if there is cloud cover along the coast, it will tend to be clear over the ranges; and when there is cloud west of the ranges, the coast will be clear."
Good conditions for observation are seasonal. July through to September is the best period for astronomers in the southern hemisphere, with reduced cloud cover, cleaner skies and more dry nights than at any other time of the year. January through to April tends to be the worst time.
As for the equipment you will need, there are two main types of telescope design to choose from- refractors and reflectors. Refractors collect light with lenses and funnel the magnified image directly into an eyepiece. Reflectors enlarge an image through a combination of lenses and mirrors, then display the mix in an eyepiece. Reflectors are generally preferred by amateur astronomers because of their greater portability and all-round effectiveness.
Be warned, though: astronomy can be expensive. Telescopes range in price from $100 for a 50mm refractor, to $14,000 for a monster 350mm reflector. If you think this may be a little beyond you, Ken Wallace insists that "you can have as much fun as an enthusiast if you just get a pair of binoculars and familiarise yourself with the sky". Or else get friendly with someone who has a good telescope.
Astronomy is a good excuse to get out of the City and spend a night in the country-a very social and relaxing by-product of what is an interesting hobby, according to Glenn Dawes. "It can get quite funny sometimes. You meet people in the dark and spend a whole night observing with them. Next morning, you have no idea who they are unless they speak to you first and you recognise a voice."
Some of the groups try to foster better community understanding of astronomy. The Sutherland society runs stargazing nights at its observatory for scout groups and interested visitors, while the ASNSW conducts one-off classes for HSC students in some Sydney schools.
Australia has always been well up in the world when it comes to astronomy, particularly radio astronomy, and has been a leader in the field since the 1950s-albeit more on a shoe-string budget than overseas operations.
The observatories at Siding Spring mountain in the Warrumbungles are comparable to any in the world, and have consistently been involved in world-class work since their construction back in the early 1970s. The Anglo-Australian telescope there was the first to match an optical image to the radio signal from a pulsar-a type of star with very unusual properties. And Mt Stromlo Observatory in the ACT has been going since before World War II.
If comet fever is more your type of night-sky disease, then rejoice, for another "dirty snowball" is to tour our planetary neighbourhood this year. The recently-discovered Comet Wilson is already visible to the keen eye in the southern hemisphere, and will become more noticeable during April.
While not on the scale of Halley in terms of sheer marketing, it is still "a significant object, as indeed all comets are", Ken Wallace says. Indeed, during any one year, there are on average some 10 to 12 comets that dip in close to our sun then scamper away again into deep dark space, many much brighter and more interesting than our newest visitor.
However, I think Comet Wilson has – at least to this author – a certain mysterious appeal about it.
ASTRONOMY GROUPS
Astronomical Society of NSW: PO Box 208, Eastwood, NSW 2122. Facilities: monthly magazine Universe and astronomical almanac Ephemeris; library; monthly general and technical meetings, guest speakers, regular outings. Astrocard service for new discoveries. Total of 360 members. Established 1954. Meets first Wednesday of every month. Membership: $26 a year. Contact: Glenn Dawes, 855504 (after hours).
Sutherland Astronomical Society: PO Box 31, Sutherland, NSW 2232. Facilities: bi-monthly magazine Sutherland Observer; library; domed observatory in Oyster Bay for members; monthly meetings. Total of 112 members. Established 1960. Meets first Thursday of every month. Membership: $25 (new member); $15 a year. Contact: Greg Hayward, 3894728 (after hours).
British Astronomical Association (NSW branch): c/o Sydney Observatory, Sydney, NSW 2000. Facilities: bi-monthly magazine-newsletter Bulletin; monthly meetings with guest speakers; informal stargazing gatherings, astrocamps and BBQs; currently restoring 450mm reflector telescope to be installed at Macquarie University. Total of 100 members. Meets third Wedneday of every month. Membership: $20 a year. (Membership is also open to the parent body in the UK, for Pound20 extra.) Contact: George Smith, 6241426 (after hours).
Astronomical Society of the Hunter: c/o Newcastle Technical College Student Union, Maitland Rd, Tighes Hill, NSW 2297. Facilities: quarterly magazine Observations; two monthly meetings, one business and a general "chat and news"gathering; affiliated to Newcastle Technical College through student union; regular outings. Total of 23 members. Established 1973. Membership: $15 a year. Contact: Chris Parfoot, (049) 583085 (after hours).
Illawarra Astronomical Society: PO Box 1814, Wollongong, NSW 2500. Meets tomorrow, March 14, at WEA Rooms. Contact: David Wheeler.
Port Macquarie Astronomical Association: 42 Waugh St, Port Macquarie, NSW 2444. Facilities: observatory, built in 1961 by Rotary Club; club mainly concerned with education in astronomy, with plans to reactivate magazine Celestial Observer. Total of 15 members. Meets quarterly. Membership: $1 a year. Contact: James Daniel, (065) 831933 (after hours).
Canberra Astronomical Society: c/o Griffin Centre, Civic Square, Bunda St, Canberra, ACT 2601. Facilities: monthly bulletin Southern Cross; observations every weekend from a refractor at Mt Stromlo Observatory; telescopes for rent to members at cheap rates; written software for telescopes. Total of 90 members. Membership: $18 a year. Contact: Peter Williamson, (062) 318938.