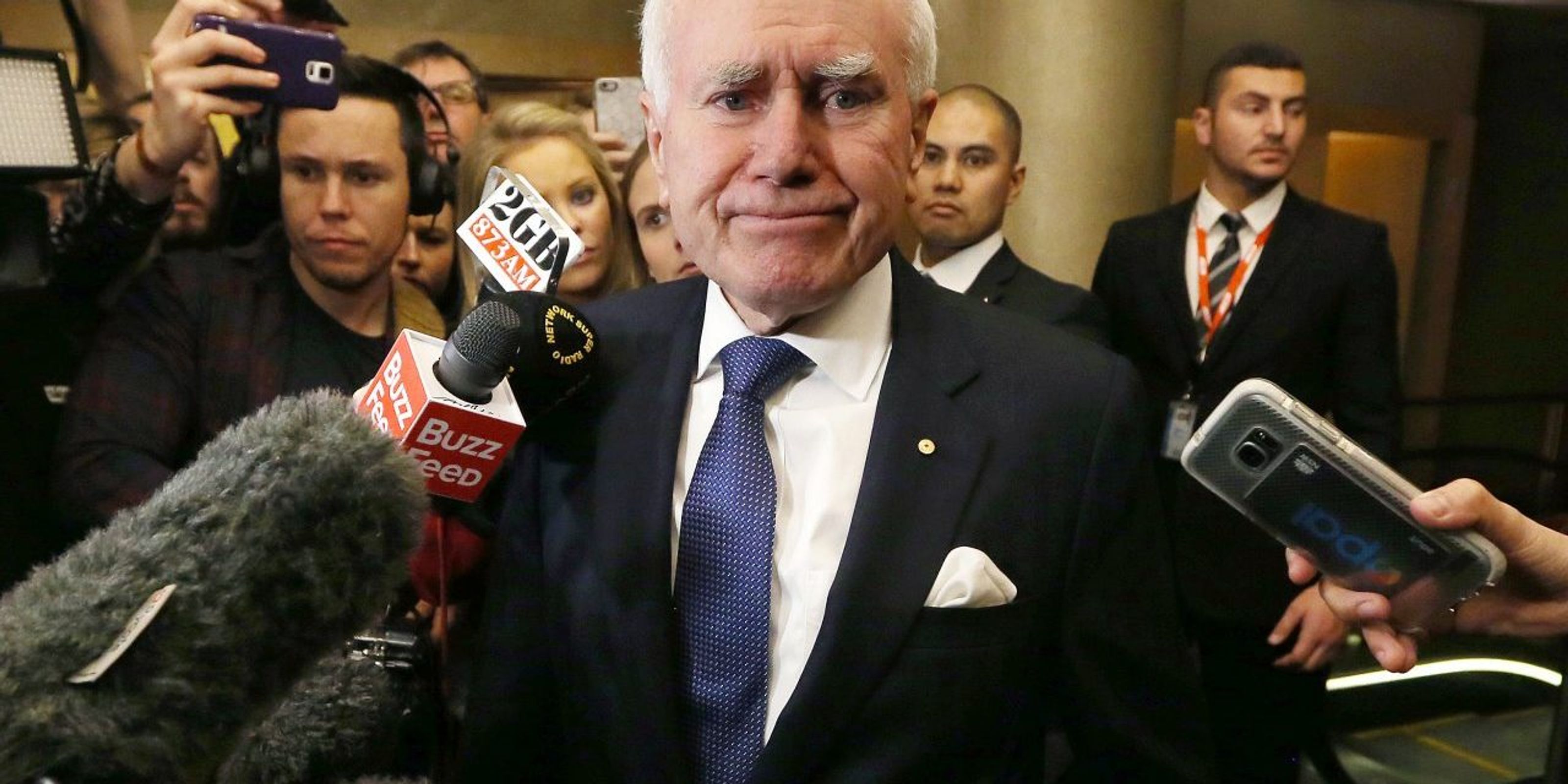 by Wilson da Silva
American Reporter Correspondent
MELBOURNE – Australian Prime Minister John Howard expressed regret for past injustices committed by white settlers to Australia's Aborigines, but stopped short of an apology – triggering angry scenes at the opening of a national reconciliation conference today.
"I am sorry for the hurt, the trauma, many here today may continue to feel as a consequence of those practices," Howard told a mostly Aboriginal audience of around 1,500 delegates gathered to discuss strained relations between black and white Australians.
"Equally, I am sorry for the hurt and trauma many people here today may continue to feel as a consequence of those practices," he said to a resounding wave of applause from the mainly Aboriginal audience of around 1,500 delegates gathered to repair relations between black and white Australians.
But the applause quickly turned to shouts of anger as he qualified the long-sought after apology by saying that his generation should not be made accountable for the crimes of the past. He continued on above the din, saying that the history of white settlement of Australia was not one of "imperialism and exploitation and racism."
The conference hall erupted into angry jeering, and scores of delegates turned their backs on Howard as he continued to speak. A flustered prime minister began to pound the lectern, saying his proposed solution for reconciliation with indigenous Aborigines was not a new "land grab" by white Australia.
In contrast, speaker Cheryl Kernot, leader of the small Australian Democrats party, drew cheers when she said modern Australians felt shame for the now discredited policy – practised until 1964 – or forcibly removing Aboriginal children from their parents and bringing them up in church missions or in the care of white families.
"I take this opportunity to apologize for the past policy of stealing Aboriginal people from their parents," said.
More than 100,000 Aboriginal children were taken from the parents in a system branded in a report by Australia's Human Rights Commission as genocide under international law. Many of the "stolen generation," as they are being called, had spent decades not knowing their true identity, nor being allowed to trace their indigenous parents.
The furor among the country's indigenous people, who represent less than two percent of the population here, follows an attempt by the government to restrict the rights of Aborigines won in a landmark case in Australia's High Court in December.
The case, brought by the Wik people of northeastern Australia, found that leases to government land given to farmers and cattle breeders did not necessarily extinguish the native title rights of Aborigines.
The so-called Wik ruling followed the ground-breaking High Court decision in 1992 that exploded as a legal myth the principle upon which rested all Australian property law: that when white settlers arrived, Aborigines – most of whom were thought nomadic – had no link to the land and that therefore, legally, Australia was "empty land".
The principle, known as "terra nullius," allowed white settlers to dispossess Aborigines of large parts of the country from the start of colonization by the British in 1788. Advancing settlers drove Aborigines from prime land into the mostly sparse outback, where in isolated cases some settlers rounded up Aborigines and massacred them, or poisoned water holes frequented by outback tribes.
However, the policy had been contrary to British policy at the time and did not follow the original guidelines under which the colonies of Australia were created. The 1992 case, brought by an Aboriginal family who had never left their land, shattered the legal fiction and created a new and at times amorphous type of new land title: native title.
However, the court ruled that in the cities, where tribes had died out and where land was held in freehold, native title no longer existed.
The former leftist Labor government of Prime Minister Paul Keating struck a compromise with Aborigines that gained security of tenure for farmers who operate on government-owned land – representing most of Australia's land mass. It had been thought that long-term leases to farmers, known as pastoral leases, precluded claims to native title.
Following the Wik ruling in December, which showed this was not always the case, the new conservative Liberal-National coalition government – which came to power in March 1996 – has drawn up laws that effectively extinguish the rights of Aborigines to making any claim over pastoral leases.
The Howard government has since rejected calls for an apology for past injustices, and has dismissed the Human Rights Commission report on the "stolen generations" – ordered by their predecessors and released this week – and said it will ignore the report's recommendations.
The conservative government is in for a battle to get the restrictive native title legislation through Australia's Senate, where the coalition does not have a majority and where Labor, the Democrats and Independents have said they may block it if changes are not made.
Should that happen, the beleaguered Howard government has said it could call an early election over the issue.
It is already under fire for not reacting fast enough to a growing white supremacist movement led by a populist Independent politician, Pauline Hanson, who has called for a halt to Asian immigration and for Australia to withdraw from the United Nations.
Since her election, she has established a new party, called One Nation, which is attracting nearly 10 per cent support in opinion polls. Commentators say that it is fear of the racist constituency to which One Nation appeals that the Howard government last week cut immigration levels for the second time since gaining office.