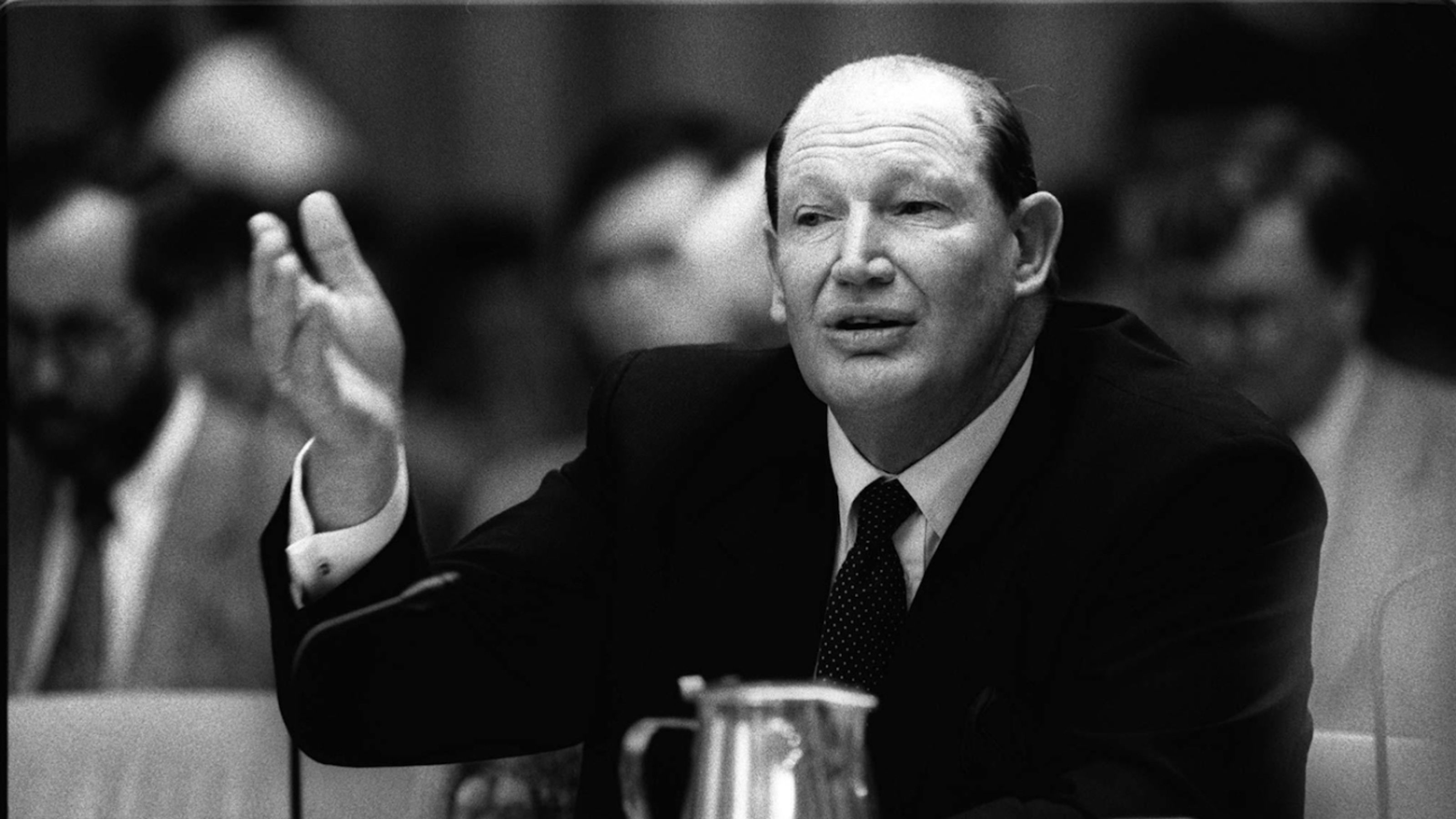 By Wilson da Silva
SYDNEY – Canadian media magnate Conrad Black is running into roadblocks in his bid to buy Australia's oldest media group, Fairfax newspapers.
Although cashed up and offering global publishing expertise, opposition is growing to the involvement of Australian partner Kerry Packer – already the country's biggest magazine publisher, its richest man and owner of Australia's top-rating TV network.
The bid is being made through a consortium led by Black's Hollinger Inc.
Packer opponents fear media concentration and his reputed interventionist style.
"We don't know what Packer's plans are," Alan Kennedy, sports editor of Fairfax-owned The Sydney Morning Herald, said on Thursday.
"Packer's involvement is a problem for us, we think it will lead to further concentration of the media and there is his reputation as an interventionist publisher," said Kennedy, also a spokesman for the Friends of Fairfax, a lobby group of Fairfax journalists and readers.
Packer will hold a 14.9 per cent stake in Tourang Ltd, the consortium bidding vehicle, in order to comply with broadcasting laws which restrict control of newspapers to 15 per cent in the same city where a television network is owned.
Hellman and Friedman Capital Partners, acting for U.S. junk bond holders caught short when Fairfax went into receivership last year, will hold about 10 per cent, while Hollinger – through its 84 per cent owned Daily Telegraph Plc – will hold 20 per cent.
If successful, Tourang will offer the rest to Australian institutions and the public via a share float.
But Packer is acting through his Consolidated Press Holdings Ltd, which newspapers say is incorporated in the Bahamas and would be legally treated as a foreign company. A Consolidated Press spokesman declined to comment.
If true, it would make Tourang 44.9 per cent foreign-owned.
There is no limit on foreign ownership of newspapers, but stakes higher than 15 per cent require government approval. Some government politicians have lobbied for a maximum foreign stake of between 20 and 40 per cent.
Even at 14.9 per cent, Packer is causing consternation for Australia's Labor government, whose changes to media laws in 1987 ignited an industry shakeout which saw two groups dominate the newspaper market – Fairfax and Rupert Murdoch's News Corp Ltd.
A Labor Party conference in June voted for a parliamentary inquiry into media ownership, which the left wing of the party believes is too concentrated.
Packer's standing with Labor, a traditional backer of the South Africa's African National Congress (ANC), would not have been enhanced by reports this week Packer donated large sums to Zulu chief Mangosuthu Buthelezi and his Inkatha movement.
The ANC blames Inkatha for violent street battles which have killed hundreds of blacks.
"The issue clearly on political minds is how to deal with the 'Packer factor'," media commentator Fred Brenchley wrote in The Sydney Morning Herald on Thursday.
"It would be a courageous decision indeed to fly in the face of (party) policy by declaring a Packer bid with its inherent further concentration of media ownership, as in the national interest."
Communications Minister Kim Beazley told reporters in June he might legislate retrospectively to ensure Packer does not break the spirit of broadcasting laws.
Beazley is worried that Packer would effectively control Fairfax through a former long-time employee Trevor Kennedy, whom Black has appointed to head Tourang.
Black, who flew into Australia in June to meet government ministers and promote his bid, appears to have sensed the mood against Packer. In a radio interview shortly before his departure, Black said he would be prepared to drop Packer, if necessary, to win Fairfax.
The other leading contender for Fairfax is Dr Tony O'Reilly's Independent Newspapers group.
O'Reilly has the participation of the John and Sir Vincent Fairfax family in his bid. The family, who sold out to a young relative's failed privatisation bid in 1987, plan to take a minority shareholding in the newly floated Fairfax.
Fairfax owns The Sydney Morning Herald, Melbourne's The Age and the national The Australian Financial Review.
It has debts of A$1.2 billion Australian (US$934 million) accrued after its purchase by the young Warwick Fairfax, whose father chaired the company in the 1980s.
It is Packer's interventionist reputation that Fairfax journalists fear most. Accustomed to the benign stewardship of the Fairfax family during the company's 150-year history, they are militant about editorial independence.
"We will do everything possible to thwart this bid," the Friends of Fairfax told reporters when the bid was announced.