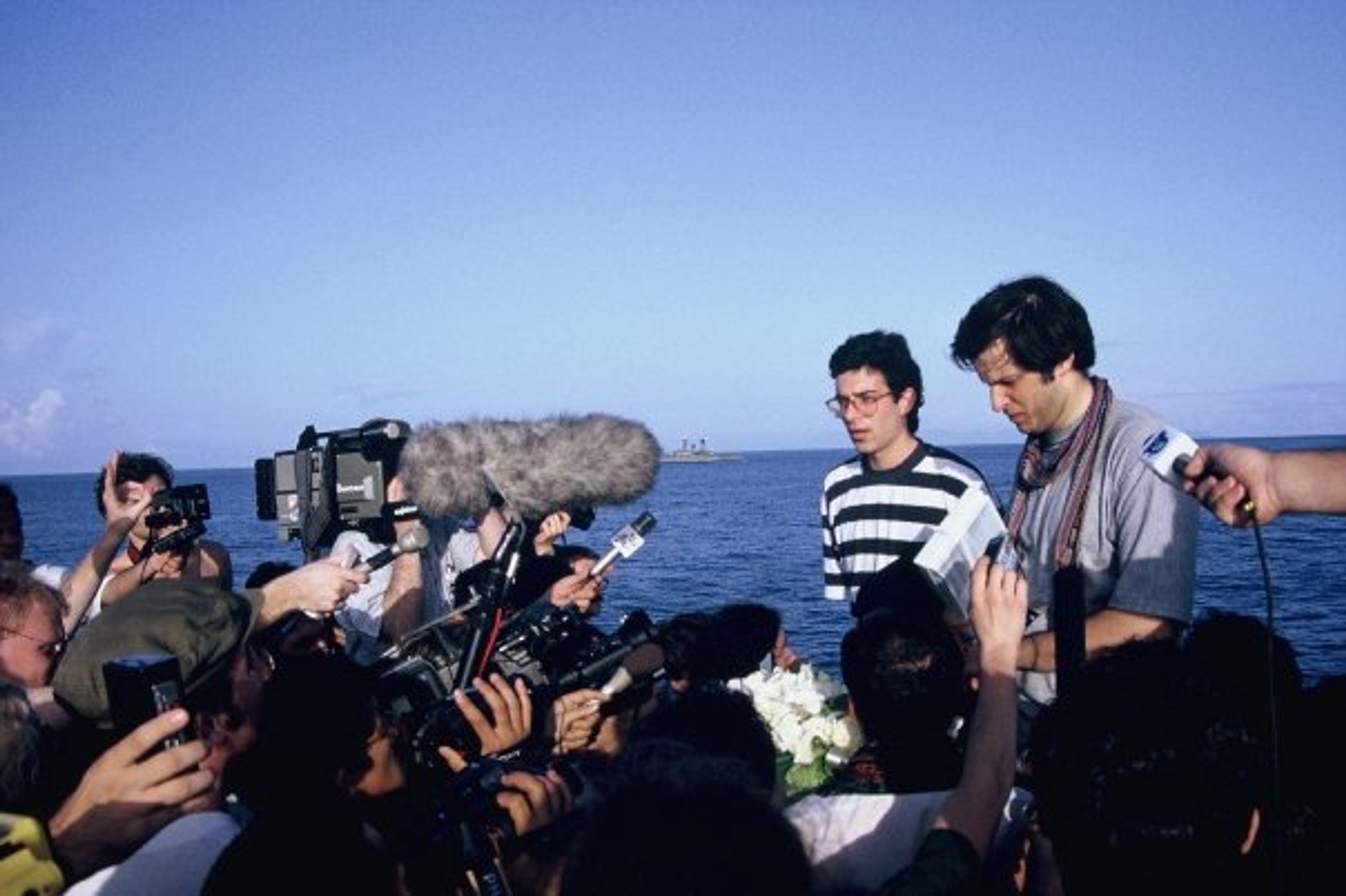 By Wilson da Silva
ALONGSIDE THE LUSITANIA EXPRESSO, Timor Sea – Students and activists aboard a Portuguese peace boat sailing toward East Timor in defiance of Indonesia's rule there were in high spirits on Tuesday when they paused to pick up a late-arriving reporter.
The 150 activists and reporters on the Lusitania Expresso, a 540-tonne converted car ferry, had slept little after the first 12 hours of their mission to lay flowers at the Santa Cruz cemetery in East Timor's capital, Dili, where Indonesian troops shot dead between 50 and 180 civilians last November.
The Timor Sea was smooth at dawn, but large storm clouds hung to the north where a flotilla of Indonesian navy ships was waiting.
In East Timor, an Indonesian admiral challenged the ship to break through a formidable naval cordon around the territory that Indonesia invaded in 1975.
"Let's see if they can find any way in," Eastern Fleet commander Tanto Kuswanto said in Dili.
The Lusitanio Expresso slowed to rendezvous with the 16-tonne tri-hull Gramps, 124 miles northwest of Darwin.
An Australian television journalist left behind in the northern city of Darwin because he lacked a valid passport climbed a rope ladder as passengers cheered and waved.
The skipper of the Portuguese ship, Luis dos Santos, was playing it safe. Although his ship was within radio range, and the Gramps was expected, he kept radio silence for two hours before responding to calls to arrange the rendezvous.
He has not filed a sailing plan with Australian authorities in Darwin – a normal safety precaution.
"From here on they face the blockade alone," mission organiser Paulo Veiga said as the Gramps pulled away.
At its current speed and course, the Lusitania Expresso would cross into what Indonesia claims as its territorial waters just after dawn on Wednesday.
The students and activists from 19 countries are seeking to highlight U.N. resolutions on Jakarta's annexation of East Timor, which the world body does not recognise.
Jakarta has said it is determined to stop the mission, and eight naval vessels were said to be in position to stop it.
The activists were running through tactics to deal with the blockade – tactics they said would be within international and maritime laws.
The international composition of the mission, which includes 14 international observers and 50 journalists, seeks to focus world attention on the 16-year impasse over East Timor.
Captain dos Santos has said he regards the voyage as a normal charter.
"Not a bad first night," passenger Shirley Shackleton shouted out from a doorway where she stood with dos Santos.
Shackleton joined the mission because her husband was killed by Indonesian troops in the 1975 invasion.
She said she could not forget that the Australian government had quietly forgotten his death and those of four of his colleagues during the invasion.