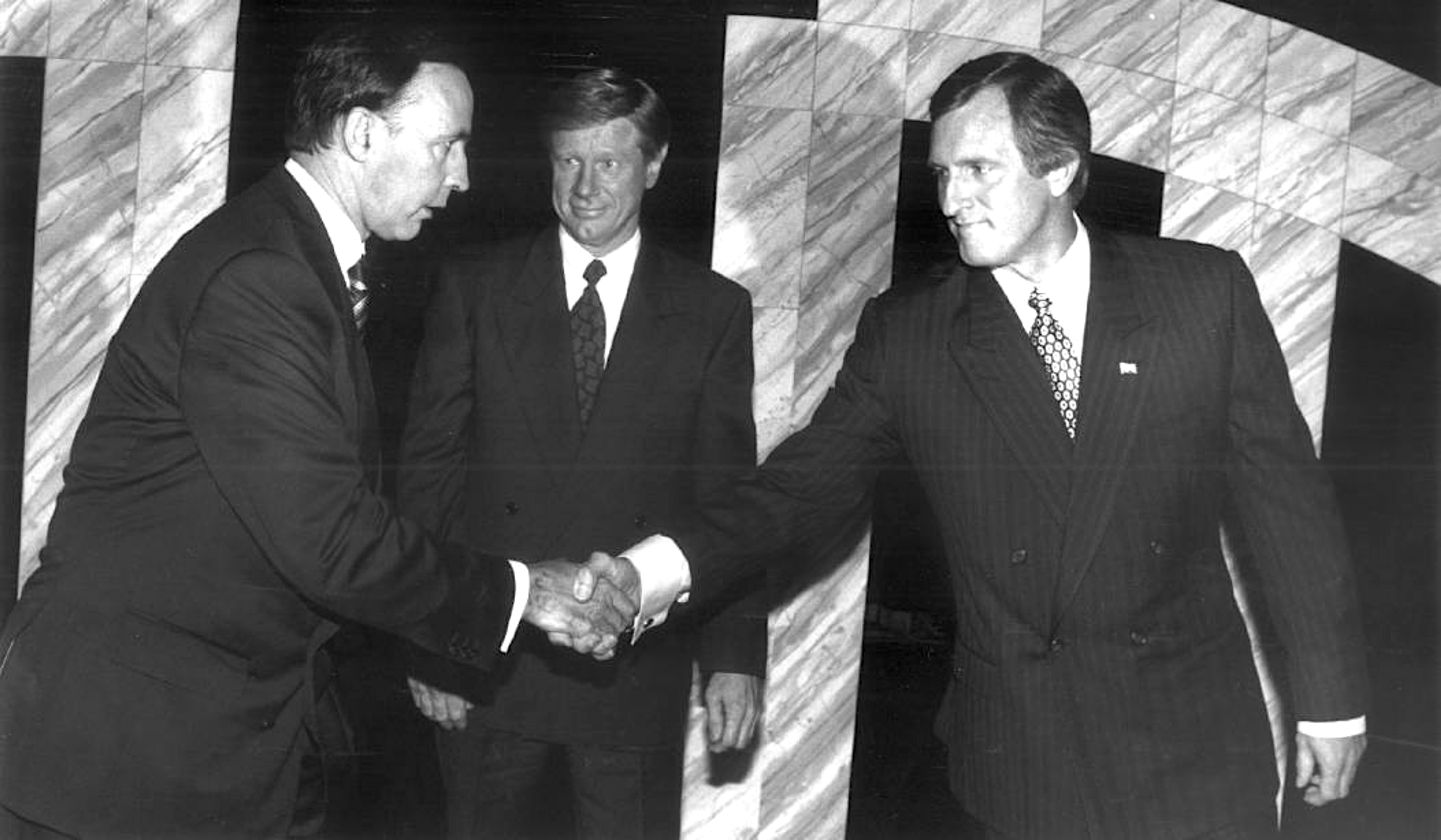 By Wilson da Silva
SYDNEY – A confident Labor Prime Minister Paul Keating cast his ballot on Saturday, joining 11 million recession-weary Australians who will decide between his party's 10-year record in power and a radical free-market alternative.
But late opinion polls showed the nation evenly split and pollsters said the contest was too close to call, suggesting a tight result that could bring instability in the months ahead.
"I think it's going to be a close election and we'll have to wait and see," Keating told Reuters as he left a polling booth in his native Bankstown, a working-class Sydney suburb. "But it's got a good feeling about it, a good feeling."
Opposition leader John Hewson, a former economics professor supported by a Liberal-National conservative coalition, joked with voters in his well-off inner-Sydney electorate of Wentworth before entering the booth.
"We've given it our best shot," Hewson told reporters as his merchant banker wife, Carolyn, and two of his three children stood with him. "It's now in the hands of the people. That's what democracy is all about."
Voters descended on halls, schools, sheep-shearers' sheds, caravan parks and farmhouses to cast a ballot. People living in Australian Antarctic bases or overseas had already voted.
Keating, in his first poll as Labor leader, faces the test of his political life. He toppled his predecessor, Bob Hawke, in an intraparty challenge in December 1991.
Labor has presided over Australia's worst recession in 60 years. Unemployment stands at 11.1 per cent.
Two opinion polls released on Saturday indicated a narrow Labor win, while two others tipped a narrow win by the opposition coalition.
A poll in the Sydney Morning Herald using the same mathematical procedure as in the election put Labor ahead with 51 per cent to the coalition's 49 per cent. But a poll in The Australian gave the coalition 50.5 per cent against Labor's 49.5 per cent.
There are more than 40 marginal seats in which modest swings would oust incumbents, and the coalition is expected to lose some seats but gain many others.
The government is already on a knife edge, holding 77 seats in the 147-seat assembly after capturing 49.9 per cent of the vote in 1990.
Voting is compulsory in Australia, and authorities expected a high turnout at the 9,000 polling booths around the country.
Under the country's preferential voting system, voters rank candidates according to their preference – one, two, three and so on.
If none wins more than 50 per cent of the vote, votes given the lowest-scoring candidates are redistributed according to preferences until one candidate has a clear majority.
Voting closes in eastern Australia at 0800 GMT and at 1000 GMT in Western Australia. A result is expected by 1230 GMT.
In a close contest, such as the 1990 election, when Labor was returned with a four-seat majority, the verdict can remain unknown for several days.
This election, unlike several before it, offers voters a stark choice.
Hewson promises an overhaul of the tax system, replacing six indirect taxes with a 15 per cent consumption tax, labour reforms to reduce union power and sell-offs of state assets.
Keating as treasurer was the driving force behind Labor's reforms in the 1980s, which opened up the economy, but he advocates gradual change and a consensus approach.