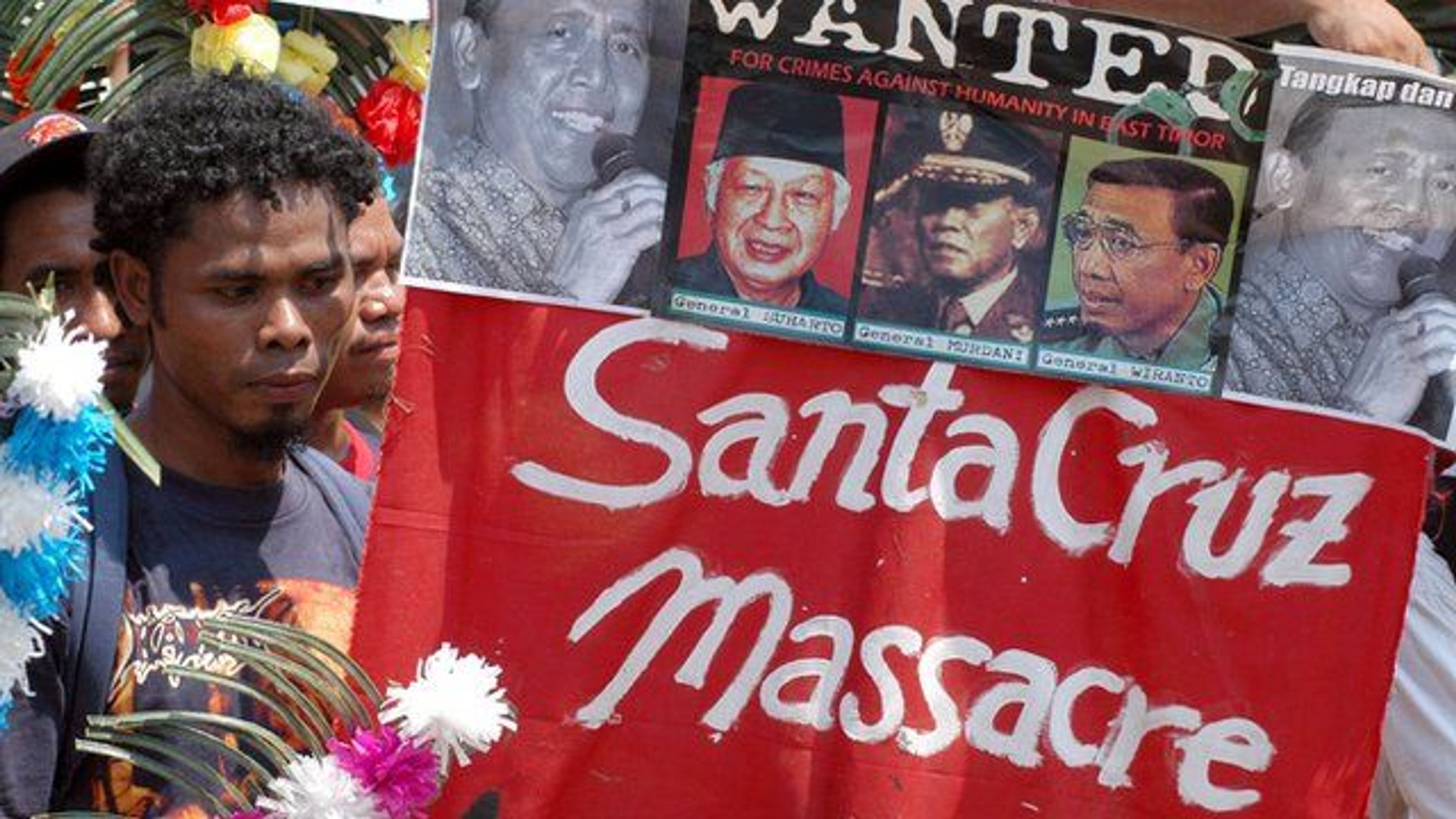 By Wilson da Silva
SYDNEY – When Australian Foreign Minister Gareth Evans arrives in Jakarta on Thursday the vexed issue of East Timor, which has muddied relations between Australia and Indonesia for 16 years, will be on the top the agenda.
East Timor, just 30 minutes flying time from the northern Australian city of Darwin, is the one issue that has the potential to unravel Australia's delicate and uneasy relationship with its populous northern neighbour.
Australia is home to 10,000 Timorese, most of them refugees who arrived after Indonesia invaded the former Portuguese colony in 1975. Many Australians say they can never forget that six Australian journalists were murdered during the takeover.
Yet a decade later Australia became the only country to grant Indonesia recognition of its rule over East Timor.
Political analysts say Australia's desire to tap the rich offshore oilfields between Australia and Timor, coupled with its desire to develop strong links with its Asian neighbours, has driven it to brush aside Timorese pleas for independence.
"We can't really hope to have good relations with ASEAN nations if we can't keep our noses clean with our nearest Asian neighbour, Indonesia," said the Australian National University's political scientist Jamie Mackie, an authority on Australian-Indonesia relations.
"If ASEAN countries have to make a choice between Australia and Indonesia, they will more likely lean to Indonesia." (ASEAN is the Association of South East Asian Nations).
But the killing of civilians in a procession of 3,500 mourners in East Timor's capital of Dili last month has put Australia's delicate diplomatic dance with Indonesia off-balance.
The Labor government of Prime Minister Bob Hawke is being pressured by world outrage, demonstrations in Australian streets, incensed unions and by its own parliamentarians, to review 16 years' tacit policy of appeasement.
Protestors have burned Indonesian flags outside consulates, unions have banned Indonesian imports, effigies of Hawke have been garrotted in marches and Portugal is suing Canberra in the World Court over a treaty with Jakarta to exploit oil in the Timor Gap.
"Australia underestimated the determination of the Timorese to fight for independence," Joao Carrascalão, who led a Timorese delegation to see Hawke this month, said in an interview.
"The resistance has lasted 16 years and it's not going to stop," he said. "Australia must make a decision now about its attitude, it is already out of step with the rest of the world."
Carrascalão, now living in Australia, is brother of East Timor Governor Mario Viegas Carrascalão. He unsuccessfully urged Hawke to join Canada and the Netherlands in suspending aid to Jakarta.
Indonesia has ordered an inquiry into the shootings, in which witnesses say more than 100 civilians were killed but the Indonesian military says only 19 died.
Australia has deplored the massacre, attacked belligerent comments by the Indonesian military and promised to review policy toward Jakarta if the Indonesian inquiry is a whitewash.
Yet Australia this month joined Indonesia in granting 55 oil companies permits to explore the Timor Gap.
The companies plan 48 exploration wells over six years, and analysts estimate output could reach 200,000 barrels per day by 1995 – double Australia's current offshore oil output.
Political analysts say Australia must recognise Indonesian rule over East Timor if oil companies are to commit the millions of dollars needed to develop the area. Australian and Timorese groups are appealing for a moral stance by Canberra.
"Australia owes the Timorese a debt," said Ray Aitken, an Australian war veteran who with 300 others fought a guerilla war in East Timor against the Japanese in 1942. "We'll be written into history as sacrificing them for oil, of betraying them."
His group of former commandos is pressing Hawke to support a United Nations inquiry and independence for East Timor.
The Australians soldiers survived only because the Timorese helped them, despite an estimated 40,000 Timorese being killed in the ensuing war, or the Japanese reprisals in which many were executed and crops burned, creating widespread famine.
Anthropologist Pat Thatcher of Monash University, who has conducted a seven-year study into East Timor and interviewed 800 Timorese families in East Timor and Australia, says Indonesia cannot hope to conquer the island's tenacious inhabitants.
"They are tough, and they are brave people who live in a mountainous guerilla heaven," she said. "They have been rebelling against the Portuguese for hundreds of years.
"If the Indonesians had gone in and tried to win their hearts and minds, they might have avoided a war. But they have been brutal and oppressive. There is not a single Timorese family I spoke to that had not suffered losses since Indonesia invaded."
Rebels say 200,000 Timorese have been killed since Indonesia invaded, a figure Thatcher said is credible. Based on censuses of East Timor before the invasion, the territory in 1990 should have had a population of 806,000, Thatcher said.
But a 1990 Indonesian census showed 706,150 people, of which some 127,000 are Indonesian settlers, indicating about 227,000 Timorese have gone missing since the 1975 invasion, she said.
The Revolutionary Front for an Independent East Timor, or Fretilin, has its main overseas presence in Australia.
After the invasion, it kept shortwave radio contact with rebels in East Timor from a clandestine site near Darwin.
"The massacre was the light of truth from the darkness that has hidden Indonesian atrocities in East Timor," said Fretilin spokesman Abel Guterres.
"Every Australian has seen video images of the massacre, and they will remember them for a long time. Australia valiantly defended the integrity and democracy of Kuwait, it can't continue to ignore the atrocities on its doorstep," he said.