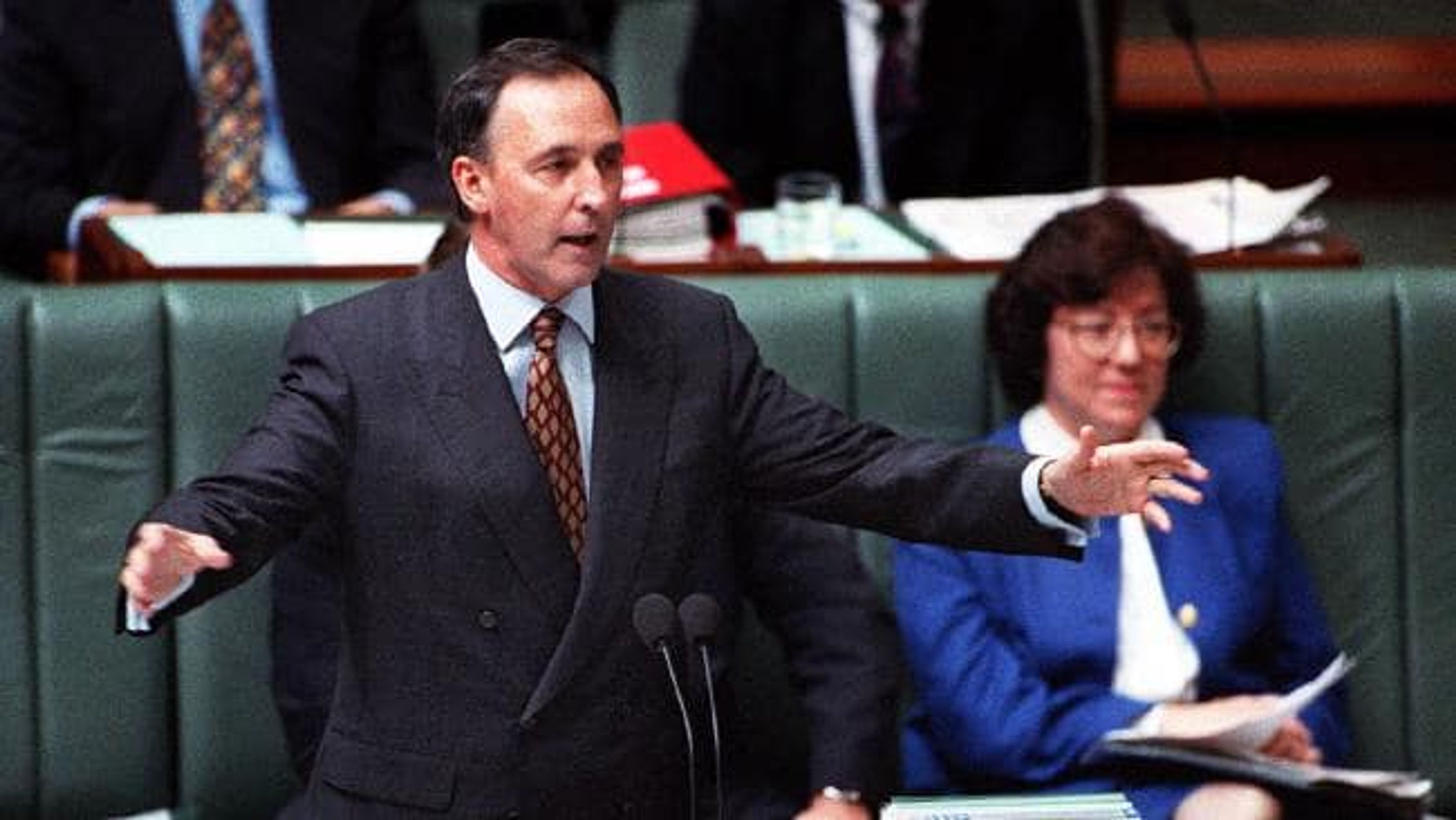 By Wilson da Silva
SYDNEY – Paul Keating, the former Australian Treasurer defeated on Monday in his attempt to unseat Prime Minister Bob Hawke, is a stylishly-dressed classical music fan who sips herbal tea and collects antique clocks.
He is also a man who left school at 14, managed a rock band and is the nation's master of vicious political invective.
Following his defeat at Monday's party room ballot, and his resignation as Treasurer, he will retreat to the back bench. He told a news conference he will not plot another challenge against Hawke and was unlikely to accept another ministry.
The tall 47-year-old has refined his tastes since, at 25 and a working-class rebel, becoming the country's youngest parliamentarian in 1969. Even detractors agree he has no equal in insult-slinging. In eight years of Labor government he has often demoralised opposition parties.
Keating has called political opponents "harlots, sleazebags, frauds, boxheads, stupid foul-mouthed grubs, pieces of criminal garbage, perfumed gigolos, scumbags, thugs and gutless spivs".
However, his reputation has been made as the architect of Australia's economic liberalisation. He has floated the Australian dollar, opened the country to foreign banks, lowered taxes, held wage rises below inflation and successfully pushed to cut tariffs.
In 1984, he was named Euromoney magazine's finance minister of the year.
Keating has not been a popular figure, and cartoonists depict him as a funereal, often as a Grim Reaper. He lags behind Hawke in public opinion polls, on Saturday scoring only 24 per cent to Hawke's 65 per cent as the preferred Labor leader.
Most reporters find it hard to pin down the man's elusive character. A Sydney Morning Herald profile in 1990 said: "Keating fits no groove, serves no preconception. One can imagine him equally as a self-made billionaire or as a revolutionary priest."
Born the son of a boilermaker, he grew up in working-class western Sydney, left school early and worked as a union clerk.
For six years in the 1960s he managed a local rock group called The Ramrods, whom he signed up after seeing them play in a suburban pub. The group recorded two singles then folded.
Keating quickly rose through Labor Party ranks and served briefly in 1975 as Minister for Northern Australia in the Labor government of Gough Whitlam, dismissed later that year by the then Governor-General Sir John Kerr.
He has long coveted Hawke's job. By 1988, the tension drove the two men to make a hitherto secret pact in November in which Hawke would resign the leadership in favour of Keating after the 1990 election, which Labor won.
The promise followed a two-month power struggle brought on by Keating backers who wanted Hawke to step aside.
Hawke, 61, told reporters after the election he would not relinquish the prime ministership until sometime after the next poll, due in March 1993.
It was too much for Keating, who on Thursday told Hawke he would challenge, saying the party needed a generational change.
Keating is unfazed by his lack of voter approval: "I'm not a popularity junkie," he has been quoted as saying. "And I'm getting too long in the tooth to change my ways."
Analysts still see a leadership struggle ahead. They say months of instability will follow, in spite of Keating's denials, with the former Treasurer plotting his next challenge to Hawke.
Hawke won the party ballot 66 to 44, a margin that may prompt Keating to quit politics, losing Labor one of its most talented ministers. Keating denies this also, saying he will stay in parliament until the next election, due in March 1993.
Labor Party officials say Keating is popular with young female voters who find him attractive. His press secretary has described him as "far and away the sex symbol of the Hawke government."
Typical of Keating's invective was a riposte to a politician questioning the Labor government's economic policy: "You boxhead, you wouldn't know. You are flat out counting to ten".
He once likened an attack on him by opposition leader John Hewson as "being flogged by a warm lettuce".