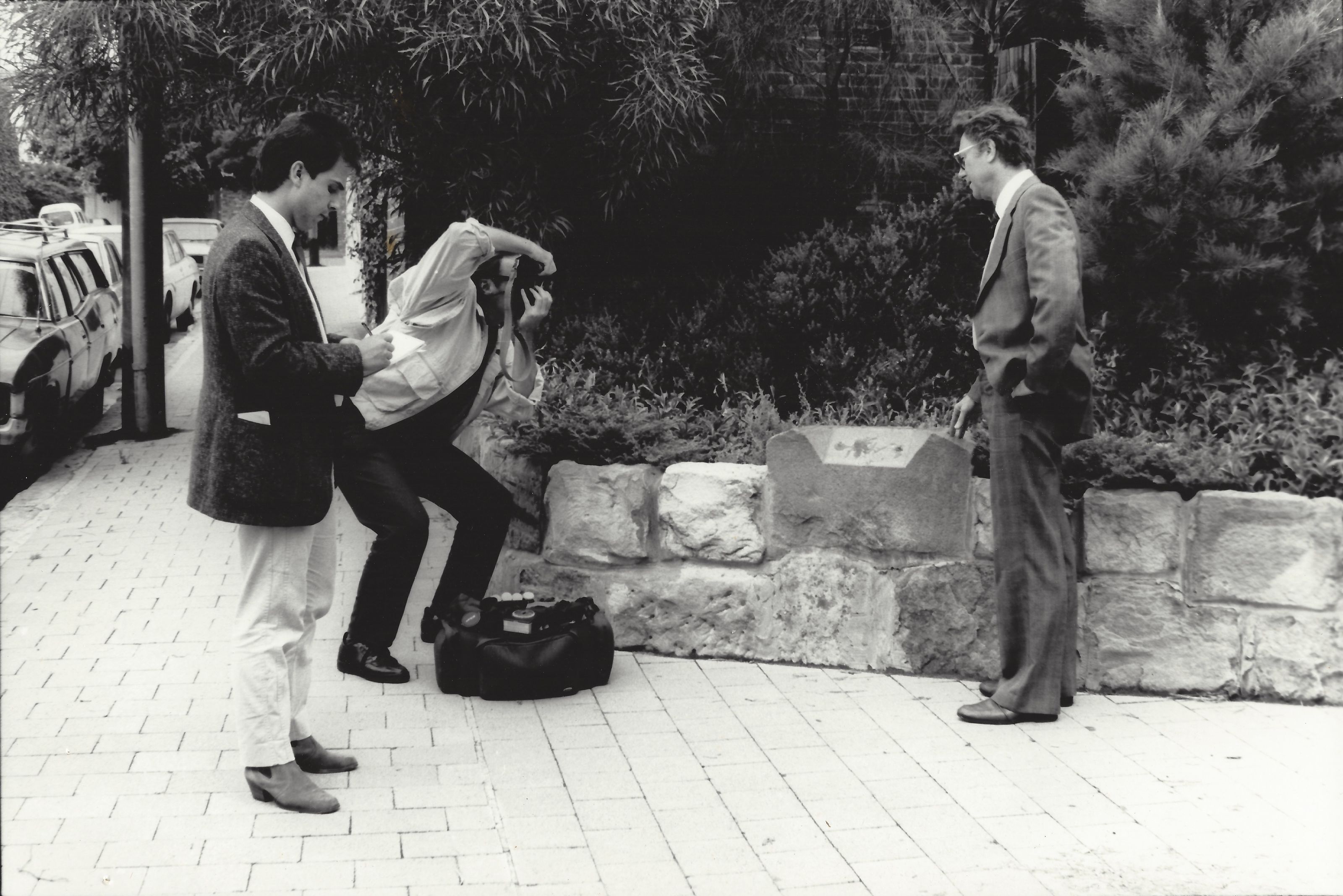 1988 STATE ELECTION
WILSON da SILVA
SIMON GROSE leans back against the wood-panelled wall, and lets out a small sigh. He is looking at you, but his eyes are focused elsewhere.
"It's the big one," he said. "This time around it's a four-year term. Four years is a long time to be out in the wilderness."
The facsimile whirrs, and the telephones ring incessantly. Four people in the three-room office work as one - typing, talking, and writing while fresh cups of coffee cool atop piles and piles of papers.
It is Newland Street, Bondi Junction: this is the electoral office of Ernie Page, Labor MP for Waverley. Grose is his press secretary and public relations man, his adviser and his photographer. And his friend. On Grose's shoulders lies the responsibility for communicating Labor's man to the people.
"He loses this, none of us have a job," he says, drawing on another cigarette, his third since we came in. "This is a very close seat, and it's places like this where the election will be won or lost. We have to campaign hard and we have to campaign strong and effectively."
There is tension in the air of the small office, but it is not a panicky, desperate tension. It is the excitement of politics. Right or wrong, they are fighting for the very hearts and minds of Waverley.
State opinion polls show the ALP losing on March 19 by a large margin. Page at the last election lost 7 per cent in Waverley, and now holds the electorate by a lead of just 3.7.
His Liberal opponent, Sally Betts, has established a credible following in less than a year of low-key campaigning. She's visited schools, apartment blocks and neighbourhood centres, asking questions and seemingly displaying real concern for the issues.
Add to that a growing dissatisfaction with Labor in the community, and Page could very well be looking at the end of a 20-year career in public life.
Page's three staff are enthusiastic, but resigned to their task. They are locked into the battle; they have no choice.
"I honestly have not thought about where I'll go (if Ernie loses), maybe I should," said Page's electoral secretary, Susan Tracey. "I've got a science degree, so maybe I could go to Sydney Tech for further training, try and be a teacher."
Tracey has been at the job six years, and a Waverley Labor supporter for about 14 years. Her young assistant, Leigh Cannane, joined the Page team in October 1986, and is facing her first campaign.
But the slick corps of Labor's local branch will not go down without a fight. The well-oiled machinery spun into high gear the day the election was announced, dropping over 30,000 leaflets in letterboxes.
Working bees of 60 or more Labor supporters do the work, a volunteer brigade that includes assorted professionals, traditional working-class supporters and ALP aldermen, according to Grose.
"The whole Waverley Labor machine, if you want to call it that, is very healthy," he said. "I have been impressed by the organisation, they're all enthusiastic. If you get people turning up for a working bee on a Saturday night, you've got to be doing okay."
Grose, Tracey and Cannane are full-timers employed by Page - Grose having been appointed specifically for the campaign. In addition there are volunteer office staff, notably Page's campaign manager, Paul Tracey (Susan's husband), and Alderman Robert Griggs.
After campaign meetings, Griggs and Grose can usually be seen having a few drinks at a Bondi Junction bar. They have been good friends since their old days at Sydney University, when Grose was the editor of the student newspaper, Honi Soit.
Griggs went into the public service, while Grose drove taxis and wrote freelance for Rolling Stone magazine. Grose was working as a journalist until January when he was persuaded by a holidaying Griggs to work on Page's campaign.
Should Labor be re-elected, he may be in line for a State Government job.
"People in the party have, I guess, noticed that I haven't done a bad job here," Grose said. "As with a lot of things, it's not what you know, it's who you know."
Page's office has received $7,000 of public funding for the campaign, and a further $7,500 marginal-seat assistance from ALP headquarters. In addition, there will be the obligatory fund-raising functions and numerous raffle ticket sales.
One of the functions will be a eats-and-drinks affair at the reception room of Waverley Council, to be attended by a number of ALP identities - Fred Daly, Peter Anderson, Deidre Grusovin, Jeanette McHugh, among others.
Waverley was never going to be a sidelight in the clash of the political titans. No sooner was the election called last week than Waverley was beset by assorted heavyweights. Unsworth toured on Monday, Crosio handed out cheques on Tuesday, Anderson smiled with the kids on Wednesday and Sheahan listened to a residents action group on Thursday and this Monday, Hawke wooed the women.
And the besieged MP himself? Page sits behind a cluttered desk, afternoon sunlight streaming in through open blinds. He says he feels no trepidation at the coming poll.
"I don't feel threatened. The difference this time around is that I have been involved in important local issues, and I think I've helped greatly to solve problems. People will remember that."
A copy of the afternoon paper is on his desk, proclaiming Waverley "The Tightest Seat In Sydney". And it is, for the ALP.
"I predict Ernie will increase his majority," Grose quips. Page smiles wearily and says nothing, but you can see that behind those tired eyes the parliamentarian hopes his pressman is right.
PAGE MAINTAINS THE MOMENTUM
MONDAY, FEBRUARY 22
9.30 am - Noon: Met Premier, Barrie Unsworth at Bondi Junction railway station. Walked through Oxford Street Mall meeting people, then drove in campaign minibus to Waverley Bus Depot. Talked with driver and maintenance crews. Visited patrons of Eastern Suburbs Leagues Club, spoke with children at Bondi Beach Public School. Appeared in live television interview with Premier on 11AM show.
1.30 pm: Opened music store in Bondi Junction.
5 pm: Spoke at annual general meeting of Bondi Junction Chamber of Commerce.
TUESDAY FEBRUARY 23
9.30 am - Noon: Electoral office duties.
Noon - 3 pm: Accompanied Janice Crosio, NSW Minister for Local Government and Water Resources, through tour of electorate. Presented a $30,000 cheque to Clementson Park Child Care Centre. At Bondi Junction Youth Centre Mrs Crosio handed a cheque for $20,000 for assorted equipment. Grant of $5,000 given to Waverley Library for a bibliography of Jewish literature. A cheque for $70,000 presented to the Mayor, Alderman Armitage, for the realignment of York Road.
3 pm: Electoral office duties.
WEDNESDAY FEBRUARY 24
9 - 11 am: Electoral office duties.
11 am: Opened Waverley Outreach Drug and Alcohol Centre with Peter Anderson, NSW Minister for Health. Visited Wairoa School where Mr Anderson presented $9a,940 cheque for the heating of an indoor pool, then visited Junction House for the mildly intellectually disabled.
6 pm: Access committee meeting, Waverley Council.
7.30 pm: Attended Secondary Schools Prizes evening at the University of NSW.
THURSDAY FEBRUARY 25
9 am: Interview with university politics student.
9.30 am: Interview with the Eastern Suburbs Rental Housing Association.
10 - 11.45 am: Electoral office duties.
11.45 am: Accompanied Terry Sheahan, Minister for Transport, to meet with Eastgate residents concerned about a planned SRA high-rise development. Visited Bondi Junction railway station to discuss disabled access with stationmaster.
2 pm: Electoral office duties.
7.30 - 10.30 pm: Campaign committee meeting.
FRIDAY FEBRUARY 26
9 am: Electoral office duties all day.
7 pm: Attended launch of Waverley Rugby Club's 1988 season launch.
SATURDAY FEBRUARY 27
9 am: Campaigned in shopping centres.
1 pm: Attended "Rockabilities" Concert at Bondi Pavilion, proceeds going to Junction House.
6 pm: Visited local clubs in electorate, on campaign.
SUNDAY FEBRUARY 28
11 am: Attended swimming carnival at Bondi Icebergs.