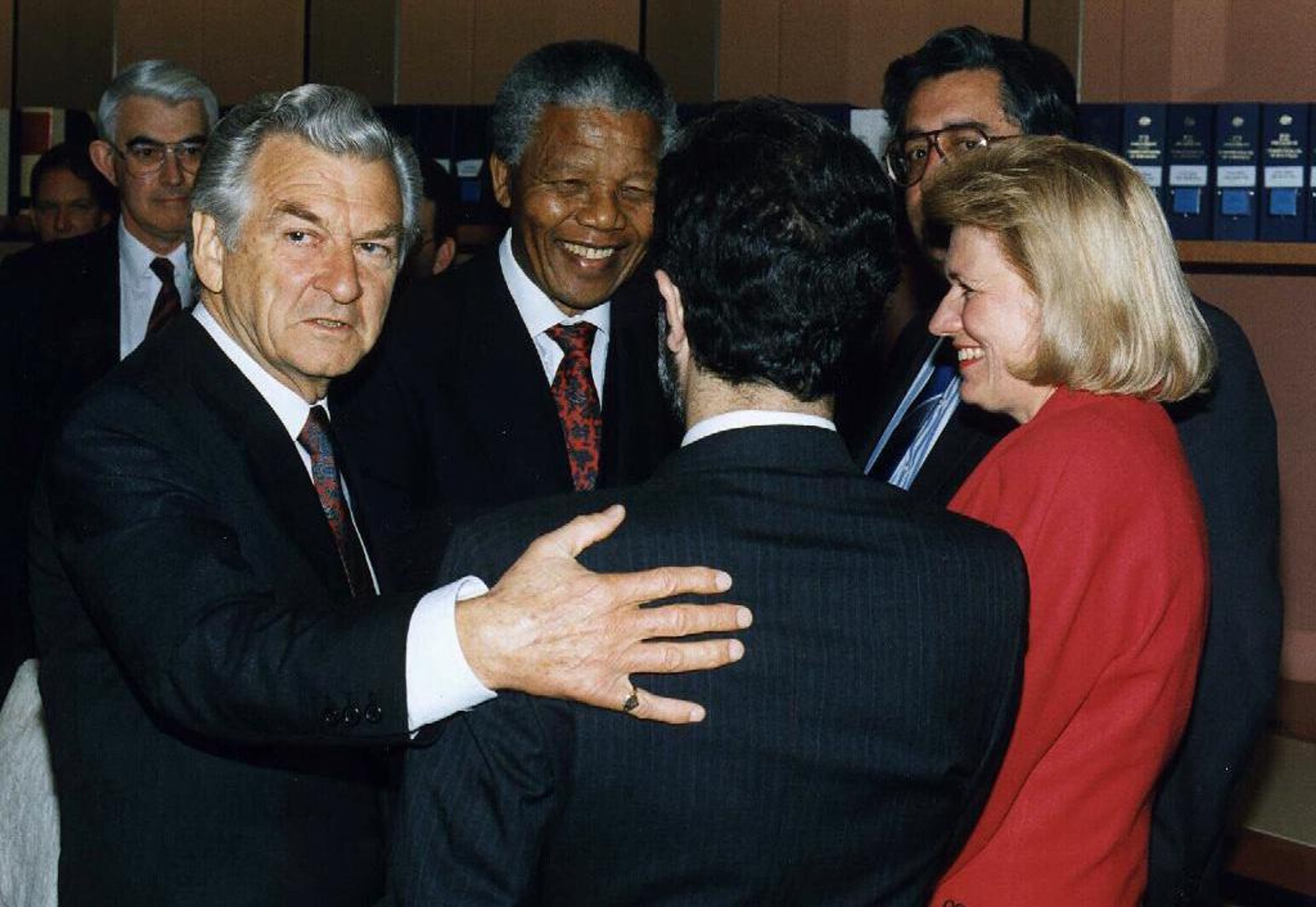 By Wilson da Silva
CANBERRA – Anti-apartheid leader Nelson Mandela angrily walked out of an Australian radio studio on Tuesday when an interviewer unexpectedly brought Zulu leader Mangosuthu Buthelezi into the conversation in a telephone hook-up with South Africa.
"Was that Buthelezi? In fairness you should have told me," Mandela told interviewer Paul Murphy of the Australian Broadcasting Corporation.
"Mr Mandela, yes I should tell you that I have just been talking to Chief Buthelezi," said Murphy, adding: "I don't know whether you want to listen to what he has to say."
Mandela, annoyed, said "I don't. In fairness you should have told me the full picture beforehand." He then left the studio in Australia's parliament building as his aides remonstrated with ABC staff.
Planned talks between Mandela, deputy president of the African National Congress (ANC) who is on a five-day tour of Australia, and Buthelezi of the rival Inkatha Freedom Party were announced on Monday in South Africa.
They are aimed at ending violence in South African townships, where 800 people have been killed since mid-August.
Mandela earlier told a news conference that hopes for an end to township violence had been raised by his planned meeting with Buthelezi.
Mandela declined to give a date for the meeting, but said: "to discuss problems itself, even without reaching a solution, you create a new atmosphere, an atmosphere of hope, an atmosphere inducive to peaceful solution."
Buthelezi, after Mandela's departure from the radio station, was asked whether he believed talks with Mandela could end township violence.
"Yes, because I think that leaders should lead. I think we should be seen by our followers, both ANC and Inkhata followers, we should be seen to be really advocating peace," he said.
Mandela said at the news conference that South Africa could have a democratic and non-racial constitution in one or two years.
Asked by reporters to react to Australian Prime Minister Bob Hawke's comments that a new constitution might emerge in the next year or two, Mandela replied: "I wouldn't regard that estimate as being unreasonable in light of the progress we have made this year."
Earlier Mandela held private talks with Hawke in parliament and in a speech at a luncheon urged Australia to maintain sporting and economic sanctions.
Outside parliament Aboriginal activist Michael Mansell asked Mandela to compare the struggle of black South Africans with the plight of Australia's black minority but was drowned out by a burst of applause for Mandela from white Australians.