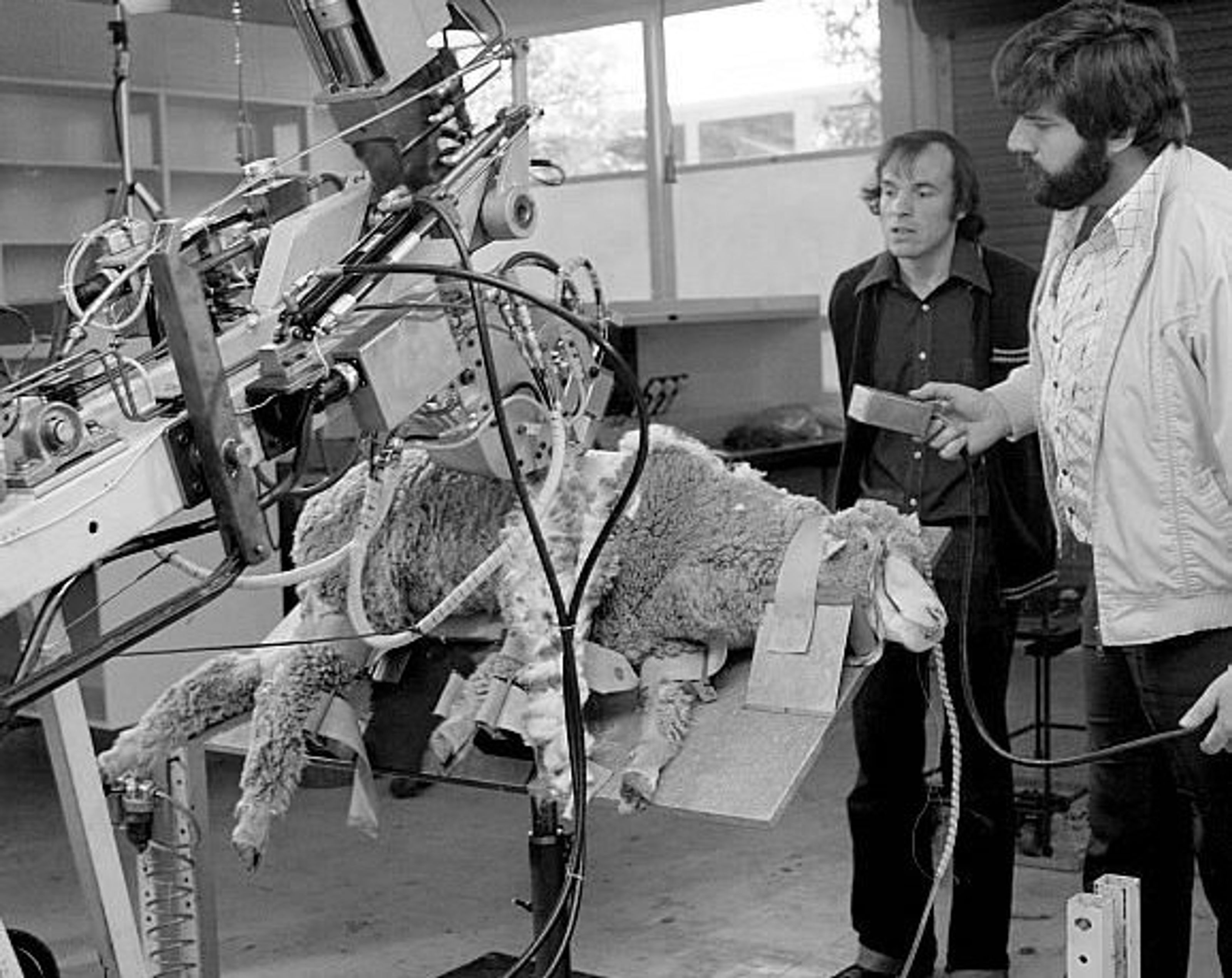 By Wilson da Silva
PERTH, Australia – The University of Western Australia has a robot which, thanks to a mechanical arm and a computerised brain, shears sheep.
The robot represents a new generation which scientists say will eventually operate in homes, offices and farms.
Called "Shear Magic", the robot consists of a hydraulic arm with an attached electronic sensor which hovers above the animal, and a manipulation platform which swivels and rotates it into position for cutting.
It fleeces an adult merino in six careful minutes, its electronic chip "brain" making the one million calculations per second required to maintain the shearing comb three to five millimetres above the animal's skin.
Eventually Shear Magic will be fleecing sheep in two to three minutes, University of Western Australia (UWA) project director Ed Tabb said. Its financial backers, the Australian Wool Corp, expect it to be in operation by mid-1991.
Tabb envisages batteries of between four and 12 robot shearers working continuously during the fleecing season.
"It's the cost reduction that is attractive to wool growers," said Tabb. "The robot will be fleecing sheep for half the price a shearing contractor charges."
Researchers said there is a growing shortage of shearers in Australia, and many have to be imported from New Zealand. But a shearers' representative disagreed.
"It maybe we will see robots take over shearing one day, but I don't see it happening soon," said Australian Workers' Union representative Bill McDonald. "There are ample numbers of shearers here."
In June Australia will join the International Advanced Robotics Program (IARP), a world research body established by the Group of Seven leading industrial nations to develop artificially intelligent robots.
IARP researchers hope to perfect robots that can perform dangerous or undesirable tasks on construction sites and offshore oil rigs, in nuclear power stations and hospitals.
The group is concentrating on refining the artificial sensors, directional sense and intelligence of the world's estimated 130,000 robots.
Some advances have already found their way into a new generation of robot prototypes.
In Europe robots lay bricks and inspect bridges for faults. In the United States they are paving roads and in Japan replacing cracked tiles and washing windows.
UWA researcher James Trevelyan said its robot was a half way point between present day robots that work in the limited environment of vehicle assembly lines and thinking robots that will be capable of imitating humans.
"We're still a long way short of a robot that can vacuum your house, make you a cup of coffee and repair the burglar alarm, maybe five to 10 years (away)," he said.
"But by structuring the environment in which it has to work and advancing (the robot's) flexibility and sophistication, we've reached kind of a half-way house between the two types."
Companies in some labour-intensive industries often suffer a shortage of workers as a better-educated population shuns unskilled jobs, Tabb said.
They are suddenly discovering that robots, although expensive, are more careful at their job and deliver the kind of productivity executives only dream about.
Recently, Sydney's famous Opera House, a large building with a radical design resembling a cluster of seashells, advertised for a robot to wash its 2,000 glass panes.
"We've been using people on cherry pickers (cranes), but it hasn't worked particularly well and costs us A$15,000 (US$10,500) each time," said Opera House publicity officer Felicity Baverstock.
"We're looking for some sort of contraption that will clean them. It's a large job, there's a hectare (two and a half acres) of glass to clean," she said.