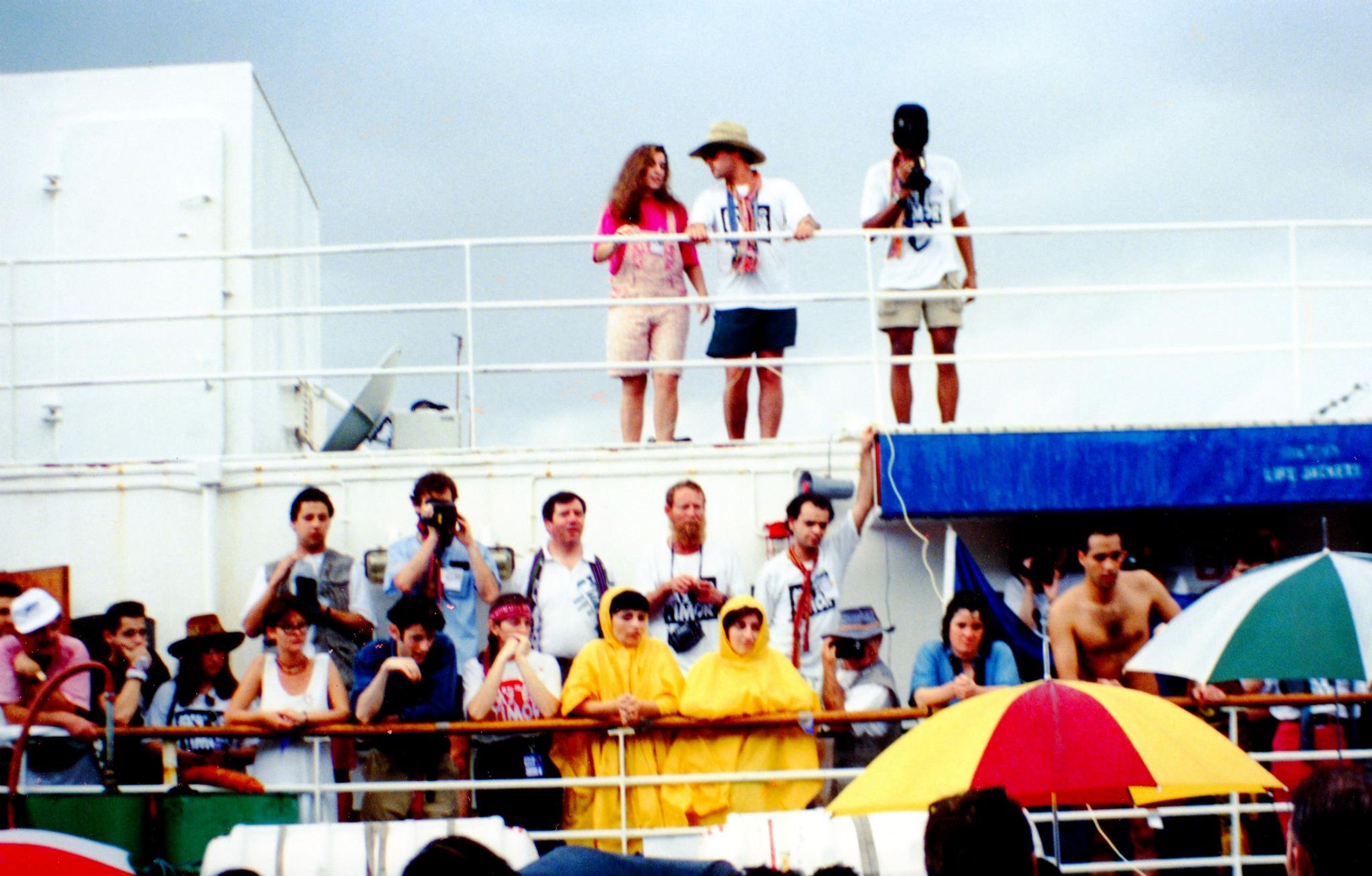 By Wilson da Silva
DARWIN, Australia – The Portuguese "peace boat", heading for Indonesian-ruled East Timor on a protest mission, berthed on Sunday to a tumultuous welcome in the Australian port of Darwin.
The Lusitania Expresso, a 540-tonne converted car ferry, was greeted by a cruise launch laden with Timorese and Portuguese well-wishers as it entered the harbour.
Banners blew in the wind and patchy rain as Portuguese music blared and more than 200 people aboard cheered and cried, while a television helicopter hovered above.
A crowd of more than 500, mostly Timorese, greeted the ferry, children threw white carnations to the crew, and an eight-man Aboriginal troupe performed on the dock.
The Lusitania Expresso ended its 12,000 km (7,560 mile) voyage from Lisbon 11 days behind schedule. It will be berthed until Monday afternoon when it is scheduled to depart for Dili, the East Timor capital.
"I was very emotional, overtaken by hope that that the world will this time solve the issue of East Timor for the better," said Alice Goncalves, a Timorese living in Darwin.
Mission participants from 21 countries plan to lay wreaths at the Santa Cruz cemetery in Dili in memory of the 50 to 180 Timorese killed by Indonesian troops in November.
But Jakarta has said it will defend its sovereignty against the mission, which it regards as provocative. One parliamentarian, according to Indonesian press reports, has urged the navy to sink the vessel. Security in the territory has tightened, and permits are needed to travel there.
Indonesia invaded the former Portuguese colony of East Timor in 1975, and later annexed it – a move not recognised by the United Nations and most Western nations. Guerrillas have battled Indonesian troops since, and there have been repeated reports of human rights abuses.
Captain Luis dos Santos, speaking to reporters on the deck of the Lusitania, confirmed that for two days he had been buzzed by low-flying aircraft bearing Indonesian colours, the last time within 150 miles of Darwin.
Organisers of the East Timor peace mission have labelled the flights an attempt to intimidate the 20 crew. According to Portuguese newspaper reports, many are already nervous about the prospect of facing the Indonesian warships now massing on the Timor Sea to meet the peace boat.
But dos Santos played down the possibility of confrontation: "Let's not get carried away with speculation...we don't want to create panic or hysterics."
The Lisbon-based student organisers, galvanised by images of the November massacre, mounted the US$1.13 million mission to test the U.N. resolutions which consider East Timor still a protectorate of Portugal.