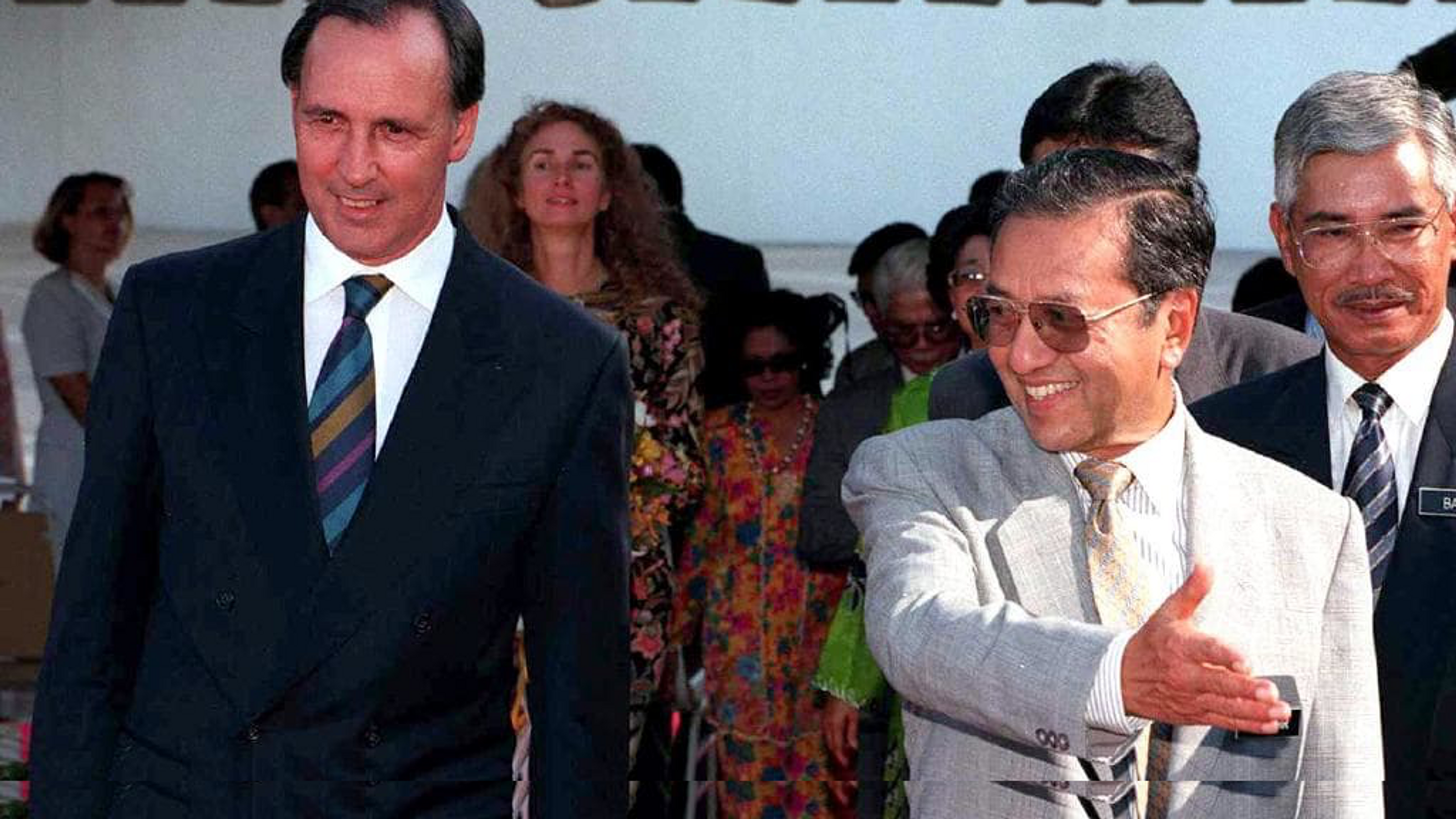 By Wilson da Silva
CANBERRA – Australia's strong political and commercial push into Asia in recent years is likely to prevent its row with Malaysia from damaging its new-found status in Asia, analysts in the region said on Monday.
Singapore and other members of the Association of South East Asian Nations (ASEAN) are unlikely to back Mahathir Mohamad in his spat with Australian Prime Minister Paul Keating, academics and diplomats in Singapore said.
"Australia is making genuine efforts to integrate itself with the rest of Asia and it's time Asia reciprocates these efforts," said a professor at the National University of Singapore (NUS).
Keating triggered the row last month by calling his Malaysian counterpart Mahathir Mohamad a recalcitrant for boycotting the first summit of the Asia-Pacific Economic Cooperation (APEC) forum in Seattle.
"It was an off-the-cuff response (by Keating) to the press and I don't think it was inappropriate," said a western diplomat in Singapore. "I also don't think there are any reasons for Malaysians to get worked up about it."
Another NUS lecturer said: "The episode is a tempest in a teapot. Asia needs friends and economic partners and Australia has demonstrated both friendship and willingness to fulfil that role".
Australia has made a number of attempts to patch the rift and analysts said Kuala Lumpur must now choose which it values more – good relations or an abject apology.
"Keating made a small mistake, but the calculated response has been far greater, so it precludes Keating from making an absolute apology," Professor Clive Kessler of Sydney's University of New South Wales' Asian studies centre said.
"It's a stalemate. The only way is for sides to repair the relationship diplomatically, behind the scenes," he said.
Australian Foreign Minister Gareth Evans on Monday again tried to hose down the diplomatic bushfire, calling on Malaysia's cabinet to avoid the retaliation mooted for its meeting on Wednesday and to allow a cooling-off period.
"Our basic message remains very simple: No offence was intended and if it was taken we regret that, we value our relationship with Malaysia and we will do everything we can to keep it warm and productive," he told the national parliament.
Diplomats said the fact Mahathir did not go to the APEC summit in Seattle had left him isolated in the region.
"Singaporeans are strongly supportive of APEC and they are not going to get into a fight with Australians over the issue," a Singapore-based western diplomat said.
"I cannot believe other ASEAN countries will join in any campaign against Australians and that a silly incident like this will change their attitude," another diplomat said.
The English-language Jakarta Post said in an editorial last month that "cynics or dissidents like Malaysian Prime Minister Mahathir" were wrong to write off the Seattle summit.
The 15-nation APEC, initiated by Australia in 1989 and which includes Malaysia, is avidly pushed by Canberra but opposed by Mahathir as being dominated by Western interests.
Mahathir proposed the East Asia Economic Caucus (EAEC) as a competing vehicle for Asian economic integration, but has seen APEC become the leading economic grouping of the region.
Kessler said Keating's gaffe gave Mahathir a way of diverting attention from the Malaysian leader's miscalculation over the APEC summit and brings all of APEC into dispute.
"APEC was a great triumph, and Mahathir was proven wrong. Keating's mistake has given him a defeat from victory, and as the dispute is continuing, it's cast a shadow over APEC."
Keating said on Sunday he regretted his comments had offended Malaysia but stopped short of an apology.
Malaysian Foreign Minister Abdullah Ahmad Badawi warned on Saturday "anything can happen after this" in reference to what action the Malaysian cabinet may take on Wednesday.
Malaysia's usually pro-government New Straits Times accused Keating in a Sunday editorial of insulting Mahathir because he felt "terribly superior about Australia's Anglo-Saxon background and wants to impose his judgement on Asia".
But it warned against going overboard over the issue: "A full-scale retaliatory measure against Australia will inevitably affect our exports to Australia. We must, therefore, question the wisdom of a tit-for-tat action in this affair."