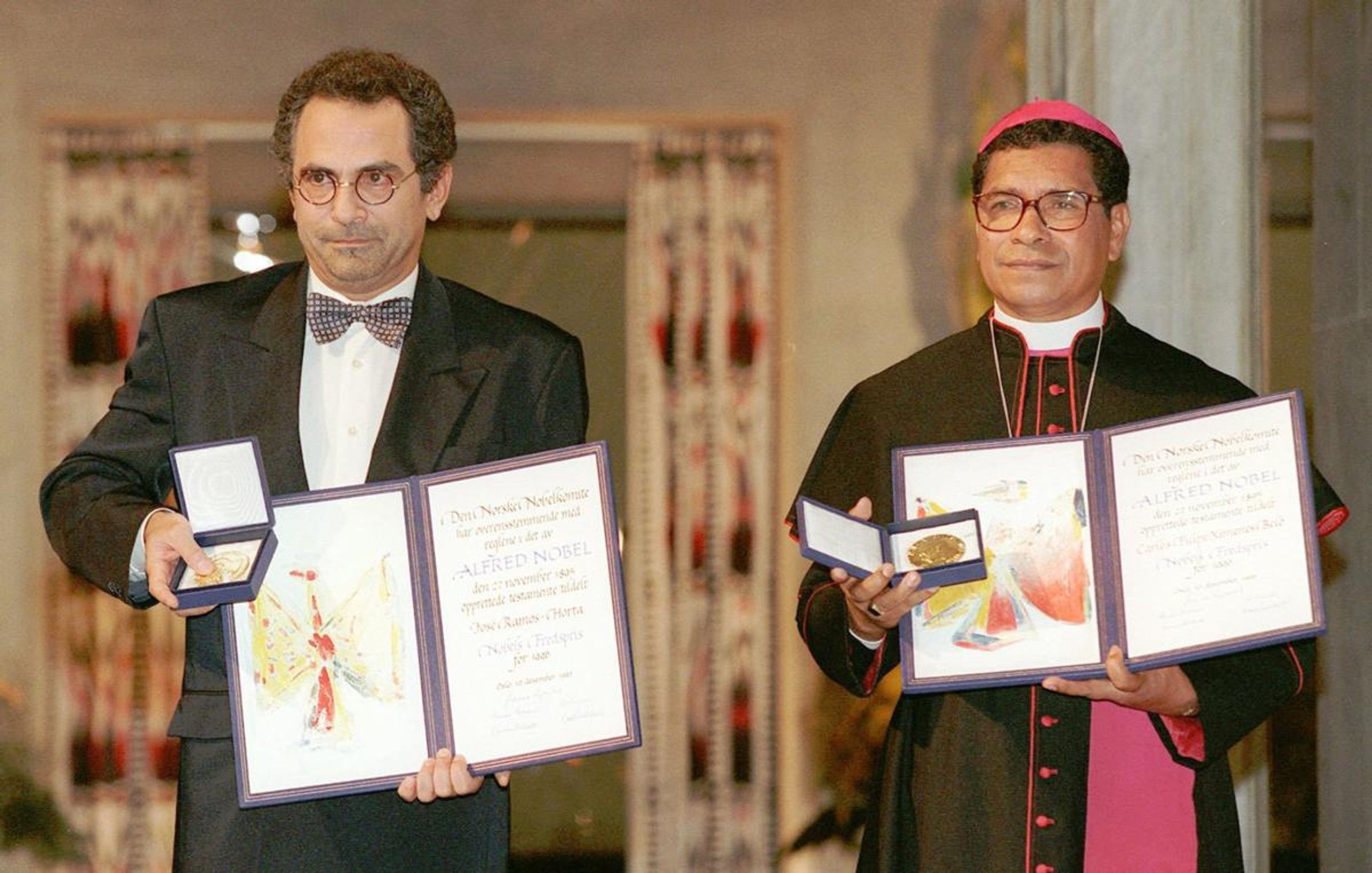 by Wilson da Silva
American Reporter Correspondent
OSLO, Norway – This year's winners of the Nobel Peace Prize, East Timor's Catholic Bishop Carlos Belo and Timorese resistance leader Jose Ramos Horta, struck a note of conciliation in their acceptance speeches on Tuesday, calling for dialogue ahead of conflict.
Ramos Horta, a former Fretilin official whose inclusion has angered Jakarta, renewed his offer to open a dialogue without preconditions, saying that the peace plan which won him the Nobel prize could well lead to an East Timor within the Indonesian federation.
The plan, officially put to Indonesia in 1992, calls for a staged withdrawal over two years of Indonesian troops from East Timor, and the release of all political prisoners, followed by a five-to-10 year period of increasing autonomy for the territory, leading to a United Nations-supervised referendum on its future.
"The East Timorese people, having enjoyed a period of peace and freedom without the presence of the most hated symbol of occupation, the army, might accept to continue this form of association," Ramos Horta told dignitaries assembled in the blue, gold and white marble-lined main room of Oslo City hall at a ceremony this week.
"These ... could be implemented immediately without loss of face for Indonesia. Its international standing would improve significantly and its presence in the territory would be less resented, thus relieving a very tense situation," he said.
Bishop Belo dwelt largely with the spiritual, but his speech also sprinkled with gentle suggestions that Indonesia should improve conditions in East Timor. "Stop bloodshed. And I add, stop oppression. Stop violence. Let us sit around a table and understand each other, because we cannot tolerate extending for a long time the suffering of the people of East Timor."
It was left to Dr. Francis Sejersted, president of the Norwegian Nobel Committee – whose choice of East Timor has embarrassed a Norway that has been actively seeking trade with Indonesia recently – to criticize international indifference surrounding East Timor.
"Rarely has the cynicism of world politics been more clearly demonstrated," he said, "The numerous considerations of Realpolitik have enabled an exceptionally brutal form of neocolonialism to take place."
Although Indonesian officials, including the Norway's Indonesian ambassador, refused invitations, one prominent Indonesian did attend: Abdurrahman Wahid, general chairman of the 35 million-member Muslim organisation Nahdlatul Ulama.