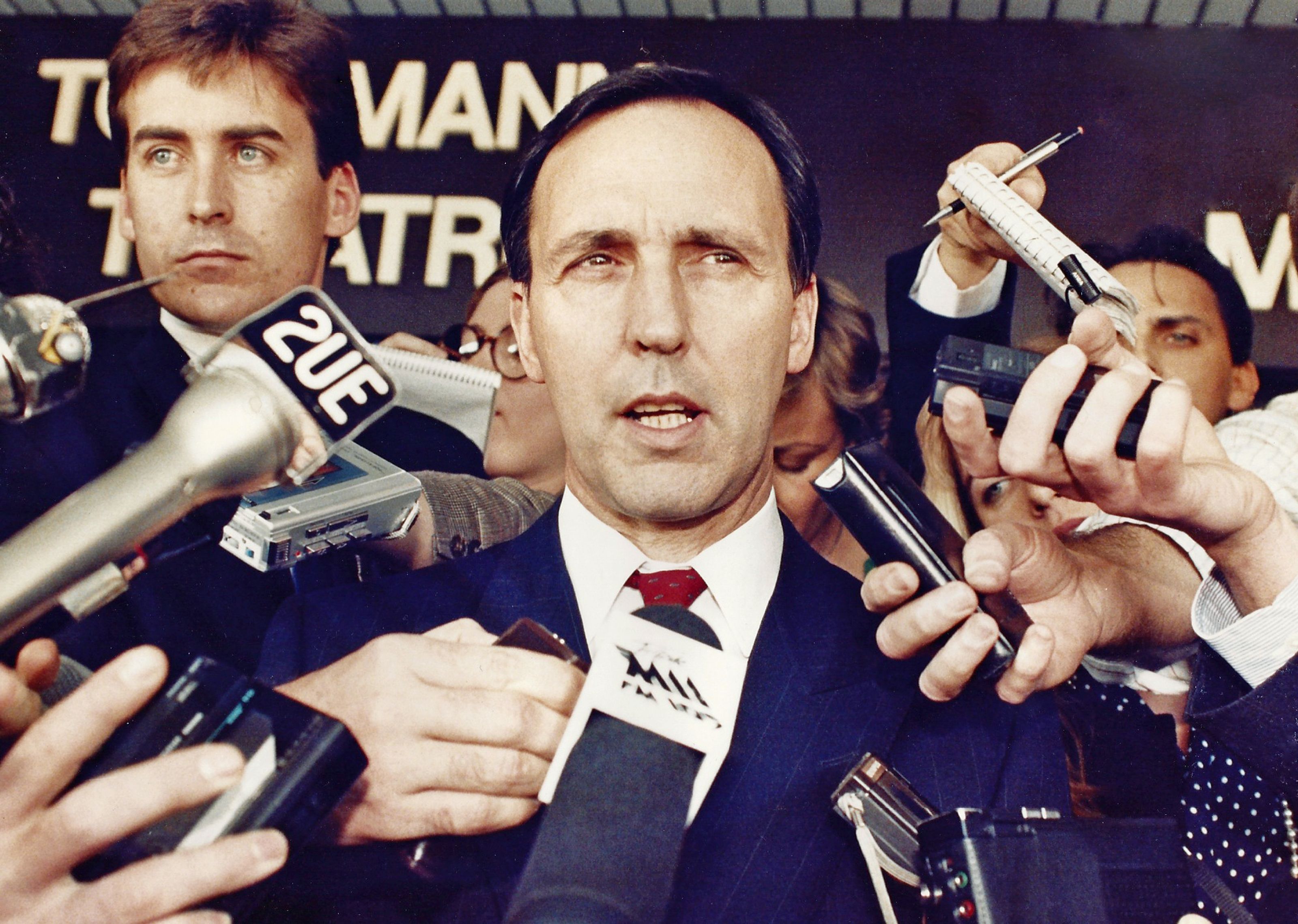 By Wilson da Silva
SYDNEY – Labor Prime Minister Paul Keating, battling a growing sense of defeat on the eve of national elections, on Friday beseeched voters to vote against the radical policies of his conservative opponents.
Branding opposition leader John Hewson the most radical right-winger ever to seek the country's leadership, a drawn and at times sullen Keating said the Liberal-National coalition would destroy a decade of Labor reform.
"It's not change for the better Dr Hewson offers, it's change for the worse," Keating told reporters in his last news conference before Saturday's vote.
"The Australia of today – competitive, export-oriented, more educated, high on product innovation, research and development, locked into Asia – is Labor's Australia.
Keating said Australia's sputtering economy had turned the corner and was headed for strong growth, while Hewson warned that the economy – which has grown a weak 2.4 per cent in the year to September – may be headed for another recession.
"We are in danger of double dipping (into recession)," Hewson told reporters, repeating his earlier warnings.
Opinion polls show support for Labor and the coalition is split 50-50, indicating a cliff-hanger in Saturday's vote. But analysis of the polls shows Labor in trouble in some key marginal seats.
The choice for Australia's 11.3 million voters is between a government which has spent 10 years reforming the economy and a conservative opposition with a radical agenda for change.
Political analysts say polls show between one and three independents making it into the lower house, the House of Representatives, raising the prospect of a hung parliament.
The government is already on a knife-edge with a nine-seat majority in the 148-seat lower house after capturing 49.9 per cent of the vote in 1990.
In at least six seats Labor just scraped in with support from pro-environment preference votes which it had courted.
Under Australia's optional preferential system, voters casting ballots for one candidate can direct their votes to second and third preferences if their initial choice is unsuccessful. Many green voters gave Labor their preferences.
Keating replaced Bob Hawke in a party vote in December 1991.
As Treasurer in the 1980s he was the engine behind economic reforms that included financial market deregulation, privatisation and more efficient industry but his success was smudged by the record 1.05 million unemployed.
Regardless of the result in the House of Representatives, neither side is likely to control the Senate (upper house).
If Hewson wins, he is likely to face an obstructionist Senate dominated by Labor and the small leftist Democrats.
The Democrats have threatened to block some coalition laws, possibly forcing the dissolution of parliament and another election in 12 to 15 months.
Editorials across the country backed a change, saying Labor was showing signs of fatigue after 10 years in power.
Friday's headlines trumpeted news of a rise in the jobless rate to 11.1 per cent in February from 11.0 per cent in January, another blow to Labor's chances.
The energetic Hewson, who has criss-crossed the nation to address large rallies, conducted a radio and television blitz on the last day of the campaign warning that unemployment was likely to get worse in the next three months.
"We can put in place policies from day one that will create jobs and take pressure off the labour market, and that's what we've demonstrated in our plan," he said of his reforms.
Hewson proposes an overhaul of the tax system, replacing six indirect taxes with a 15 per cent consumption tax on almost all goods and services, labour market reforms that will reduce union power and a large-scale sell-off of government assets.