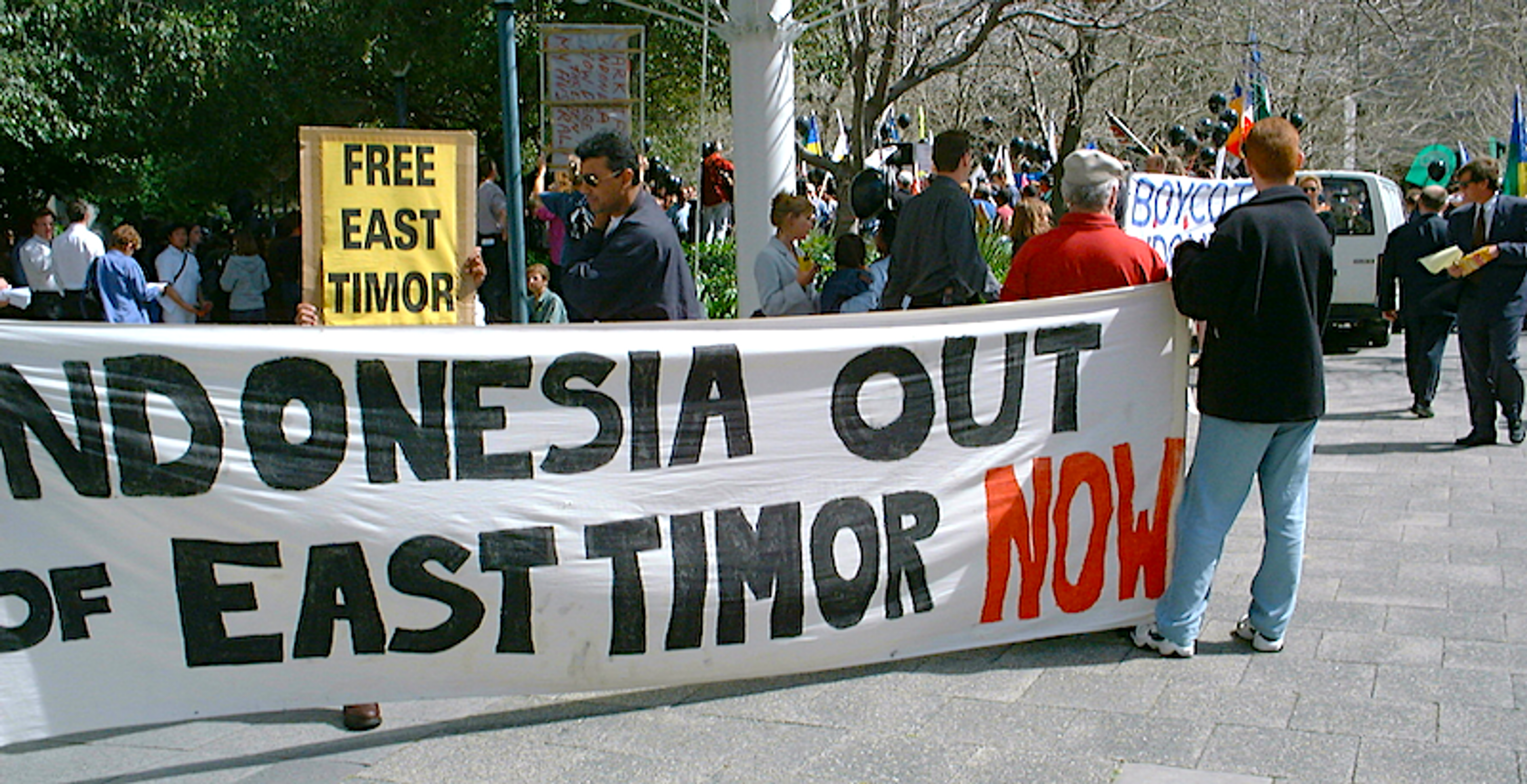 By Wilson da Silva
SYDNEY – Three East Timor students stranded at Sweden's Jakarta embassy say they are in poor shape and under pressure "from all sides" to give up their bid for asylum, according to a smuggled letter obtained by Reuters on Wednesday.
"Please help us leave Indonesia safely," the handwritten letter signed by the three students said.
"We are in poor physical condition. The three of us in the Swedish embassy are facing considerable difficulties."
The letter, dated June 29 and sent to a London-based Indonesian human rights organisation, said the three were under constant pressure from the Swedes and the Indonesian
military to end their week-long stay by signing a "statement of assurance".
"In the time we have been here, (Indonesian) intelligence officers often come up and stand outside the door, threatening and insulting us," the letter said.
"We are being terrorised from all sides – not only the Indonesian government but also the Swedish embassy and the UNHCR (United Nations High Commissioner for Refugees)."
The letter also said the students were involved in the November 1991 procession in Dili, East Timor, when Indonesian troops opened fire, killing up to 180 Timorese civilians.
The students entered the embassy in a downtown office block last Wednesday, saying they feared for their lives under Indonesian rule and wanted asylum.
Four students also entered the Finnish embassy but gave up a day later.
After being told that Sweden could only offer them asylum if they were on Swedish soil, the students asked for safe passage out of the country and asylum in Portugal, which on Monday agreed to accept them.
The three are Florençio Anunciacão Fernandes, José Manuel de Oliveira Sousa and Porfirio da Costa Oliveira, all in their early 20s.
The letter said the UNHCR, from whom the three had sought "stateless persons" documents to allow them to leave Indonesia, had declined to help and indirectly pressured them to accept the Indonesian agreement.
David Jamieson, UNHCR's representative in Jakarta, told Reuters he had had no direct contact with students.
"But this fact of terrorising from all sides and forcing them to sign as far as I am aware is totally unfounded," he said.
Portugal, which ruled East Timor until 1975, has no diplomatic links with Jakarta. Indonesia invaded East Timor and annexed it a year later, a move not recognised by the United Nations.
Indonesia has promised the students safe passage from the embassy, but it was unclear whether they would be allowed to leave the country.
An employee at the embassy said it had ceased most functions for the past week as the students were occupying the reception area. She said they had been given clothes, food and drink and appeared to be in good health.
Journalists have been barred access to the embassy floor, but mediator H.J.C Princen, who has seen the students daily, said they were not in too bad shape.