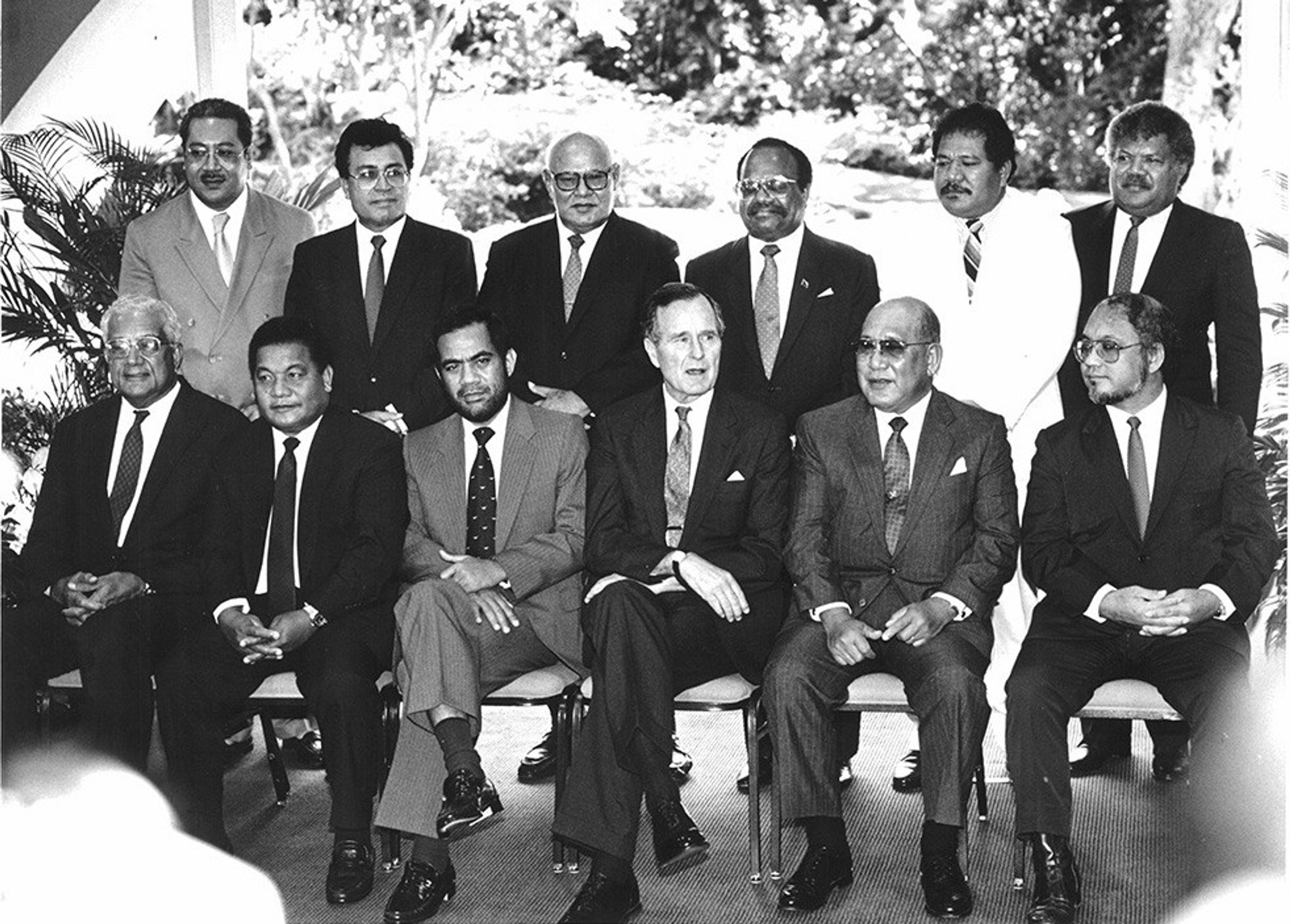 By Wilson da Silva
HONOLULU – Pacific leaders hailed closer ties proposed by U.S. President George Bush on Saturday, but said he had not offered a guarantee that Washington would stop burning chemical weapons in the region.
Bush, holding an unprecedented summit with 11 leaders and representatives of small Pacific island nations, announced a series of trade and cultural initiatives designed to boost U.S. investment and the economic development of the region.
A new joint commission between the United States and Pacific nations will meet annually to discuss trade and commerce and U.S. agencies will encourage private investment in the region.
The agencies will create a US$200 million trade enhancement fund and a US$100 million fund for environmentally friendly development.
Attending the summit were the prime ministers and presidents of Papua New Guinea, Kiribati, Nauru, Fiji, the Marshall Islands, Micronesia, Tuvalu, Western Samoa and the Cook Islands.
Tonga and the Solomon Islands sent their foreign minister and deputy premier. Vanuatu and Niue declined to attend.
Calling the Pacific "an aquatic continent", Bush told the leaders at the two-hour summit that the United States had "no plans to use Johnston Atoll for any other chemical munitions purpose, or as a hazardous waste disposal site".
The United States has an incinerator on Johnston Island, about 1,200 km (720 miles) southwest of Honolulu, and has begun burning some of its stockpile of chemical weapons.
It plans to destroy another 100,000 chemical weapons en route from Germany under a U.S.-Soviet agreement to reduce stocks.
The incinerator is a contentious issue in the region, and a July meeting of the South Pacific Forum, the area's top regional body, urged the United States to dismantle the facility once these weapons are destroyed.
"I'm walking away from this summit feeling more assured that the President has a real interest in the Pacific," said Cook Islands Prime Minister Geoffrey Arama Henry, speaking on behalf of the 11 leaders and representatives.
"He appreciates the deep concern of Pacific leaders on the Johnston Island issue, but ... there was no guarantee," Henry said.