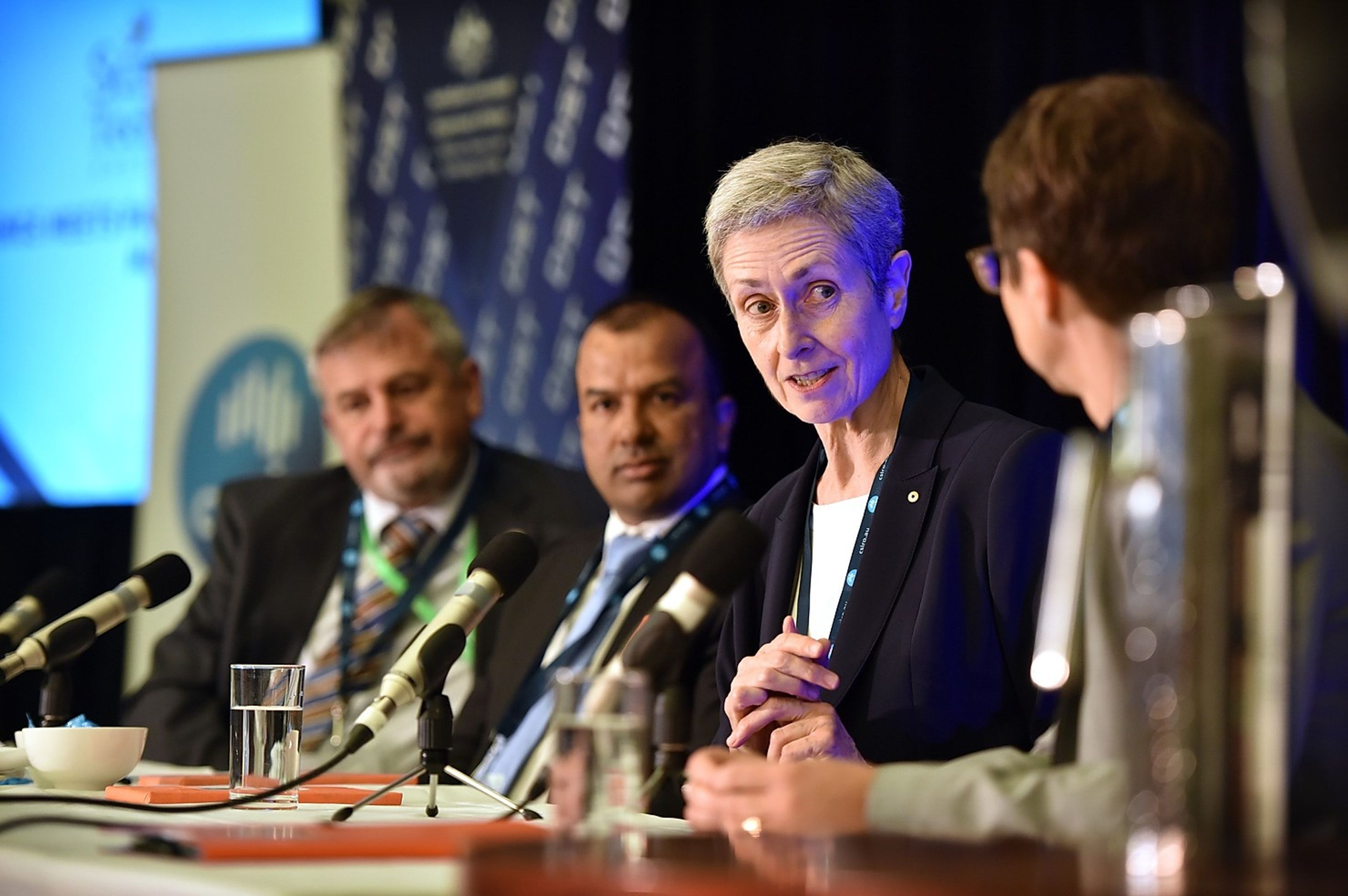 When science meets parliament, you'd expect clashes in areas where political stances and rational evidence don't intersect. But it's a meeting of the minds that both sides enjoy – and they have one very important thing in common.
By Wilson da Silva
PARLIAMENTARIANS ARE LIKE anyone else: tickled pink to rub shoulders with celebrities, and awed by the wonder of the cosmos. But it's not often that the celebrity is a Nobel laureate, and that they have a chance to peer excitedly through telescopes as he explains the expanding universe.
That was the scene on a recent cold September night as Brian Schmidt, co-winner of the 2011 Nobel Prize in Physics, conducted an astronomy masterclass on the roof of Australia's Parliament House in Canberra. It was the inaugural event of the Parliamentary Friends of Science, a new crossbench group of 51 Members of Parliament (MPs) launched later that night at a gala dinner in the Great Hall.
Every September for the past 13 years, scientists from around Australia have descended on Canberra to take part in Science Meets Parliament. Almost 200 scientists come for two days to Australia's capital city and receive a crash course on politics, with seminars on policy development, the budget process and communicating with politicians.
At the gala dinner, each table has one or two parliamentarians surrounded by a cluster of scientists. The next day, scientists visit politicians' offices, describe their work and ask questions of the MPs. The annual event is organised by Science & Technology Australia (STA), an umbrella body that since 1985 has represented scientific associations, learned societies and academies and their 68,000 scientists.
"We truly believe that when you do understand the absolute rigour that is science, and the peer review process, people do respect it," says Anna-Maria Arabia, STA's chief executive officer.
Science is a way of thinking, rather than a dogma, she says; which is why, at the dinner I attended this year, she argued for politicians to have the courage to respond to scientific evidence: "Changing your mind based on new evidence is not a backflip. It's leadership."
It was a line echoed by Schmidt: "Science and politics do not always have an easy partnership," he wrote in an opinion piece about the gathering. "Politicians talk in absolutes, they use their skills of communication for persuasion – they are often driven by ideology and the short-term imperatives of maintaining public support.
"Scientists ... question everything. We never prove theories, we just attempt to disprove them until they exist beyond doubt, and even then waves of questioning continue."
Schmidt argued for more scientific evidence to be used in developing government policy: for proposals to "consider the best available evidence and be nuanced by the political considerations of the day, not the other way around". He pointed to Britain, which has a Parliamentary Office of Science and Technology providing MPs with independent, balanced and easy-to-understand analysis of policy involving science and technology.
In addition, most major departments have a chief scientist who provides evidence-based advice to bureaucrats and ministers. The British parliament even has a "Principles of Scientific Advice to Government" which governs how evidence should be used by ministers in policy making. This doesn't mean ministers can't overrule evidence; but where they do so, they should acknowledge this, and explain their reasoning.
Speaking at the gathering, Chris Evans, the Minister for Tertiary Education, Skills, Science and Research, supported more scientific evidence in helping shape government policy. But he argued strongly that evidence should never determine policy.
On my table was Warren Entsch, a grazier first elected as a Liberal MP in 1996 and former parliamentary secretary for science under the conservative government of Prime Minister John Howard. He represents the seat of Leichhardt in rural Far North Queensland. He's also a founder of the Parliamentary Friendship Group for Lesbian, Gay, Bisexual, Transgender and Intersex Australians, and often speaks out in support of gay issues.
I asked why he went into politics. He said the community division triggered by native title, and a sense that Aborigines were being treated unfairly while graziers were painted as greedy.
I suggested that it was, ultimately, conviction that got him into parliament – a desire to change things, make them right. He nodded in agreement: "Anyone who comes here for anything else, they don't last."
It occurred to me that scientists and politicians have one important thing in common: conviction. Both face challenges and opportunities, both are seeking answers, and both ultimately want to make the world a better place.
So maybe they're not that far apart: they just approach it differently.